It was the Independence Day int he US but we were not here to celebrate that. We dined with Ronnie Cox, Brand Ambassador for The Glenrothes and to celebrate the winner of the best design 2013 for the single malt brand.

We also had the luxury to see and feel one of the limited edition of single cask bottling in 1970. Though, we would have loved to taste the golden liquid that would mean costing us RM20,000 from our already limited publishing fund.
Over the years of producing single malt whisky, Berry Bros. & Rudd had kept many barrels in the warehouse for preservation and future reference. Some have become so well aged that it would be a waste to leave them shaded behind new barrels that get stored away every batch is made. Some of this fine libation has come to Ronnie Cox's attention. He decided to assess the content of these barrels to select the finest for bottling and they are now The Glenrothes Extraordinary Cask Collection.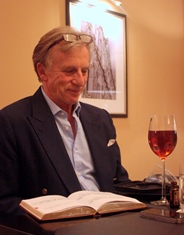 Right: That's not a glass of wine, it's water with E150a.
Cox showed us a bottle of dark liquid that was a sample of what is used for whisky colouring. Use a droplet of that 150a, it changes the colour of your bottle of whisky. It smells a little like burnt sugar (the liquid is derived from a caramelisation process by heating sugar) and tastes tat bitter. It is one of the oldest food colouring and is used for spirits to harmonize the colour of the liquid. Single cask whiskies do not contain such substance and the colour of the spirit is exactly how the barrel has aged it.

Some malt drinker may feel cheated with the use of caramel colouring but we think harmonizing colour of the spirits is not at all that bad. It creates a consistency for the buyers who would expect their new bottle of whisky to look the same as the one they have bought before. Furthermore, it does not deter us from buying a good bottle of whisky even if it has been caramelized. As long as the colouring used is E150a and is not going to harm the drinker. To us, it is just another commercial pun that is commonly used to make their products look prettier.

Other than learning history about the spirits trade from Cox, we also had a carefully crafted dinner provided by The Majestik Hotel, Kuala Lumpur to pair with the four expressions of The Glenrothes.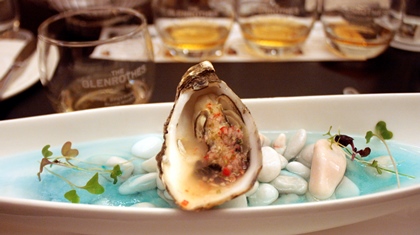 Gin Oyster
Marinated in Chili, Lime and Gin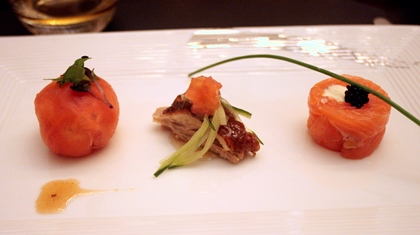 Majestic Assiette
Salad of Queen Crab, Peking Duck and Smoke Salmon Roulade Tamarind Dressing with Sweet and Sour Reduction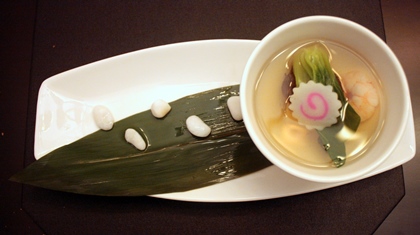 Clear Seafood Soup
with Scalloop, Prawn and Clam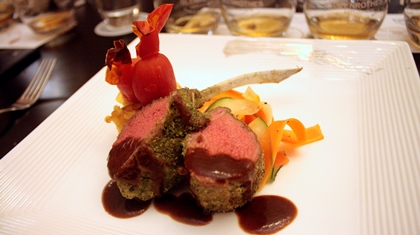 Roaster Rack of Darling Lamb
with Rosemary Crushed Potatoes, Vegetables Fettuccine and Lamb Jus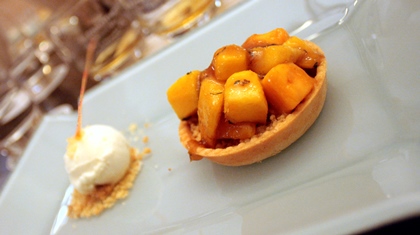 Warm Mango Compote
with Basil and Vanilla Ice Cream