If you're a fan of whisk(e)y with cigars, here comes a great combination of both by London Cut. London Cut house blend bourbon infused cigar is designed to be paired with American whiskey and are now available to buy online.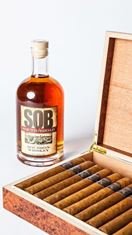 The private label premium handcrafted bourbon is an SOB1 production by Bottles, a local Charleston based liquor shop in South Carolina. The bottles are only available in store except for the batch in this Bourbon Gift Set via London Cut cigars.

The gift set consists of 20 London Cut Bourbon-Aged Robusto cigars and a 250ml bottle of SOB bourbon at 45% ABV for USD265, shipping is USD50 to Malaysia.
Available online at www.londoncutcigars.com

1. South of Broad – one of the most expensive areas to live in South California with prestigious and costly homes surrounded by well-maintained gardens.