Lars Lehmann and Robin Ottaway at High Line Rooftop Market, Resorts World Genting. Photos: Kim Choong.
Brooklyn Brewery was founded in 1988 by press correspondent Steve Hindy, his neighbour Tom Potter who was a banker, and the designer of the brewery's logo, Milton Glaser. It all started from home brewing and the aim to make quality beer to supply the depressing beer scene of New York at the time. Brooklyn Brewery was named to pay homage to the history and diversity of the neighbourhood.
We met the President of Brooklyn Brewery, Robin Ottaway, during the launch of Brooklyn's first South East Asian flagship outlet, High Line Rooftop Market. Robin's father David Ottaway is a long-time friend with the original founders of Brooklyn Brewery. In 2003, Tom Potter sold his shares in Brooklyn to the Ottaway family. Robin headed sales while his brother Eric looked after the operations side of the business, eventually becoming President and CEO respectively in 2014.
The power of distribution network
The two brothers previously ran Brooklyn Brewery's Massachusetts distribution business. Robin recalled that when they started to sell Brooklyn beers in 1988, people didn't think they were going to make it. "We were trying to sell a case of the amber lager for 20 dollars. It was late 80's US and the beer was so full flavoured, people thought it was terrible and it wasn't going to sell."
Doesn't their situation sound familiar? Exactly 3 decades ago, what is now one of top three selling draft beers in New York City was a nobody. Beer was just a commodity, and globally only one style of beer was drunk. Similarly in Malaysia, craft beer has been a tough sell mainly because of the price point. Having to introduce another "lager" into the existing lager drinking market but at double the price sounds like a really tough job.
How did Brooklyn do it? "It was all just education, education, education. What we were trying to do was to give people an understanding with a language from which to speak about beer. Over time, the whole level of education gets raised."
But, is it going to take three decades in Malaysia? Maybe not. Other than education, there is also the story-telling part that helps to sell the beer. Brooklyn has been around long enough to have many stories to tell and brand building comes from trust, which brings us to the partnership with Carlsberg.
Partnership with Carlsberg
When Brooklyn's master brewer Garrett Oliver was invited to Carlsberg headquarters in Copenhagen in 2003 to receive the Semper Ardens award for his contribution to the beer world, the Danish brewery offered to distribute Brooklyn's beer in Scandinavia.
Around the same time, Carlsberg launched its craft beer arm, the Jacobsen Brewery. Yes, Carlsberg brews their own craft beers too but only available in Scandinavia. Lar Lehmann, the current Managing Director of Carlsberg Malaysia was involved in the project from the very beginning. Carlsberg is also the very first brewery in Denmark to brew craft beer, before anyone else.
A decade later in 2014, this partnership was expanded to a joint venture brewery, Nya Carnegie in Stockholm. This marked Brooklyn's first overseas brewing venture (as well as the very first for any American brewery) and 5 more followed on in Norway, London, Lithuania, South Korea and Hong Kong. "We are the first craft beer brands in these countries, we couldn't have achieved this without the power of distribution that Carlsberg has," emphasised Robin.
By 2019, the Carlsberg x Brooklyn partnership brew will span nine countries and it looks like it's going to grow bigger. Shipping to Malaysia is the farthest point they have to send their beers outside of the US. The Brooklyn Lager and EIPA that we are drinking today went through the Panama Canal, stopped at California, and went across the Pacific before hitting Port Klang.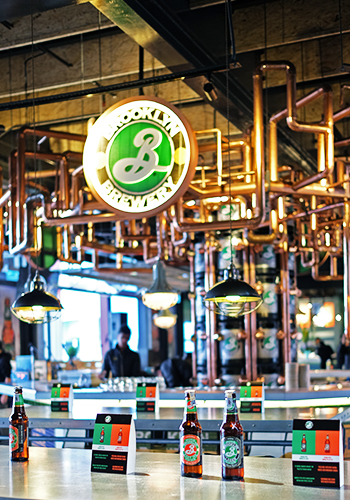 Brooklyn Beer at High Line Rooftop Market.
The opening of the very first Brooklyn flagship outlet in South East Asia, High Line Rooftop Market, however is predicted to be a game changer. With the footfall to Genting from the region expected to rise, especially with the theme park due to open beginning 2019, the partnership and unique concept between Genting and Carlsberg as a destination for leisure and gastronomy is looking very promising.
"This is not a fast game and craft beer is not about how many million litres we can get out there. It's about getting people to understand the variety of beer styles, how they're made and the history," say Lehmann when asked about Carlsberg's strategy with Brooklyn in Malaysia.
One thing Robin said ticked a dreadful thought in me: "Imagine the world with only one type of spirit or one type of wine." I don't have to imagine, the sound of "one type" is enough to lead the whole world into depression.
We don't want to drink just one type of beer do we? "Apparently everything became more and more similar post World War II," added Robin, "The whole craft is not something new, it's old! We are just bringing it back!"
Give me more beer, perhaps some Brooklyn barrel aged Chocolate Stout next time?
- T -