Design collaborations aren't uncommon in the beverage world but Chivas recent team-up with Pininfarina has certainly turn heads. The partnership between the Pernod Ricard-owned ultra-premium Scotch whiskey brand and the noted Italian car design company has produced three limited editions of Chivas 18 by Pininfarina.
Each bottle in the series features a bottle of Chivas 18 that sports an embossed logo on the capsule and neck wrap which was designed by Pininfarina. The similarities however between the three end there.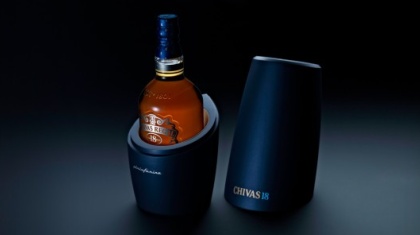 The first edition of the bottle features a blue metallic outer case and an oak cask wood veneer that houses the bottle of Chivas 18. The second edition offers a more premium look and feel with a larger design and wood inlay with two accompanied glasses as well.
Finally the third edition stands as the most coveted edition of all with a Mascherone wood frame, which is normally used to refine the shape of cars, being used in the design.
Chivas Regal as reportedly only produced five editions of Chivas 18 by Pininfarina that will be used for marketing purposes around the world. Individual designs will be made available exclusively via travel retail as well as purchased on order.