Christmas always reminds us of winter, thanks to commercials from the West. It's tall pine trees with baubles and trinkets, Santa Claus, snow and everything cold that make roast turkey, logs with fire and hot winter warmers very welcoming.
We found a few places where you can try the traditional mulled wine and new creative recipes by the growing cocktail community, as well as non-alcoholic comfort drinks for different occasions. Have mulled wine over dinner, have a hot chocolate before bed, elegant cocktails on a date, colourful concoctions for a party, shakes for kids and some unconventional tipples for the non-faint-hearted. We have split them into 3 categories: Traditional recipe, Winter elements and Christmas colour. Try them before the New Year comes.
Traditional recipe
Glühwein (German for mulled wine) (RM20 nett)
Warm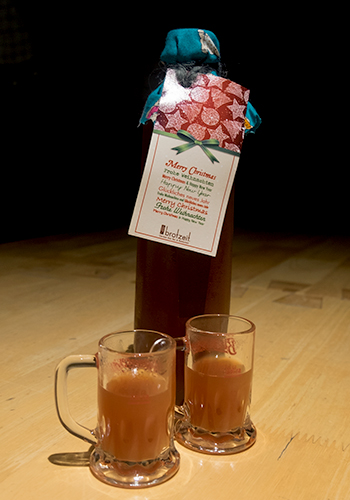 The Glühwein comes in a bottle and can be consumed at the restaurant or for take away.
Cold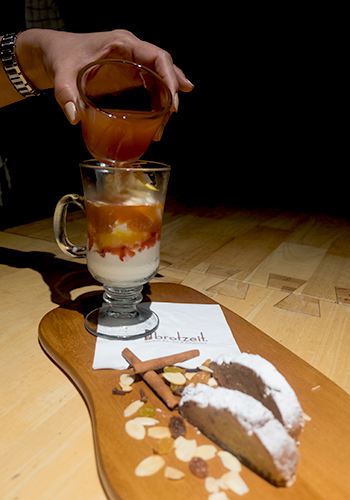 When served cold, pour over the ice cream and dig.
The name Glühwein (glow-wine) refers to the glow from hot iron that was used for mulling. This German style mulled wine is usually served in the Christmas markets. Brotzeit's recipe is a combination of red and white wine, orange juice, cinnamon, orange and lemon peel. It is normally drank warm during winter with some German cookies such as a vanilla kipfler. Feel the warmth build up and spread throughout your body. Try the outlet's cold version with vanilla ice cream, apricot sauce and whipped cream as after dinner dessert.
Brotzeit
MidValley, Bangsar Shopping Centre, Sunway Pyramid
Website: http://www.brotzeit.com/outlet/malaysia
---
Winter elements
Ginger Mint Hot Chocolate (RM20 nett)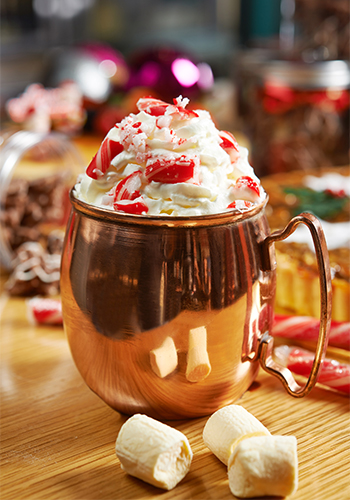 Non-alcoholic hot drink that gives a warm feeling
We consider this a meal on its own. This hot chocolate with its ginger and peppermint tea ingredients is going to warm you up and prepare you for bed. The comfort drink is the best for your soul. Push away all the stress and grief in the year that's to pass. Reward yourself and let the cream cover your upper lip like a Santa. The gift is for yourself. Sit back at the bars' comfy chairs and watch people pass.
WXYZ
Aloft Sentral, No. 5 Jalan Stesen Sentral, Kuala Lumpur, 50470, Malaysia
Phone: +603 2723 1188
Website: www.aloftkualalumpursentral.com/wxyz-bar
---
Clear Milk Punch (RM100 / 350ml serving for 2 in a skull bottle)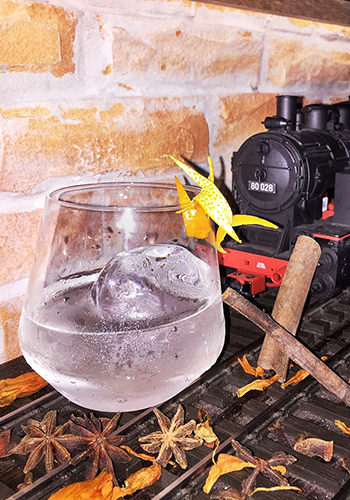 Breaking a cliché of creamy and sweet Christmas cocktail.
If sweet and creamy cocktail isn't your thing, this cocktail might just be the total opposite of that conventional taste. Bartender Viji has created this slick, refreshing, sour but delightful cocktail that uses equal parts of cognac and rum, mixed with juice from citrus fruits and hot milk. Don't be surprised if we tell you there is duck fat in this drink, it gives that slick mouthfeel. The Christmas spices of clove, cinnamon and star anise is apparent, except there is also Jamaican pepper that gives your tongue a little tingle.

Skullduggery
2M Plaza Damansara, Jalan Medan Setia 2, Bukit Damansara, 50490 Kuala Lumpur, Malaysia.
Telephone: +6010 960 0498
Website: www.facebook.com/skullduggerykl
---
Not My GumDrop Buttons (RM35 nett)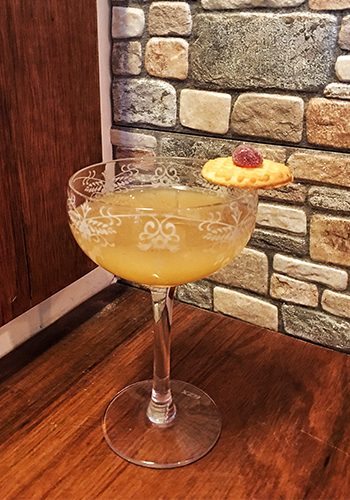 Ginger bread liquid version
This vodka based Christmas recipe with homemade ginger bread syrup, dashes of house spiced tincture, and citrus juices is inspired by the character Gingy (ginger bread man) in the movie, Shrek. The ginger bread syrup is boiled down using fresh ginger juice and spices while the house spiced tincture is made from spiced rum, star anise, cinnamon and cloves. LouShang Bar might be no longer but bartender Demi's craft remains in this new outlet just across the street from the old location with a full food menu to pair with.
Bonfire Restaurant & Bar
G032, The Starling Mall, Jalan SS21/37, Damansara Utama, Selangor, Malaysia.
Website: https://www.facebook.com/pg/BonfireDamansara
---
Dirty Frostini (RM 40++)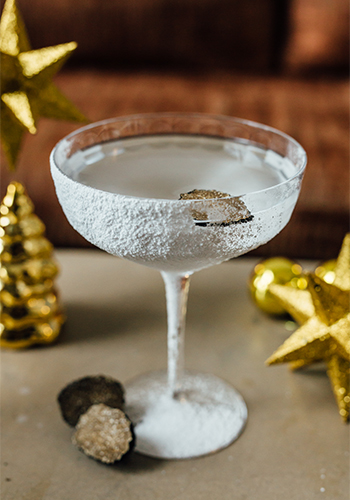 Winter is coming.
Bring your mood into Christmas with this cocktail that uses premium vodka washed with fresh black truffle, white & blonde chocolate. This twist from a Martini is an elegant drink that can impress a date. Truffle in a cocktail spells lux, having it with the view of the twin towers, priceless. Expect Rick Joore of Troika Sky Dining to bring his imagination of winter from home to your glass that's frosted like snow.
Coppersmith
Level 23a, Troika Sky Dining, The Troika, Persiaran KLCC 50450 Kuala Lumpur, Malaysia.
Phone: +603 2162 0086
Website: www.facebook.com/coppersmithattroikaskydining
---
Christmas colour
Secret Santa (RM45++)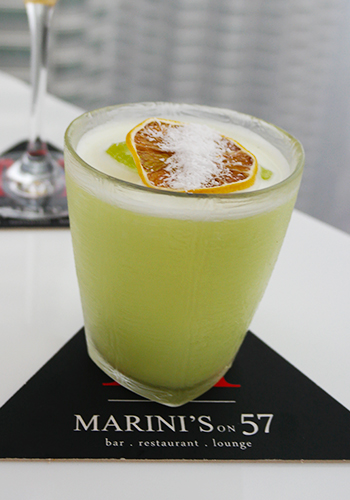 Guess the secret ingredients in this cocktail.

This Grinch-looking rum cocktail is a Tiki drink spiked with ginger juice. There is midori, fresh pineapple juice, coconut cream and wait, some ingredients are missing. Junior the Head Bartender won't reveal the secret ingredients and want you to find out when the drink is served.
Marini's on 57
Level 57, Menara 3 Petronas, Persiaran KLCC, 50088 Kuala Lumpur, Malaysia.
Phone: +603 2386 6030
Website: www.facebook.com/marinis57
---

Jack Frost Martini (RM25.90 nett)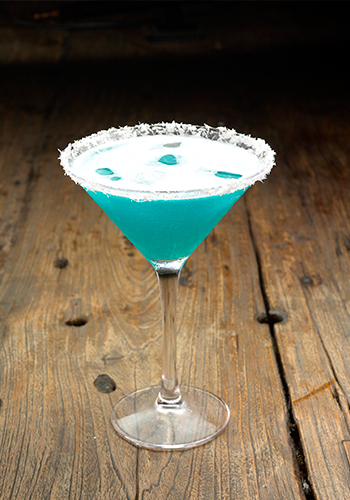 "Let it go, let it go~"
Fans of Frozen wouldn't want to miss a chance for a photography moment with this cocktail that shouts "Elsa"! The rum drink contains coconut liqueur and pineapple juice, the colour comes from blue curacao and it's frosted with coconut flakes. Not your kid's go-to drink over Christmas dinner but you might want to consider the other non-alcoholic version of Christmas drink in the outlet (The Grinch below).
The Grinch (RM16.90 nett)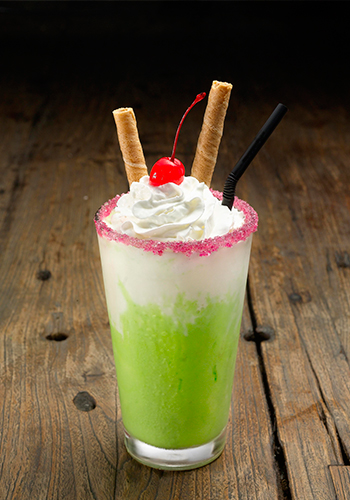 Not only does it hate Christmas, it takes a way the alcohol as well.

The fictitious green colour creature is a Christmas hater and the name is believed to have derived from French word grincheux which means "grumpy". Grinch is also used to refer to person who opposes Christmas celebration. Good thing this is a non-alcoholic drink. The lime smoothie is layered with vanilla ice cream and topped with whipped cream, wafer sticks and maraschino cherry.
Morganfield's
(Pavilion KL, Publika, IOI City Mall, Empire shopping Gallery, Sunway Pyramid, Sunway Velocity Mall, Palm Mall Seremban, Mount Austin Johor, Damen Mall USJ, IMAGO Shoping Mall Sabah, Gurney Plaza Penang, Queensbay Mall Penang, Sky Avenue @ Genting Highlands)
Website: morganfields.com/locateus.html
---

X-Mastini (RM29.90 nett)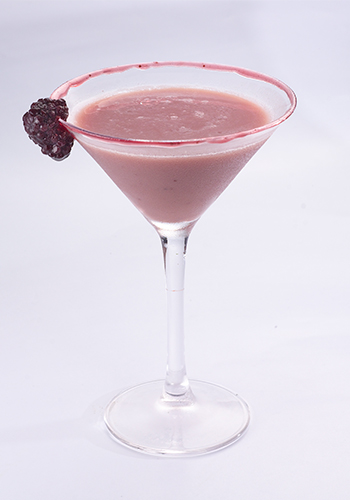 Very berry creamy treat.

Inspired by Santa's red costume, the vodka based cocktail is milky and boozy with Kahlua, Baileys and Creme de Cacao. The colour comes from raspberries puree.
Berries Booster Shake (RM25.90 nett)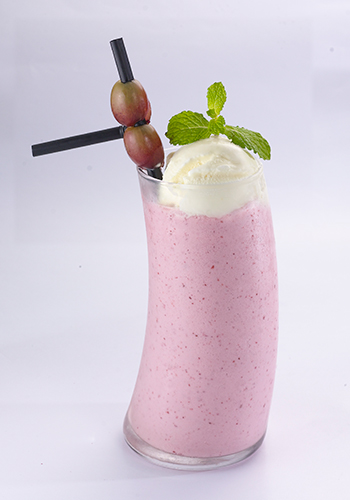 Health boost with 4 types of berries.
The non-alcoholic version of the drink inspired by the same concept contains raspberries, red berries, black berries, strawberries, grapes and vanilla ice cream.
House
(G Tower & The Earth @ Bukit Jalil)
Website: www.facebook.com/housegrp