Inspired by a British brew recipe dating back to the 1700s, Connor's Porter was first launched in July 2009. Having always been served on draught, it is now available in 320ml and 500ml cans.
What's more, it's said to have been "double-dosed" with nitrogen that gives the iconic smooth head.
From the press release:
Caroline Moreau, Marketing Director of Carlsberg Malaysia, commented, "We're very proud to introduce another innovation with Connor's Draught in a can, giving stout lovers the opportunity to 'Taste the Good Times' anywhere, anytime! With our first-ever use of nitrogen double-dosing in a can – which is also a first among all Carlsberg markets globally – consumers can now enjoy the Connor's draught experience both at home and at their favourite bars. As a bonus, the new shake-before-opening ritual is not only surprising and fun, it's also crucial in recreating the look and taste of premium stout straight from the draught tap."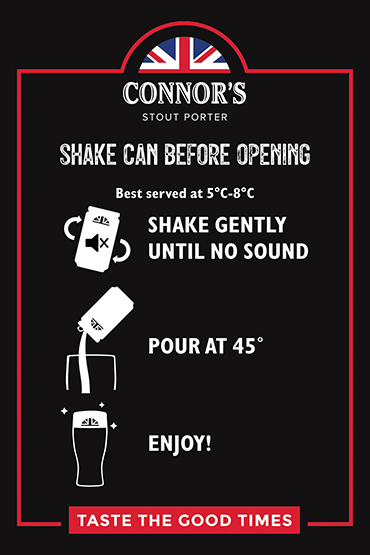 Double-dosed nitrogen
Liquid nitrogen is inserted into the cans right before they're sealed. The inert gas does two things: provide stability to the beer for preservation and mechanical endurance during transportation as the can expands when nitrogen transitions from cold liquid to gas at room temperature.
In the case of Connor's Porter, the dosage of nitrogen is doubled to give the extra cascading effect when poured, replicating the experience of a draught stout poured with a separate nitrogen tank.
Serving
The suggested best serving temperature for the stout porter is between 5 to 8 degree Celsius.
Unlike beers where carbon dioxide gives the fizziness, the nitrogen-filled Connor's requires a gentle shake of the can until there's no more liquid swishing sound.
Then pour at a 45-degree angle into the glass.
Why shake the can?
As nitrogen gas is lighter than liquid, it will eventually float to the top of the can and be left there. Shaking it before opening ensures the gas is mixed back with the liquid.
"Think of it like chocolate milk, except instead of cocoa solids settling on the bottom, it's nitrogen gas settling on top. Both need to be shaken before opening to mix everything equally," explained Ezra Low, Corporate Affairs Manager of Carlsberg Malaysia.
OK, we get it.
Connor's Stout Porter has now filled the gap in the beer market by introducing this ready-to-enjoy format nitro-stout (4.5% ABV) at a reasonable RM29 for 4x320ml cans package.
We can't wait to try it.
One last note, you may ask: Is there a difference between a stout and a porter? They are just about the same thing, porter existed first in London and then it developed into stout with a higher alcohol content. But breweries are making their own versions of stout and porter at various ABVs anyway so they are practically the same these days, it's a matter of preference which phrase the brewery uses.
- T -