"Riesling, the white wine that dances from crisp to sweet flavours to balance spices" – Dr Stephen J Hall.
Riesling may be one of the most underrated great value wine varietals in South East Asia. Perhaps it's the struggle of the German labels as some of this refreshing white wine comes from places like the Mosel river region with names which may look a little complex. One example is Bernkasteler Lay Riesling Kabinett, an intense yet light wine from well-known maker, Dr. Ernst Loosen.
Riesling with its various styles can run through flavour profiles like "the bright flavours of weighty white peach and lemon" to "a delicate refreshing, zesty acidity with a long juicy and racy finish." The differences in this low alcohol wine should make it more widely known in our region of spicy food, as there can be great matches such as Szechuan Hot and Sour Soup with Dr Loosen Graacher Himmelreich Riesling Spätlese 2013.
I recently enjoyed the sweeter Spätlese contrasting with heat in a Dr. Loosen wine lunch held at The Mutiara Palace Restaurant. So let us untangle the not very local language on the bottle, before describing the taste interplay between Riesling and some spicy and not so piquant food partners.
The first key is to focus on the last part of the label on the slender tall German Riesling bottle. New World Rieslings often make it simpler by stating Dry, Medium-Dry, Medium Sweet and Sweet.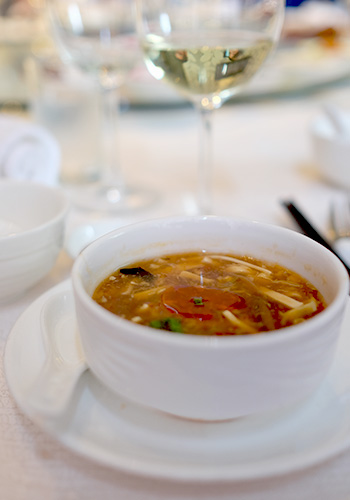 Sweet & Sour Hot Soup
However, Germans have been growing the grape on cool climate river banks since Roman times and have centuries of knowing what grows well and how the grape flourishes in often chilly weather conditions. They have evolved precise descriptions and standards for the product of the sturdy white grape. Riesling can be very diverse in the amount of sweetness and intensity of flavour. So just before the vintage, look for:
QbA Qualitätswein bestimmter Anbaugebiete meaning "quality wine from a specific region"
This is the entry level of everyday wines. The grapes are at a fairly low level of ripeness.
QmP Prädikatswein renamed from Qualitätswein mit Prädikat meaning "superior quality wine"
Translated as "quality wine with specific attributes", this is the top level of German wines in general, not exclusively for Riesling. These prominently display a Prädikat (ripeness level designation) on the label and contain a noticeable amount of residual sugar.
Kabinett literally "cabinet", meaning wine of reserve quality to be kept in the vintner's cabinet.
Fully ripened light wines from the main harvest, typically semi-sweet with crisp acidity, but can be dry if designated so. Produced from the earliest harvested grapes. Similar to the Reserve or Cru label elsewhere.
Spätlese meaning "late harvest"
Typically, often sweeter and fruitier than Kabinett. Spätlese can be a relatively full-bodied dry wine if designated so. While Spätlese means late harvest, the wine is not as sweet as a dessert wine.
Auslese meaning "select harvest"
Made from very ripe, hand selected bunches, typically semi-sweet or sweet. It can be a dessert wine.
Beerenauslese meaning "select berry harvest"
Made from overripe grapes individually selected from bunches and often affected by noble rot, making rich sweet and weighty dessert wine. The selection of single grapes makes this a rare wine.
Eiswein meaning "ice wine"
Made from grapes that have been naturally frozen on the vine, making a very concentrated wine.
Trockenbeerenauslese meaning "select dry berry harvest" selection. Luxury noble rot wine.
A Qualitätswein is often racy and light with a refreshing dryness hiding under the fruit. Such a style pairs well with seafood and I found the Dr. L. Dry Riesling 2015 a good match for Octopus with Jelly Fish in Thai Sauce. The Spätlese, as mentioned earlier, has more weighty sweetness to counter spices as with Szechuan cuisine. The more delicate fruit of Dr. Loosen Blue Slate Riesling Kabinett was a different zesty, taste sensation with crispness which complements succulent ginger chicken.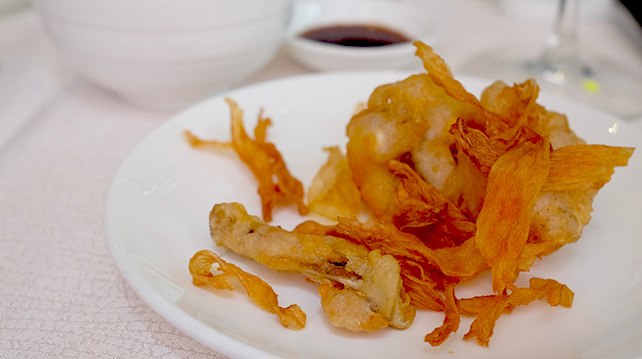 Crispy Ginger Chicken
Kabinett is the lightest, most delicate style of Riesling in Germany produced from select sites, and when we tasted three wines from different areas you could taste the varied "Terroir" or specific site qualities. I must admit that labelling a wine Dr. Loosen Blue Slate Riesling Kabinett may not sound appealing but this Prädikat wine was low in alcohol and rich in flavour. Clearly those vines have to grow deeply and struggle in that rocky soil before producing a mouth-watering, refreshing apple and apricot nuanced wine. The other two Kabinett wines had elegant length and differing rich textural qualities.
The Graacher Himmelreich Riesling Kabinett 2015, for example, had enough brightness to cut through and play with Fried Glutinous Rice with Waxed Meat. While the name of the vineyard site may be a linguistic struggle, the Kabinett itself was a delight and would not stay long in my cabinet. On the other hand, the finale of a leisurely tasting was sweeter Auslese from Wehlener Sonnenuhr. It was full of ripe weighty fruit with enough backbone that it could probably age for decades.
Riesling is diverse, that is for sure. It is the perfect cool white wine for our hot climate, does well with spices and is well worth exploring. Don't hold back too long as it is coming back into fashion with enterprising wine growers like Dr Ernst Loosen championing this classic grape.
Asiaeuro Wines & Spirits Sdn Bhd is the exclusive distributor for Dr. Loosen Rieslings in Malaysia.