If you are not a bartender, the Jungle Bird may not be a familiar cocktail to you. But this will hopefully change after you learn about how remarkable this drink is, especially how the bartending community worldwide rave about it and even name their bars after this Malaysian cocktail that has made it into the classic category.
For the Merdeka special, we present to you 6 facts you should know about the Jungle Bird, a rum cocktail that rocks the world:
1. The creator is a Malaysian
Yes, and he is from Penang!
Jeffrey Ong (Ong Swee Teik), the Beverage Manager of Kuala Lumpur Hilton on Jalan Sultan Ismail (that has nothing to do with the current Hilton KL in Sentral) created the Jungle Bird cocktail as a welcome drink for the hotel since its grand opening in 1973. Ong moved back to Penang in 1975 and went on to work for the first luxury beachside resort there, Shangri-La's Rasa Sayang Resort & Spa and created their welcome drink as well, a low abv drink called Asmara.
Ong was born in Penang on 10th August 1948 and passed away on 26th February 2019.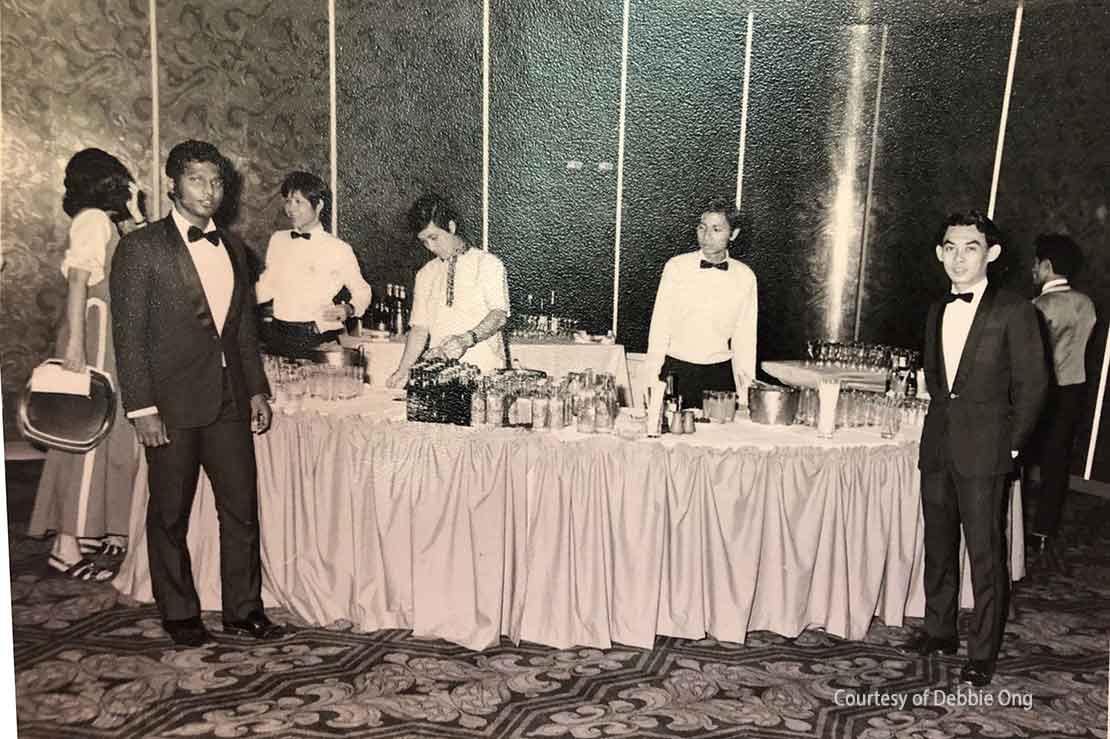 Jeffrey Ong (second from right), picture taken in December 1972
2. It was created in 1973 not 1978
Jungle Bird was said to have been first recorded in The New American Bartender's Guide 1988 version, a comprehensive guide to the new mixology by John J. Poister. We found that nowhere in the 2002 reprint actually mentions the year this drink was created, certainly not the year 1978.
Kuala Lumpur Hilton was opened on 6 July 1973, and the Jungle Bird was the first taste experience for every guest who checked in. The first five-star hotel in Malaysia has since hosted international celebrities like Muhammad Ali, foreign dignitaries and royalty such as South African President Nelson Mandela, U.K. Prime Minister Margaret Thatcher, U.S. President Richard Nixon, and Queen Elizabeth.
The cocktail was served throughout the hotel's operation until its last day on 2nd January 2013. A change of management had the hotel renamed Mutiara Hotel in 2002 and subsequently Crown Plaza Mutiara until it closed its doors for new development.
So here we set the record straight, the drink was created on or before 1973 and not 1978.
3. Five ingredients in the cocktail
Dark rum, Campari, pineapple juice, lime juice and sugar syrup are the five ingredients that make up the classic Jungle Bird. Here is the recipe from Kuala Lumpur Hilton's Beverage Training Manual of 1982 given to the current Hilton Kuala Lumpur by an ex-KL Hilton staff, who is currently still working in PJ Hilton:
1 Jigger (30ml) Dark rum
½ Jigger (15ml) Campari
3 Jigger (90ml) Pineapple juice (The modern recipe has cut this to only 45ml)
½ Jigger (15ml) Lime juice
½ Jigger (15ml) sugar syrup to taste
Pour all ingredients into a cocktail shaker and shake vigorously until well chilled. Strain cocktail into a bird shaped container and decorate with one orchid, a slice of lime and orange. Serve very cold. Its presentation must be the same as shown on the tent card.
Campari as the bittering agent was the game changer for this drink, as tiki cocktails are usually sweet with tropical fruits to mask the alcohol. The combination of the frothiness from the pineapple juice, citrus from lime and bitterness from the Campari make a delicious rum cocktail. Bartenders vouch for it!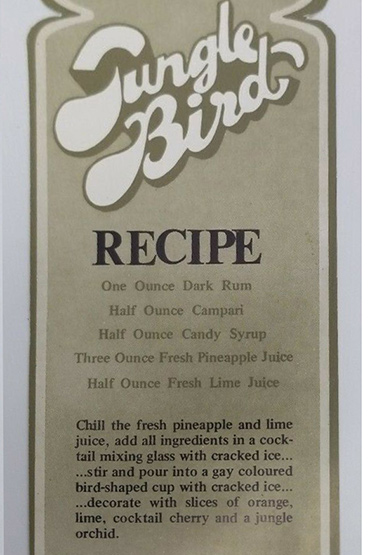 4. It was named after a bunch of birds
The bar that provided the Jungle Bird was the Aviary Bar, which had a view of colourful birds kept in a netted aviary by the pool visible from the bar through a glass panel. The cocktail was named after these birds. The birds were released in the 90s.
5. It was served in a bird shaped glassware​
A reader, James Paul found this card (left) online and sent me a screen shot. In the picture is the original glassware. Some time later, the glassware was changed into the one on the right. This second glassware was presented to me by the top salesperson for the cocktail at KL Hilton in the 90s, who was herself given the nickname "Jungle Bird".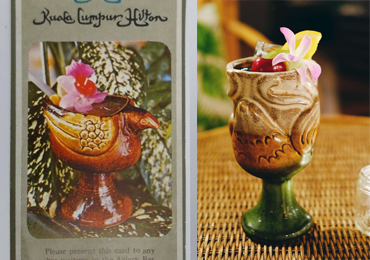 Ceramic bird vessel earlier (left) and later (right)
6. Cocktail bars around the world that are inspired by this cocktail
The Rumah Rum JungleBird in Plaza Damansara, Kuala Lumpur is one of the best bars in Asia, ranked No. 37 in 2020 by Asia's 50 Best Bars.
In the U.S. there are two Jungle Bird cocktail bars, one in Sacramento, California with a Polynesian theme and one in Manhattan, New York focusing on tropical cocktails and food to match.
The Jungle Bird in Puerto Rico, San Juan serves Taino-tropical cocktails and food.
To the south of us, there is one in Fremantle, Australia, a bar and café that serves up cocktails and coffee with Caribbean food.
These are just a few, and there are possibly more to come!
Now learn how to make this classic cocktail by our fellow Malaysian, or order it from any good cocktail bar you go to, they would most likely have their own riff of the Jungle Bird cocktail.
Happy Merdeka Day!
- T -