The alcohol industry is expected to generate 22 million tons of carbon emissions as the world produces 40 billion single use glass spirit bottles in 2020. EcoSPIRITS, a new technology developed by independent spirits company, Proof & Co. in Singapore is going to help reduce the impact of this, starting with a partnership with Four Seasons Hotels & Resorts in Asia Pacific.
Bar Trigona at Four Seasons Kuala Lumpur, Winner of Sustainable Bar of the Year 2019 & 2020, is among the first to adopt this approach. Other countries with Four Seasons franchises which have completed the transition are Singapore, Hong Kong SAR, Macau SAR, Mainland China, Thailand, Maldives, Australia, and New Zealand.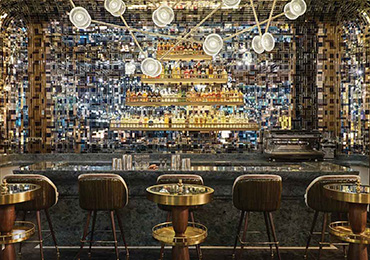 Bar Trigona at Four Seasons Kuala Lumpur, Winner of Sustainable Bar of the Year 2019 & 2020
The reusable EcoTOTE container in striking green which can hold 4½ litres of spirits was designed and produced in Singapore in their ecoPLANT, and now also has facilities in Sydney, Auckland and Melbourne, with locations launching shortly in Hong Kong and Shanghai.
According to the Four Seasons' press release, the partnership with ecoSPIRITS will help the hotel operator save costs and reduce the environmental impact of their operations. With each bottle eliminated, ecoSPIRITS saves at least 550 grams of carbon emissions. This means each cocktail or spirits pour saves 30 grams of emissions.
Even though glass recycling is comparatively advanced in countries like Singapore, only 17 percent of glass is recycled once used. With ecoSPIRITS, premium spirits will be purchased in bulk and transported to the destination, bypassing the need for bottling and will eventually be distributed through the patent-pending ecoTOTE, from which bartenders can refill their bottles. This method resembles tradition prior to the 1800s, when bulk spirits were moved around the world in casks, demijohns and even clay amphoras which were more sustainable.
- T -