In the quiet elegance of The Brasserie in St. Regis Kuala Lumpur, Champagne Delamotte has pride of place at the bar and on the dining tables as the sponsor of the recent Guest Star Chef Series Travels to Japan.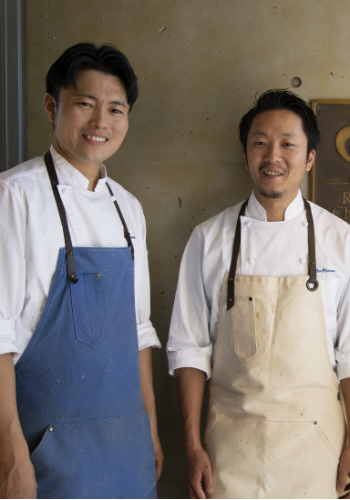 Chef Hajime Otowa and Chef So Otowa
The special series featured brothers Chef Hajime Otowa from Otowa Restaurant and Chef So Otowa of Ciel et Sol taking over the kitchen and tailoring a seven-course dinner, blending their experience in French cuisine and Japanese precision. Three expressions of Champagne Delamotte were paired over the exceptional dinner, including Delamotte Brut, Delamotte Blanc de Blancs 2008, and Delamotte Rosé.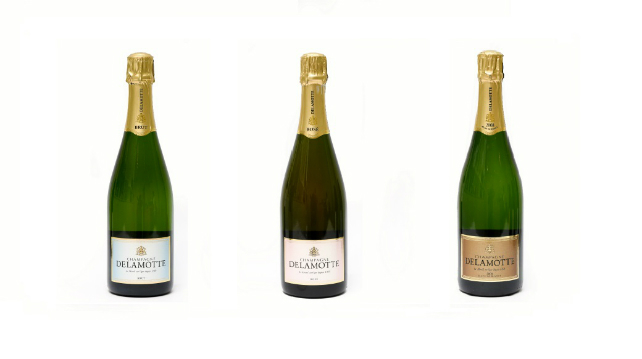 Champagne Delamotte from L-R: Brut, Rosé, and Blanc de Blancs 2008
The pale gold Delamotte Brut started the evening and opened palates with light citrusy notes on the nose, creamy fresh taste, and a short finish, paired together with Yashiomasu (trout) Chaud Froid served with seasonal vegetables of Tochigi, and Date Chicken and Foie Gras Mousse with mushroom-y accents of Morrel and shaved Truffle – the freshness of the Yashio-trout brought out the levity of the Brut, while the rich, earthy flavours from the chicken contrasted against the champagne.
Next, the dry minerality of the Delamotte Blanc de Blancs 2008 has great character that is described as a good partner to sensual foods with deep complexity, like the delightfully umami flavours of the Amadai Croustillant (a crispy pan-fried 'pinecone fish' – cooked scales-down in such a way that causes the scales to blister and lift up, looking almost like a pinecone) with Seaweed Sauce.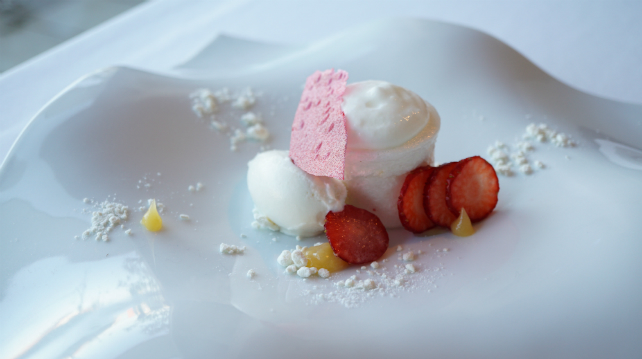 Tochitome Strawberry Œufs à la Neige
Lastly, the Delamotte Rosé is a balance of Pinot Noir and a small amount of Chardonnay that gives it a salmon pink colour and a smoky taste. Served with the last main plate of the night, the Tochinoki Wagyu Beef Roti with Lyonnaise Sauce (pictured with the title) – an unexpected pairing of Rosé and red meat, where the rich flavours combined together surprisingly well – and the dessert finale of Tochitome Strawberry Œufs à la Neige (a kind of meringue) served with a vanilla ice cream infused with sake lees. The Rosé pair exceptionally well with desserts, and especially red fruits like raspberry.
The St. Regis Kuala Lumpur is the flagship location for Champagne Delamotte and Champagne Salon, and holds various vintages from both labels from 1997 to 2008.
- T -