Two of the growing spirit categories are currently having a moment and Thirst Mag is bringing them together in GinRum.Me, the first festival of its kind celebrating gin and rum in KL.
On 7 July, KL Journal will host the full day (12pm - 8pm) GinRum.Me event, featuring spirits tasting, workshops, a pop-up bar from The Secret Mermaid (Singapore), guest shifts, food pairings, and an excellent selection of gin and rum cocktails. One event highlight is the being able to taste 18 different labels of gin and rum, neat, at the exhibitors' booth, including familiar brands like Angostura, Mekhong, Phraya, Plantation, Ron Zacapa, Gin Agricolo, Caorunn, Citadelle, Nikka Gin, and The Botanist, supported by the official tonic of the event, Fentimans. Expect to find their bottles for sale at special prices, so attendees can purchase at the event itself and take home their new favourite discoveries. Cocktails on the day are sold at RM25 - RM30 per drink.
The drinks
Cocktails will be served at the main bar – most notably the Jungle Bird, Malaysia's national classic and the signature serve of the event – and each brand will present their own signature cocktail. For those who want to take a break from the spirits, Monin will be whipping up mocktails, and Beerfarm will supply craft beer.
In the spirit of the event, pick a side and dress up as a sailor to protect the gin supply, or as a pirate to steal the rum booty. The only limit is your own imagination.
Ticket prices
Tickets are available at the Thirst eShop from 20th June at RM85/person, or for a group purchase of five or more email admin@thirstmag.com to get the tickets at RM75/person. Each ticket comes with a GinRum.Me tasting glass, and a passport, which gives you a further discount on special cocktails in our 15 partner bars from 7 - 14 July 2018.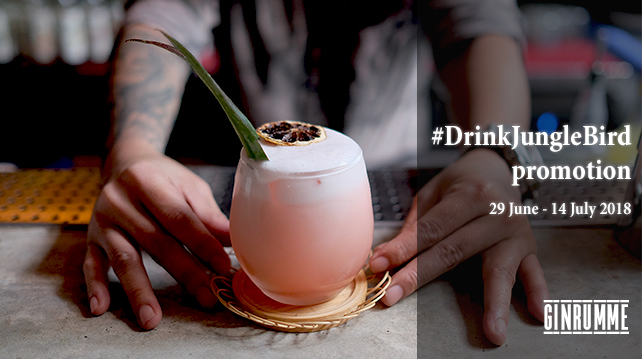 #DrinkJungleBird promotion
Our partner bars are: AD Bar, Bar Zhen, Coley, The Deceased, Hyde, Kenshin, Mish Mash Penang, Nizza Restaurant @ Sofitel, Omakase + Appreciate, Pacific Standard, Pahit, The Pawn Room, The Rumbar, The Swimmers' Club and Three X Co – will be running a two-week bar promotion making special cocktails inspired by the Jungle Bird, available at a special price from 29 June to 14 July. Like what you're drinking and want to share it on your Instagram? Hashtag #DrinkJungleBird so we can keep in the loop too.
Getting there
Attendees are encouraged to take public transport to the venue as parking in the surrounding area is very limited (and also because you shouldn't drink and drive) – so use the MRT or Monorail and walk to the venue, or use the Grab promo code GINRUMME18 on the event day to get you straight to the door and home.
The food
And making sure no one drinks on an empty stomach, catering is expertly handled by The KL Journal in their appetising Malaysian-centric style, featuring nibbles like shrimp and mango wrap (RM20), aglio olio (RM15) , fish fritters curry batter with tartare dip (RM25), nasi lemak (RM10), tomyam fried noodles (RM10), chicken wings (RM25), sweet potato fritters (RM10), popcorn (RM5), cotton candy (RM5) and flavoured shaved ice ball (RM3); and Inside Scoop will look after your sweet tooth with alcoholic ice cream. We're pleased to announce GinRum.Me will be a plastic straw-free event – so bring your own, or drink without! Check out the Tak Nak Straw booth with the exhibitors for alternatives to introduce in your day-to-day life.
Date: 7 July 2018 (Saturday)
Time: 12pm - 8pm
Venue: Workers' Union @ The KL Journal - Level 1, No. 30, Jalan Beremi, Bukit Bintang, 50200 Kuala Lumpur, Malaysia.
Buy your tickets here!
---
For further enquiries, email admin@thirstmag.com or visit the event website GinRum.Me.