There is a debate whether gin was first made using grapes or grains. That debate may never have a conclusion, here is why.
The oldest kitchen recipe found in a Dutch book from 1495 mentions something of a "brandy" that was a distillate made from a mixture of wine and beer. However, to make it medicinal brandy, it had to be distilled from wine with juniper and other plants such as sage, nutmeg and clove "wrapped in a little piece of cloth". The significance of juniper in the recipe, however, was not mentioned.
What is not in dispute is that gin is a descendent of jenever created by the Dutch. Professor Sylvius de Bouve, a 16th century Dutch chemist, alchemist and one of the founding professors of Lieden University in 1575, is nowadays widely credited with creating what is today known as jenever. While historical records showed that juniper flavoured medicinal spirits existed before he made his genièvre, a juniper flavoured distilled malt wine for use as a medicinal tonic, Professors Sylvius' recipe in 1595 made malt wine more pleasant, facilitating it's progress towards "recreational use".
Jenever made from malt wine and infused with juniper berries made it more palatable. What we know is that grapes were difficult to grow in the Netherlands during that period due to the little ice age in the early 1500s, however, beer was popularly consumed. What is more confusing was that malt wine also meant the mash that was the result of fermented grains, which was used to make beer and also for making whisky.
Now you see how we can't really be certain whether the original jenever recipe, which is the father of gin, used grapes for its base spirit first. From this history however, gins made with wine-based distillates are nowadays gaining popularity for the delicate taste of wine grapes that shines through the juniper centred spirit. Though there is no regulation as to the amount of juniper required to be called gin, the flexibility in the lack of requirement thereof makes this category more interesting than the other spirit categories.
Here are some of the more popular brands to get your hands on:
Ferdinand's Saar Dry Gin (44% ABV) Saar-Moselle, Germany
Riesling
Founded by four friends, Ferdinand's Gin represents the reflection of the unique Riesling grape in the region. It is named after the first local Royal Prussian district forester Ferdinand Geltz (1851-1925), who was also the founder of VDP Forstmeister Geltz Zilliken Estate, a famous Riesling wine grower.
Zilliken Estate's 11th generation, international top Riesling producer Dorothy Zilliken shares her expertise in the Riesling varietal while Andreas Vallendar, the master distiller from Avadis Distillery, a distilling family since 1842, runs the distillation. Sales and marketing of the brand is managed by brothers Denis Reinhardt and Erik Wimmers who run Capulet & Montague, an agency that specializes in spirits and wines.
The Saar Dry Gin is a combination of Schiefer Riesling grapes from Saarburger Rausch and 30 locally cultivated and grown botanicals including licorice, lemon, rose hip, bergamot, chamomile and lavender to name a few.
The gin has a soft juniper note and fragrant Riesling on the nose. It is sweet and floral with rose and lavender, lemon zest, mint and a grassy note. A delicate sipping gin with flavours that can be further highlighted with a dash of soda water.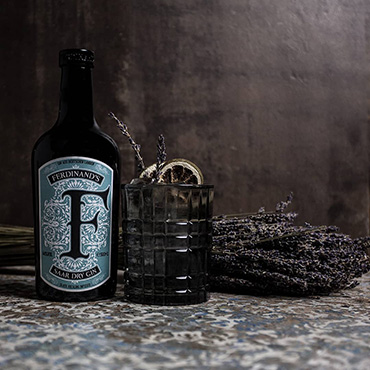 [Photo: Ferdinand Facebook]
Sorgin (43% ABV) Bordeaux, France
Sauvignon Blanc
Produced by an expert on Sauvignon Blanc, Francois Lurton is the fourth generation from a wine-growing family and distillers in Branne, in the Entre-Deux-Mers region of Bordeaux since 1897. Combining his knowledge in this grape variety, he started Sorgin with his wife Sabine, who has a background in fashion.
Sorgin is an aromatic gin produced from distilling Sauvignon Blanc grape juice in an alembic still once after the maceration to retain the aroma of the grapes. It is then blended with neutral wine spirit, juniper distillate and natural flavourings of selected botanicals such as grapefruit zest, lemon, violet, broom, lime zest and blackcurrant buds, to complete the marriage.
The gin is intensely aromatic with fragrant citrus and floral notes, yet light and silky in texture with a long finish. It is suggested to be served neat or with tonic and a twist of grapefruit or orange zest.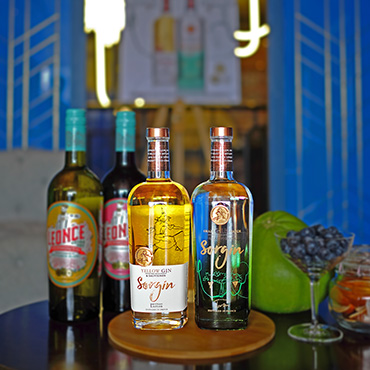 [Photo: Kim Choong]
G'vine Floraison (40% ABV) Cognac, France
Ugni Blanc
G'Vine is produced by Jean-Sébastien Robicquet at Maison Villevert since 2006 using neutral grape spirit distilled from ugni blanc grapes, vine blossoms, juniper and eight other botanicals. The unique element of this gin is the use of vine blossoms, which can only be harvested when they bloom once a year in June. This does reduce the volume of grapes during harvest in September, however, the focus is in producing gin and not using the grapes to make cognac.
The vine blossoms, which are macerated in brandy, and nine other botanicals, namely juniper, lime, licorice, green cardamom, quassia amara, ginger root, coriander, nutmeg and cubeb berries are distilled individually, before being blended for a final distillation in the alembic still named "Lili-fleur".
The spirit doesn't taste like an obvious gin with its gentle citrus, juniper notes, and luxurious texture. However, it has a freshness and complexity from the botanicals supported by the pronounced sweetness from the grapes with a long clean finish. This is one recommended for sipping neat.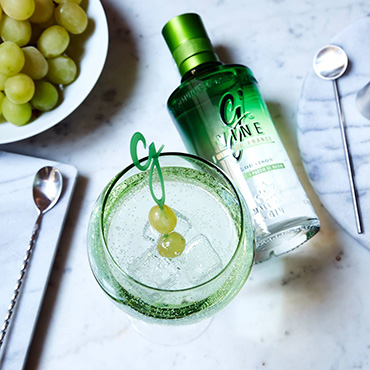 [Photo: G'Vine Facebook]
Nordés (40% ABV) Galicia, Spain
Galician Albariño grapes
Nordés Gin is the creation of three friends, renowned sommelier Xoan Torres Cannas, winemaker Juan Luis Mendez, and master distiller Joseph Alvela. The distillery is located in San Pedro de Sarandón, by the river Ulla in Galicia, the north western region of Spain close to the Atlantic Ocean.
The base spirit is distilled from Galician albariño grapes completed with a maceration of 6 local botanicals (sage, laurel, verbena herb, eucalyptus, peppermint, and glasswort seaweed) and 5 from overseas (juniper, ginger, cardamom, hibiscus flower, and black tea). The liquid then goes through a "slow and deliberate" ('amodiño' in Galician) final distillation to create a gin that is fresh and lively, aromatic (almost perfumey), fruity with some wine-like and balsamic notes. Serve neat over ice or in a G&T garnished with white grapes.
Another unique element is its white and blue ceramic bottle inspired by traditional Sargadelos ceramics produced by Galician artisans.
The brand is now in partnership with the Osborne Group, one of the oldest family owned businesses in the world.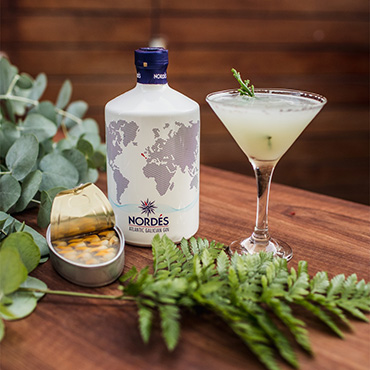 [Photo: Nordés Facebook]
Xoriguer Mahón Gin (38% ABV) Mahon, Spain
Xarel-lo and Parellada grapes
Mahón Gin was first produced in the 18th century by several distilleries on the island of Menorca to meet the thirst of the British Navy stationed there. The gin was distilled from local grape spirits with a heavy dose of imported juniper.
Founded by Miguel Pons Justo in the 1900s, Xoriguer (pronounced sho-ri-gair) was named after the family windmill from 1784, the emblem of the family's centuries old milling business. Today, the Pons family owned Xoriguer distillery remains as the only producer of Mahón Gin, and has been granted geographical indication protection under the EU.
Distillation takes place in copper alembic stills in small batches, with a base spirit made from Xarel-lo and Parellada grapes from Penedes in Catalonia (the same varietals that are used to make Cava), juniper berries which have been aged for about 2 years, and other botanicals which remain a family recipe secret.
The resulting gin is very aromatic and juniper-forward. A smooth, rich palate of pine, more juniper, citrus and herbs with a long warm and spicy finish. Drink neat over ice, or mixed with lemonade as is traditionally drunk in Menorca.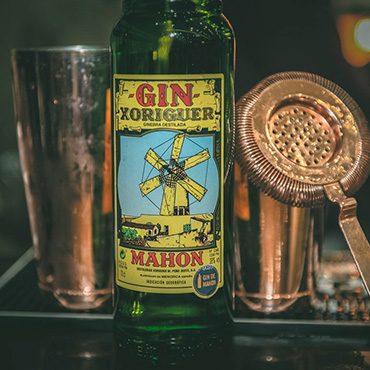 [Photo: Xoriguer Mahón Facebook]
- T -