13 July 2012 – The launch of the first ever Glenfiddich 19-year-old took place at the Single & Available Shop at Bangsar Shopping Centre yesterday. Guests from the local prestigious magazines were invited to the Portugese 15th Century explorer themed event for tasting as well as lunch with Brand Ambassador for Glenfiddich, Struan Ralph and the South East Asia Regional Manager for William Grant & Son, Mr Bernard Jugnet.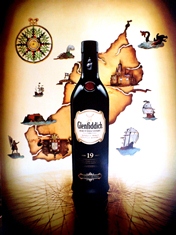 Throughout the event, food pairing which was prepared by The Press Room chose a tapas style serving smoked dry beef on toast, Portugese style chicken skewers, fried peppers with almond sauce, turkey sausage omelete, brandade (cod with black olives dip) and a mini torrijas (Spanish bread pudding) with cinnamon and vanilla ice cream as dessert.

The 19-year-old is named Glenfiddich Age of Discovery Madeira Cask Finish in celebration of the pioneering spirits of the Portugese explorers in the 15th Century. The Age of Discovery refers to the establishment of the city of Macau, naming Taiwan Ilha Famosa (as in Beautiful Island) and the discovery of Prto Santo and Madeira islands by the explorers, which were marked important to the sea routes for trades even at the present time.
This is the first time Glenfiddich has used Madeira Cask to finish a whisky. It has a deep earthy aroma of sweet ripe figs and orange marmalade form a backdrop to bright notes of fresh gooseberries and grapes ripening on the vine. The Madeira cask gives a dry with warmth that fades into a lingering sweet marmalade finish.

The Age of Discovery Glenfiddich Madeira Cask Finish is exclusively available at Single and Available stores at Sri Hartamas, Bangsar Shoping Centre and Mercato in Pavilion KL at RM800 per 70cl bottle.
Sole distributor:
Single Malt Sdn Bhd - D-0-3, Block D, Plaza Damas, 60 Jalan Sri Hartamas 1, Sri Hartamas, 504580 Kuala Lumpur. Tel: +603 6203 2151

Bernard Jugnet Struan Ralph