140 years is a long time, but that's exactly how long Dutch brewers, Heineken have been around. So in order to cap off the epic milestone and usher their near one and a half century in style, the company launched a major light installation of its spiritual home at the Heineken Experience centre in Amsterdam.
The light installation largely consists of over five thousand iconic green Heineken bottles, each of which carries an LED inside. Once the LEDs are activated, the wall of Heineken bottles becomes a huge digital screen that projects celebratory messages through its Facebook fan page.
Fancy seeing your message splashed in full digital glory in Amsterdam? Well then all you've got to do is join the thousands of fans on Heineken's Facebook fan page and share a personal celebration message or a picture of yourself via a dedicated tab on the page itself. The messages will then light up in a dynamic animated showcase, alongside bold images inspired by the brand's iconic history.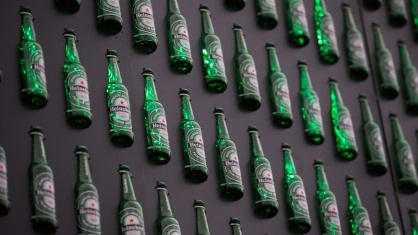 Cyril Charzat, Senior Director of Global Heineken Brand said: "We're proud to celebrate this 140th anniversary – not by dwelling on history but by reaching out to the world and inviting everybody to join in, just as we have been connecting people since we first launched."
He also added that it is the brand's mission to look forward and progress with the times, which is why they have relied on the ever expanding medium of social media. "Heineken are always seeking new and exciting ways to engage with our consumers around the world, igniting the conversation and tapping into their lives", he added.
The LED-lit exhibit will stand tall outside the Heineken Experience from December 7th 2012 - January 3rd 2013 as one of the Amsterdam Light Festival's highlights.
To join the celebration visit the Heineken page here.
- T -