After a month-long search, Heineken Star Academy has found the bartender who has mastered the five-step pouring technique for the perfect pint of Heineken beer. About 600 bartenders from all over the nation took part in the training and from that number, only eight bartenders stood out and made it to the national finals.
The eight are Chris Arandela (The Beer Factory Express, KL), Edilon C. Cauilan (The Beer Factory, Penang), Vickson Leong (Speakeasy Bar and Kitchen, Ipoh), Chan Mei Yee (Midnight Austin, Johor Bahru), Ong Poh Wee (The Beer Factory, Melaka), Christopher Dela Cruz Malgapo (The Beer Factory, PJ), Richard Jugie (Sarawak Club, Kuching), and Jeffrey Maniego Liban (The Shamrock Irish Bar, Kota Kinabalu).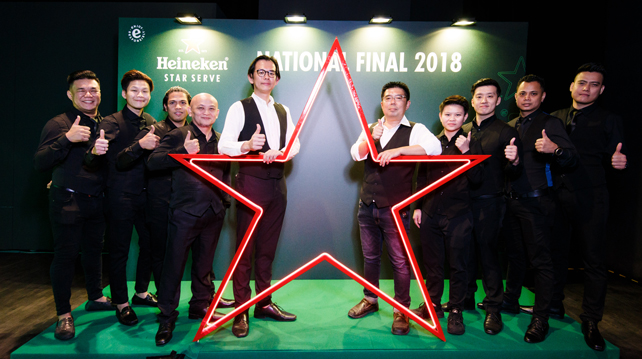 The Heineken Star Serve's five-step ritual – rinse, pour, skim, check and serve – may sound simple but not everyone got it. All eight bartenders came really close in score according to draught masters and judges Jonathan Chong and Thomas Ling, but only Edilon won first place and the opportunity to represent Malaysia in the global finals in Amsterdam.
"It's been great to be a part of Heineken Star Serve, and wining is a dream come true," said Edilon. "I'm looking forward to the next challenge and hopefully the chance to represent Malaysia in the Heineken Global Bartender Final."
The Heineken Star Serve competition, which is in its fifth edition this year, is held in an effort to ensure that the taste of the lager is at its best in all 192 countries. "Through this programme, we can ensure that fans of Heineken beer will receive the same high quality serve at world-class standard, no matter where they are," said Andrew Woon, sales director of Heineken Malaysia.
Edilon, together with 2016 winner Eddy J, will head to the Heineken Star Serve Global finals in Amsterdam this October. Good luck!
-T-