21 October 2013
Grand Hyatt KL
We were led to a bar with two Heineken draught taps without bartenders. That was a rare scene. Shall we help ourselves with some fresh beer?
Whilst feeling puzzled, a voice said: "Please step into the bar and pour a beer with the five rituals." That was Ben Ng, bar consultant from Fluid Alchemy. "We will guide you through it," said Ashvin Shawn Kishore from Singapore.
We weren't given the guide until our second pour and had to drink the glass we were too ashamed to serve others with. Still, it was fresh crisp beer – just half of it though, as the other half was foam. As a result, we were given a water proof sticker to call GABPS for training in the future to improve our beer pouring technique.
This was an event to choose 3 finalists for the Heineken Start Serve bartender. Every guest was invited to try out the Heineken 5-step pouring ritual and experience the difficulty in getting a perfect pour.
National Finals
Nationwide, 1,400 bartenders took part in this competition and only 6 were chosen to compete tonight at the Grand Hyatt KL. They were Bon Siong Hooi (Sky Bar, Traders Hotel), Dexter Dion Patrick (The Beer Factory, Setia Walk), Jamie Malina Samarakkody (Palate Palette, Kuala Lumpur), Jimmy Goh Teong Hock (Patio Bar, Genting), Kristine Tang Yin Hui (Geographer Café, Melaka) and Low Wei Kiang (Beer Belly, Johor Bahru). Three of the bartenders will then enter a boot camp before one is chosen to represent Malaysia to the Global Bartender Finals in Amsterdam on 25 November 2013.
We watched a video of what the bartenders went through during their selection process. It was a three-day journey of learning, practicing and sitting a written test. A yoga instructor was even invited to be present during the bartenders' written test session, to test their endurance for distraction.
Hans Esaadi, Managing Director of GAB

"What makes you go back to the bar? It is because of their service and how the place makes you feel. In GABPS, our two divisions: consultancy and creativity help create an experience for your to want to go back. We design creative menu, provide training to bartenders and help outlets to setup," said Hans Esaadi, Managing Director of GAB, during his opening speech. "The Generation-Y is more demanding than ever. It's not only how you are pouring, it's also who you are as a bartender."
Choosing the final three

Three out of the six finalists were to be chosen to the GABPS Academy boot camp to prove that they are mentally, emotionally and physically prepared to take on the tile of the GABPS Hero of the Year 2013 in Amsterdam.
Judges: (From left) Keith Nair, guest, Ashvin Shawn Kishore, Ben Ng and guest

The panel of judges was Keith Nair, Ben Ng and Ashvin Shawn Kishore. Not only do these bartenders are judged according to the Heineken 5-step pouring ritual, their results also include their personalities and charisma as a bartender.
"Do you have the magic?" was the tagline for the competition. Marketing Director, Bruce Dallas, announced the judging criteria as: Mastering the pour, showing the flair and the magic: personalities, charisma and charm.
Each contestant was given 1 minute to setup, then to present their 'magic' and lastly, perform the 5 steps of rinse, pour, check, skim and serve. Two draught beers were to be presented to the judges. Contestants had to descend a flight of three steps to get to the judges' table. This was tricky for anyone holding a tray in one hand and trying to manage the glasses from falling off at the same time.
Some snap shots of the finalists' performance that evening
Boon Siong Hooi - Sky Bar, Traders Hotel Kuala Lumpur

Dexter Dion Patrick - The Beer Factory, Setia Walk Puchong, Selangor

Jamie Malina Samarakkody - Palate Palette, Kuala Lumpur

Jimmy Goh Teong Hock - Patio Bar, Genting, Pahang

Kristine Tan Yin Hui - Geographer Cafe, Melaka

Low Wei Kiang - Beer Belly, Johor Bahru

Every guest held a point to pick the one bartender they felt deserve to advance to the final. Point from any guest voting for more than one bartender will be disqualified. Jamie Malina Samarakkody from Palate Palette KL received the most votes and won the People's Choice Award.
After a short and entertaining half an hour, three best performed bartenders were chosen. The three who are going to the boot camp are Jimmy Goh Teong Hock, Low Wei Kiang and Jamie Malina Samarakkody.
(From left)Low Wei Kiang, Jimmy Goh Teong Hock, Jamie Malina Samarakoddy

Guests Pouring
10 Heineken Facebook fans were also invited to this event and took the challange for the Heineken 5-step pouring ritual. The 10 were competing each other in pairs in making the perfect tour. ? was the winner and she won a trip to Amsterdam to watch the final.
(Left) Jessie Chuah Marketing Manager of Heineken, Leong Yee Kum

The Pairing
The highlight of the night however, was the three course meal designed to pair with Heneken beer by Grand Hyatt KL. The set up was casual but the food was lip-smacking. The portion was a good size and was not oily. The meal went well with the cold fresh beer that cut through the fat in the duck and fish. Dessert was citrusy lemon and raspberry, which complements a light beer. A sweet dessert would have killed the taste that rounded up the meal.
Here is the menu that night you may want to try ordering if you are at a restaurant that serves pilsner or pale lager:
Appetizer – Smoked duck magret, Waldorf Salad



Main course – Baked cod, warm eggplant and sultana raisin salad, oregano juice

Dessert – Lemon mascarpone tart, raspberry sorbet, nougatine crumb, chocolate stick

Related articles: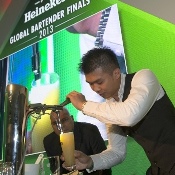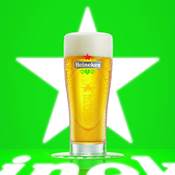 Heineken Star Serve The Art of Serving
Final in Amsterdam That Perfect Pint