Hennessy wants to break the conventional perception of drinking cognac – luxury and upper-class, by emphasising its versatility and vibrancy through Hennessy V.S (Very Special).
Unlike the XO (Extra Old) aged at least six years and VSOP (Very Superior Old Pale) aged for at least four years, the Hennessy VS is a blend of 40 eaux-de-vie that are each aged for at least 2 years.
Hennessy V.S is fruity with grapes and apple notes, the fragrance of wood and vanilla on the nose and a finish with a tad of sweetness and peppery spice. The light and fruity characters make Hennessy V.S suitable for brighter cocktails such as a classic Sidecar that which complements the lemon and honey as ingredients.
Some use VSOP for a denser cocktail like a twist of an Old Fashioned. XO is usually drunk neat or over ice to retain the strong oak character and roundness of the aged liquid.
A few facts about cognac:
1. It is made from grapes called ugni blanc
2. It is distilled twice in copper pot stills
3. It is aged at least two years in French oak barrels from Limousin or Tronçais.
4. It is a type of brandy but made in Cognac, France and falls under French appellation d'origine contrôlée designation.
In a media session at the new Veintidós Bangsar, award-winning bartender Osmund Bernard demonstrated how we can make delicious drinks using ingredients common to Asian kitchens.
Here is Osmund Bernard's recipe:
45ml Hennessy V.S.
15ml lime
15ml sugar syrup (1 part water: 1 part sugar)
¼ dragon fruit flesh
2 pieces of kaffir lime leaves
1 piece of asam boi
Instructions:
- Put the dragon fruit in a shaker, tear off the kaffir lime leaves and muddle everything
- Add lime juice, sugar syrup and Hennessy V.S
- Top the shaker with ice and shake vigorously for 10 seconds
- Pour through a strainer into a coupe or martini glass to strain the bits
- Garnish with kaffir lime leaves
Following Bernard's method, we created our own cocktail using ingredients available. Here is our recipe: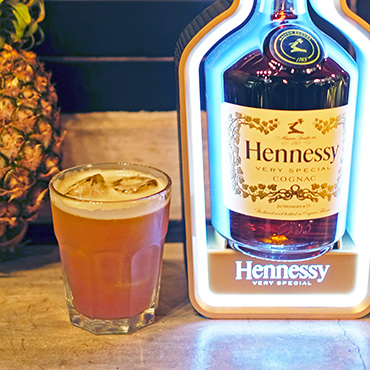 60ml Hennessy V.S.
30ml passion fruit puree
30ml calamansi juice
45ml sugar syrup
1/4 lemon grass
1 chili padi
Instructions:
- Put lemon grass and chili padi into a shaker and muddle to break them down
- Add all the liquid ingrdients and top with ice
- Secure the shaker with the lid and then shake the contents vigorously for 10 seconds
- Pour through a strainer into a rock glass filled with ice
This December, with every purchase of the Hennessy V.S Gift Pack with the 700ml shaker from supermarkets or online store, receive a complimentary cocktail and a Grab code valued at RM20.
- T -