W Kuala Lumpur home mixologist, Siew Han Jun shared some tips and tricks about home bartending. We learned a thing or two from a session with Han using their Tanqueray No. Ten Home Bar Kit sent by the hotel.
Pick your gin, taste it neat
The classic London Dry gins are juniper forward, citrusy and strong with spices such as cardamom, angelica roots, orris and licorice. In the past two decades as the gin category grows, more experimental gins emerge which predominant flavours are anything but juniper.
Contemporary gins like Tanqueray No. Ten uses fresh citrus instead of conventional dry ones for the purpose of consistency. The gin in an elegant green bottle is sweet on the palate with a whiff of citrus fragrance and very mild bitterness to end.
Whether you are drinking gin in a G&T or Martini, Gin Fizz or Negroni, getting to know which gin suits you by tasting it first neat.
Han shared his recipe for a Martini to fully enjoy your favourite gin as too much vermouth may overpower some delicate flavours from the gin.
45ml gin of your choice
5ml dry vermouth
Fresh or packaged juices
Fresh juices may seem the best to make cocktails with but as fresh fruits taste different individually, it could be hard to achieve consistency every drink. Also, not everyone has a juicer , therefore package juice could be a good alternative. With longer lifespan, especially when only one or two drinks are made each time, packaged juices can be stretch over a few times and still keep the same consistency in taste.
Citric acid is a common replacement for fresh citrus and a long shelf life. For those who prefer freshly squeezed lemon or lime juice, Han recommended to have these juices measured and frozen into ice cubes. If each ice cube is measured at 15ml each, for a cocktail that needs 30ml lime juice, simply put two cubes into the shaker with other ingredients, shake until mixed.
Kitchen tools as bar tools
Anything in the kitchen can be used in replacement of bar tools. Plastic containers or mason jars as shakers, chopstick as a stirrer, soup spoon as jigger and a sift as a strainer etc before investing in the real things
Now make the drink
Equipped with these tips, it's time to make a drink. W Kuala Lumpur now offer a home bar kit (RM388++) that comes with a bottle of Tanqueray No. TEN, Copa glass, jigger, bar spoon and the ingredients to make several portions of their signature cocktail, The Hive Five.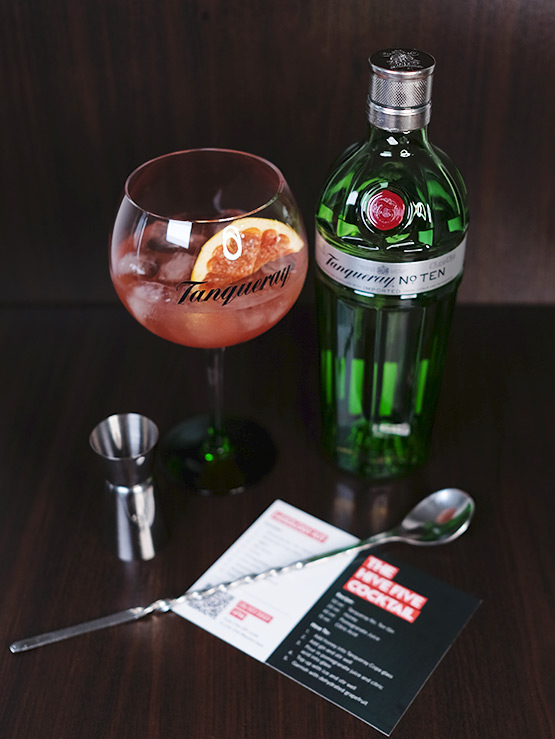 Recipe for The Hive Five
50ml Tanqeuray No. TEN Gin
20ml Honey
45ml Pomegranate Juice
15ml Citric Acid
Instructions:
Add honey into Tanqueray Copa glass
Add gin and stir well
Pour in pomegranate juice and citric acid into the glass
Top up with ice
Garnish with dehydrated grapefruit
- T -