Drink what you enjoy regardless of the label, especially when it comes to rosé wine. Pink, Blush or Dessert wines, they are often styled as medium sweet to very sweet. Many agree these wines are designed for women, since they come in pretty pink, sweet, cloying and yummy!
Very creative American producers add more appeal churning out labels like 'Happy Bitch Rosé', 'Skinnygirl California Rosé' or 'Flirty Pink Moscato'. These certainly add more glamour to the packaging and marketing, but not necessarily the wine content. Here is how to recognise a bottle that is worth your penny .
When drinking wine, the first factor of detecting sweetness on our tongue is the residual sugar in the wine. The higher the sweetness, the higher the residual sugar (the amount of sugar level left after the fermentation stops) there is. The alcoholic fermentation can be stopped mid or half-way, depending how sweet the winemaker wants his wine to be. Rosé wine can vary from off-dry (slight hint of sweetness, which can also be found in white, red and sparkling wines), followed by medium sweet, sweet and lastly cloying or very sweet.
Not all sweetness felt on the palate is from its residual sugar. Sometimes intense fruit flavours can be confused with sweet flavours. Alcohol content in wine can also be a factor, the higher the alcohol, the higher the perception of sweetness it is for the taste.
Sweet wines from grapes left on vine longer than usual is termed as 'late harvest wines'. Popular types are Sauternes, Vouvray and Muscat Beaumes-de-Venise from France, late-harvest Rieslings from Germany and Australia, White Zinfandels from America, Ice wines from Canada, Tokaji from Hungray and Moscato D' Asti from Italy.
It is undeniable that our taste buds affect our emotions. This was proven more true when my fiancée opened a bottle of Whit Zin (Zinfandel) yesterday, that brought back sweet college memories!
It was a bottle of Sutter Home White Zinfandel from Sierra foothills, California. A still wine, salmon pink in color, with aromas of sweet fruit. The medium sweet, bursting fruit flavours of strawberry, melon with mask hints of rose hip tea was delicious when served chilled.
If you are looking for an equally yummy fizzy option, I recommend Moscato D' Asti. Although there are many producers out there, my favourite is Michele Chiarlo Nivole Moscato D'Asti, a DOCG wine from Piedmonte, Italy (5.5% abv, 375ml).
For semi sparkling wine, termed as 'frizzante' in Italy, it feels sweeter and lighter on the palate. I would say it is nothing short of heavenly!
Produced from 100% Moscato Bianco grape, this is a pale-straw fizzy wine of greenish tinge. It is intense and aromatic on the nose with bursting floral notes of peach and meringue. On the palate, it is clean, delicate, medium sweet with soft vanilla. You can taste the oozing ripe peach and grapefruit with refreshing acidity. This wine has a good length for its hints of mineral lingering over sweetness.
To continue the cheer in the month of January, serve this wine chilled with desserts and pastries or leftover from Christmas and New Year (if there is any!).
Pervious article > What you need to know about varietal and blended wines
Next article > Pairing Malasian food with wine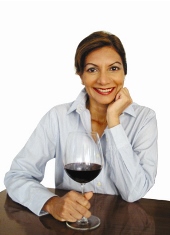 Manjit Tabitha is a certified Wine & Spirits Educator with AIWS, Awards in Wines & Spirits, from WSET UK. You can get in touch with the writer by emailing her at asktabs@gmail.com.