In this Southeast-Asian climate, we have been having cold climate stone fruits like peaches and nectarines from cans and usually soaked in sugar syrup. The good news is, these summer fruits are available fresh in supermarkets imported from countries like Japan, China and Australia.
Taste Australia, an Australian brand that helps promote and market Australian horticultural products through trade shows and retail marketing campaigns to the global market, has just introduced a range of Australian cherries, peaches, nectarines, apricots and plums to Malaysia.
According to their press release, Australian cherries and summer fruits are farmed in accordance with Australia's stringent processes, ensuring their high quality for exports. They are said to be packed with vitamins A, E and C, antioxidants that provide energy to the body whilst boosting the immune system to fight infections. They are promoted as fruits suitable for any occasions and for gifting.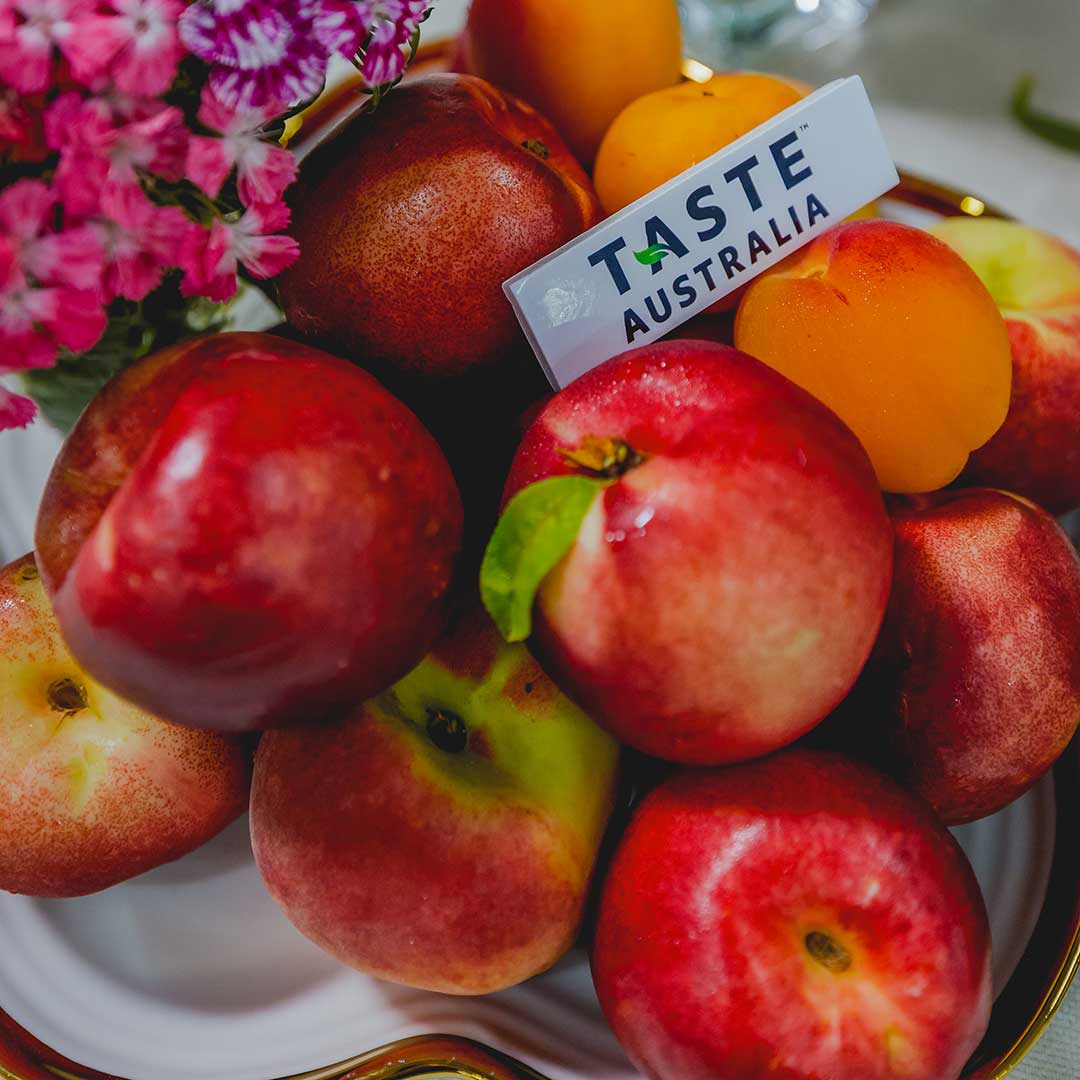 Peaches and nectarines. Photo: Taste Australia
In the launch held at TCH Foodworks, World's Top Outstanding Master Chef 2019 Chef Dato Fazly Yaakob was invited to present a fruit pie recipe using Australian cherries and summer fruits.
Picking peaches and nectarines that are sweet
There are only three tricks really, or rather, observations.
1. A ripe peach or nectarine has a golden hue instead of yellow colour.
2. The fruit should also smell fragrant and somewhat soft when given a firm touch.
3. For a sweet peach or nectarine, look for "freckles" on the skin. These are "sugar spots" that indicate sweetness intensity of the fruit.
Difference between a peach and nectarine
A peach has thick, fuzzy skin and soft flesh, whereas a nectarine is usually smaller, has thin, smooth skin and firmer flesh.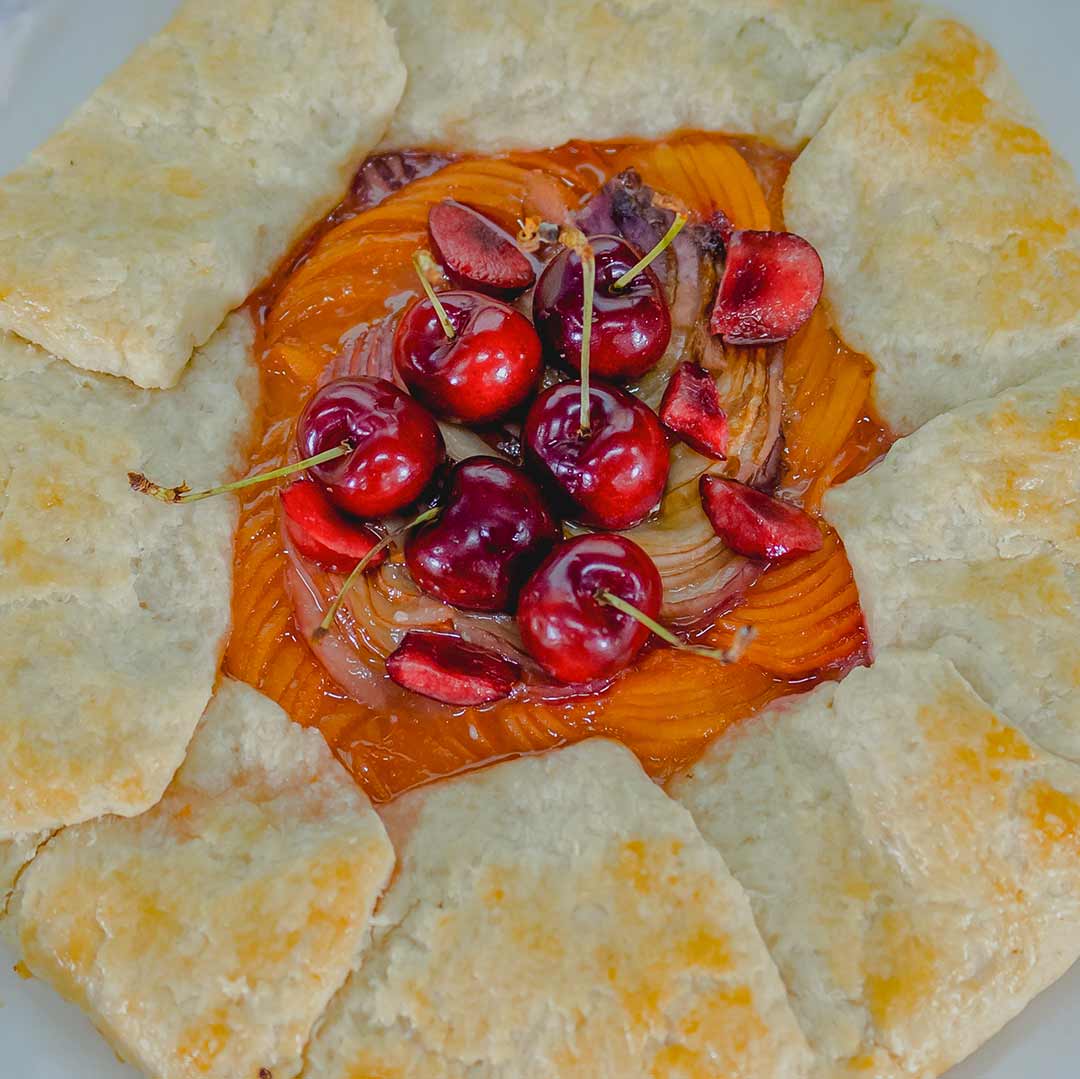 Chef Dato Fazly Yaakob's Summer Fruit Pie. Photo: Taste Australia
No measure Cherry and Summer Fruit pie recipe
The pie crust was made using flour, butter, salt, sugar and cold water. Without an electric mixer, flour was manually cut into the butter until a dough was formed. It was then flattened in a pan where the centre was indented to form a shallow dip for the cut fruits to sit.
Once the fruits (except the cherries) were lined, a cube of butter was added on top, together with a few dashes of vanilla extract and a sprinkle of some brown sugar.
The pie crust was then brushed with egg, garnished with a pandan twirl and baked for 30 minutes at 180°C.
Fresh cut cherries were placed on top of the fruit after the pie was removed from the oven, then brushed with fruit glaze before serving.
The fragrance of a fruit pie from its butter crust is a very homely smell. Combining it with the taste of freshly cooked fruit adds a fuzzy feeling to the heart through the taste buds.
I want to replicate this taste through a cocktail, though not with a burst of summer fruits. It's a sipping classic that gives a vanilla sweetness on the palate through aged rum and cooked butter. This would preferably be drunk after a meal together with some sweet dessert like a fruit pie or chocolate.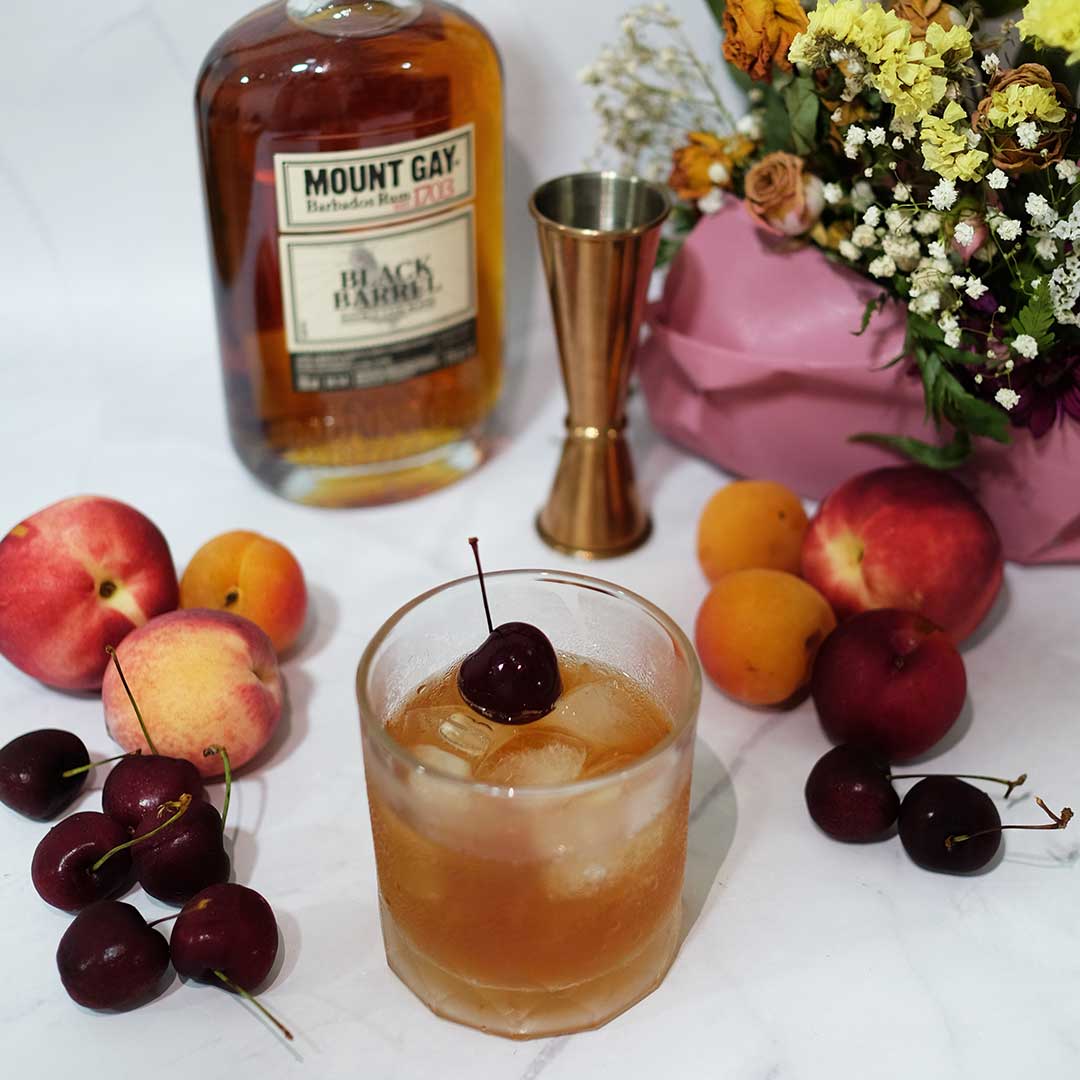 Summer Fruit Pie Old Fashioned. Photo: Kim Choong
Summer Fruit Pie Old Fashioned
60ml brown butter fat washed infused Mount Gay Black Barrel Rum
15ml peach syrup
2 dashes Angostura Orange Bitters
1. Pour the rum, peach syrup, bitters and ice into a stirring glass
2. Stir for 30 seconds then pour into a rock glass with ice
3. Garnish with a cherry and serve
Make brown butter infused rum
300ml rum
100g butter
2 jars with lid
1 coffee filter paper/cheese cloth
1. Melt the butter in a saucepan (preferably not a black pan so that you can see when the butter is browned and not burnt)
2. Simmer off the moisture from the butter over low heat
3. Continue cooking until brown sediments show at the bottom of the pan
4. Pour into a jar and leave to cool
5. When the brown butter liquid has cooled to room temperature, pour rum into the jar and mix by gently swirling the liquid without using any tools
6. Close the lid and leave in freezer for at least 4 hours or until the butter is solidified
7. Once ready, take out the solidified butter and pour the rum through coffee filter paper into another jar
Peach syrup
1 peach
100ml water
100g brown sugar
1 jar with lid
1. Pour the water into a pot and bring to boil
2. Reduce heat then add brown sugar to dissolve
3. Add chopped peach once brown sugar has dissolved entirely
4. Cook for 5 minutes on low heat
5. Remove from heat and pour the contents into a jar
6. Let cool then put in fridge for at least 4 hours to infuse before use
- T -