Wine producer: Hugel Wine Dinner
Restaurant: El Cerdo, Kuala Lumpur
Date: 23 January 2013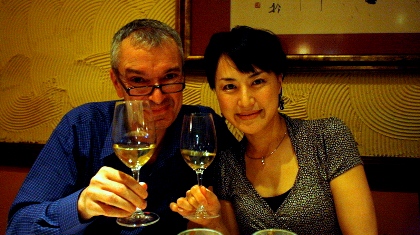 Etienne Hugel his fiancé Kaoru at the dinner.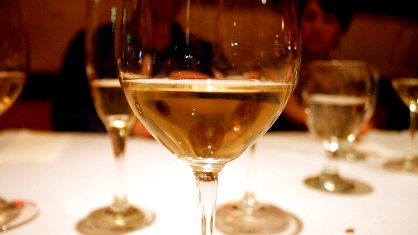 Pre-dinner
Tarte flambee – Flammekueche thin-crust pizza made with crème fraiche, sliced onions and smoked lardons (bacon)
Paired with Hugel Gentil
– A light and pale yellow wine that is aromatic with the fragrance of rose, jasmine, hawthorn, linden, acacia flowers, almond blossom, fruity of apricot and quite spicy.
A delicious pairing with the cold meat and slightly spiced fruity gentil that slightly cut through the cream cheese.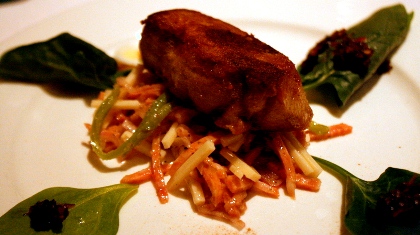 First course
Salad alsacienne traditional sausage and cheese salad seasoned with warm gooseliver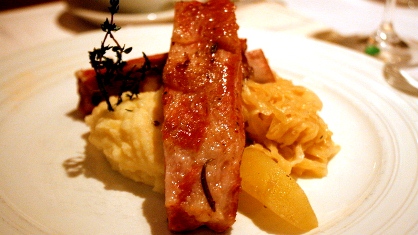 Second course
Choucroute garnin cured iberico pork ribs on apple sauerkraut
Paired with Hugel Riesling – Bright and straw green colour with fruity aromas of green apple, gooseberry, citrus, grapefruit, lime, floral spring flowers, fresh bouquet.
The gooseliver and ham was light but provided a satisfaction to the stomach when downed with the Riesling. The citrusy grapefruit character was brought out by this dish while the second dish added some saltiness to the palate. The freshness of the Riesling made the palate more sensitive to the second dish, which makes the dish a little saltier than it would have been. We thought the pork ribs dish would go better with a wheat beer.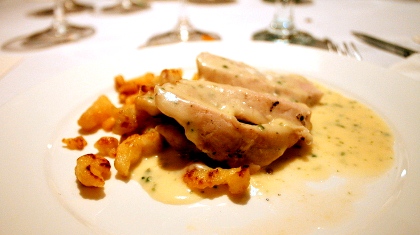 Third course
Coq au Gewurztraminer chicken in white wine sauce on spaetzle with melted muenster
Paired with Hugel Gewurztraminer
– Dry on the palate, aromatic and floral notes with a hint of spice, rose, tropical fruit and lychee.
The chicken dish would go well on its own whether or not it was included in the menu. The melted muenster was better paired with the wine as it brought out the spice and aroma in the wine.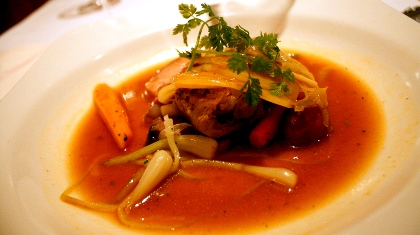 Fourth course
Slow cooked in wine-sauce, pork, lamb, beef with sliced baby potatoes and leek
Paired with Hugel Tradition Gewurztraminer
– Light and soft on the palate, a very subtle fruity and floral note of apricot and apple, creaminess of almond blossom with a dry after taste.
By the fourth course, we were already quite full. The all meat dish became a bit of a burden and the creamy wine though soft, was not complimenting the salty dish at the end.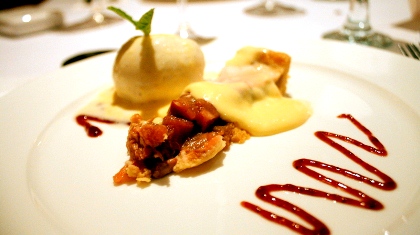 Dessert
Tarte a la rhubarb a l'ancienne with Gewuerztraminer Sabajon and vanilla ice cream.
Paired with Hugel Vendange Tardive Gewurztraminer - Sweet on the palate but not overpowering, strong lychee aroma and passion fruit, floral note of jasmine and oriental spices that leaves a long lasting fragrant in your nose.
The lightness of the rhubarb and vanilla ice cream gave a refreshing feel to the whole meal. The fruitiness of the Vendange complimented the dessert that gave quite a smooth finish to our overwhelmed palate.