Blending is a technique used in the making of many beverages to achieve consistency and balance: wine, champagne, cognac, whisky, sherry… but it is uncommon in Japanese sake. Every bottle of sake is a unique product of a single brew using a parallel multi-stage fermentation process that highlights its rice variety, koji and yeast.
The Japanese take their sake brewing very seriously as they pay respect to tradition in making such a symbolic beverage that is culturally important to the nation's identity. By it being called "Nihonshu" (Japanese national alcohol) reflects the significance of sake to Japan.
The French similarly treat their victuals with such pride. Terroir and the art of blending are so strongly advocated in wine making, they have built such reputation that geographical names are synonymous to the quality of grapes and wines produced in France.
But regulations in the use of ingredients and techniques can result in rigidity and stagnation. There is more room to change and develop in sake regulations than say, Champagne. Here, we see two sake projects injected with new ideas yet respecting the origin and terroir of the sake tradition.
Oftentimes, the knowledge of sake brewing and wine making is passed down from generation to generation to honour the traditions. What happens when tradition is disrupted? What's more if two of such proud practices collide?
Two sake projects led by French winemakers are doing exactly that by introducing blending of sakes through brewing and gastronomy innovations.
Tanaka 1789 x Chartier Project – Blend 001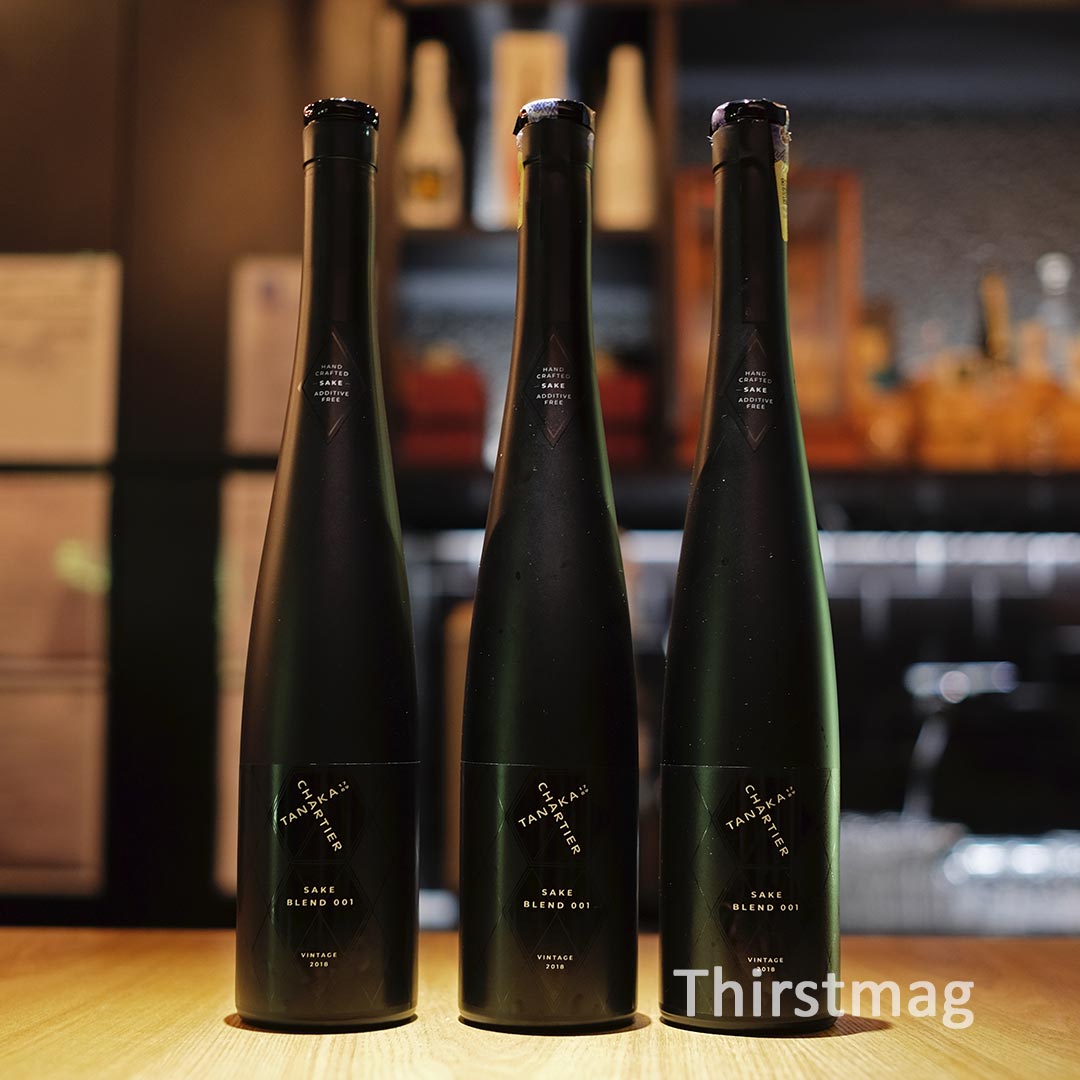 Blend 001 is a combination of 11 different types of sake using 2 types of rice at 60% polishing ratio, 30% koji rice rather than the usual 20%-23%, Shubo type yeast starter Kimoto and Yamahai and 3 types of Kobo (yeast) types the classics #6 and #7, and Miyagi B3.
The brewery experimented with a lower temperature of fermentation for a longer period of time that gives a full body sake (8°C-12°C) and pasteurised (Name-Zume style) once at 58°C for stabilisation so to weather the travel during exportation. It is aged 14 months before bottling.
Chartier's concept of 1+1=3 explains the aromatic synergy effect in flavour matching. His research in aromatic science of molecular harmony started since 2002 which deconstruct flavours into individual molecules that eventually decipher their matching flavours. This scientific approach has unfolded many flavour matches which were not considered before.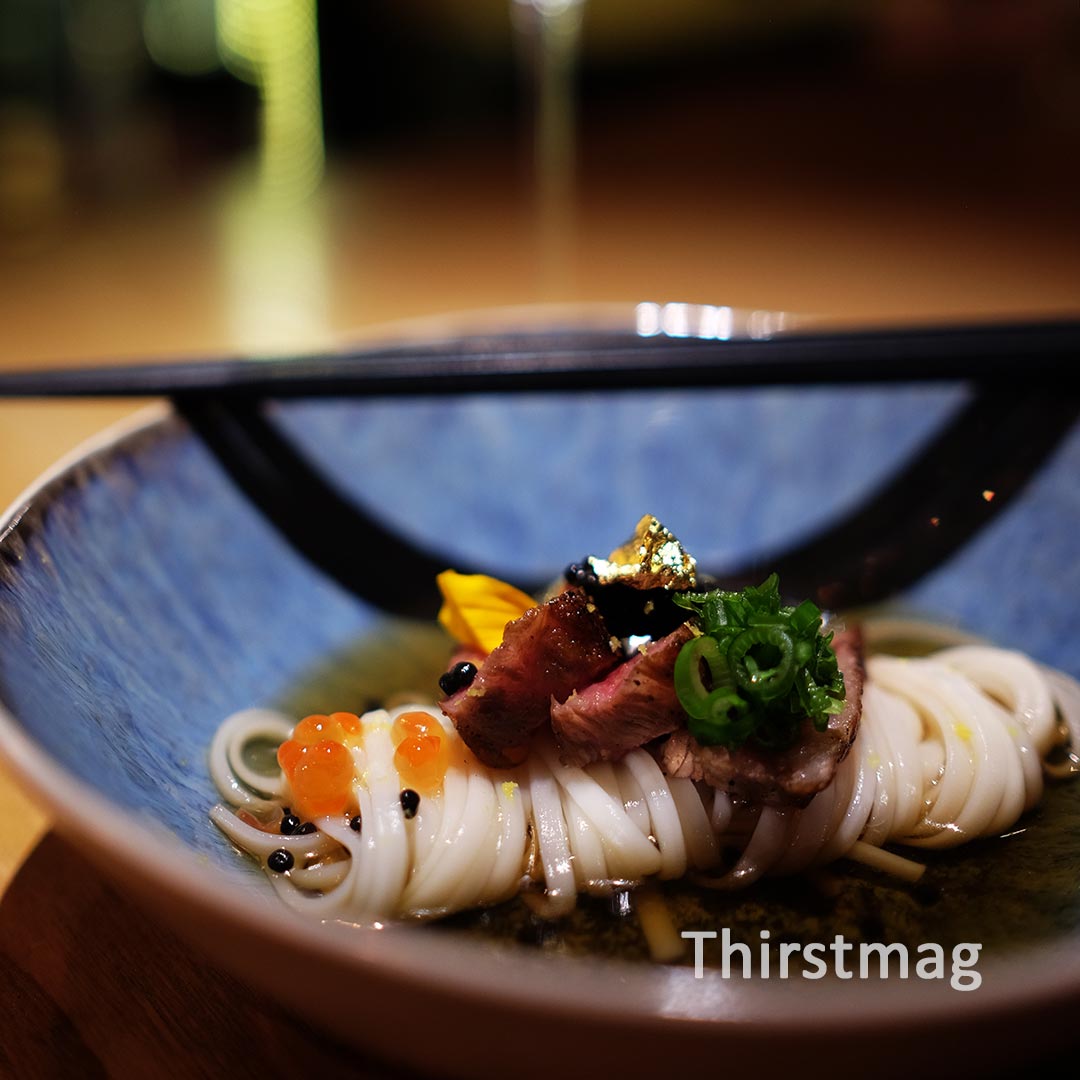 Tasting notes
Blend 001 is comparable to a white wine with fresh acidity. When served chilled at 8°C, it is herbaceous and savoury with a sharp acidity. As it warms up to 18°C, it is vegetal with aromas of coconut and sweet peaches, full body and a long after taste. Food pairing possibilities ranging from mushroom and jamon (20°C), foie gras and mango (24°C), caviar, grapefruit and pomelo (8°C), and black truffle (18°C).
Blend 001 was paired with Inaniwa cold noodle along with cavier, ikura, gold flake and Tajimaguro Wagyu (cattle are fed with a diet blend of grains, sesame seeds, soba, wheat and non-genetically modified corn to stay disease-free) from Wagyukami
Only 8,000 bottles are produced.
The Brewery
Tanaka Brewery was founded in 1789 located with a new leadership team which charted a new strategy to target at wine drinkers. After learning about the art of blending from Master Blender Dr Pascal Chatonnet and a successful outcome from blending sakes in the brewery, it has resulted the creation of sake project with François Chartier in 2017.
Purportedly the first to introduce blending into sake making, Chartier, the author of 26 books on Food and Food & Wine Pairing of which some have won numerous awards, designed the blend with culinary experiences in mind. Chartier is a sommelier and chef who went on to study molecular science.
The collaboration project with Tanaka Shuzoten in Miyagi Prefecture saw the French Aroma Expert and Specialist worked closely with Toji Morikawa in the making of the Blend 001, Vintage 2018 Nama Zume Junmai sake released in December 2020. Alongside Chartier in this collaboration are his wife Isabelle Moren and sommelier Nicolas Roché.
IWA 5 Assemblage 2 Project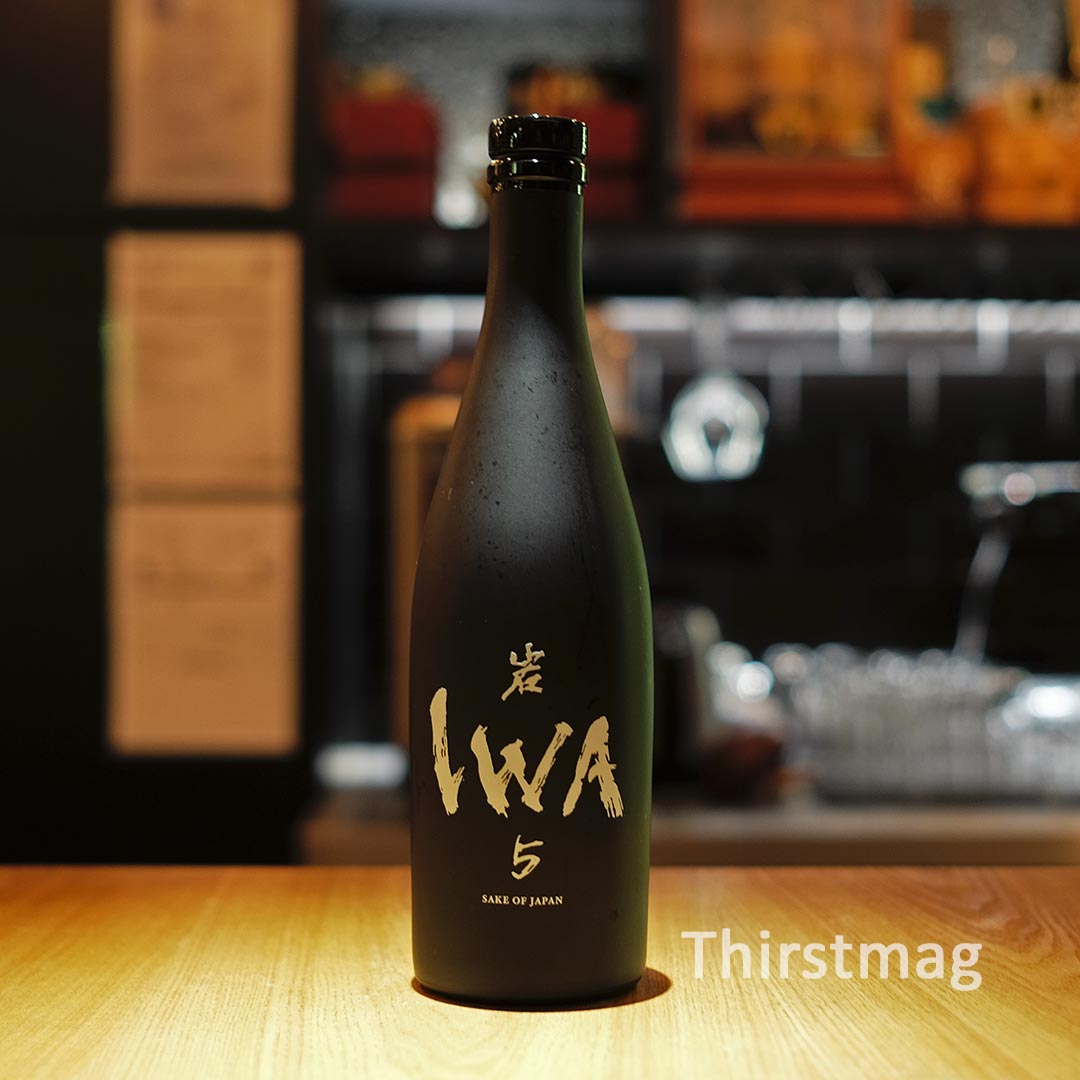 Assemblage refers to the crafting process signature to IWA. The five components are composed, like Richard Geoffrey's love for orchestra, with the varieties of rice used and its origin, the different yeast strains employed to provide different aromas and mouthfeel, the fermentation starter (known as "moto") and the maturation process.
The IWA 5 Assemblage 2 was released in May 2021. It is a blend of 3 rice varieties at 55% polishing rate from 4 regions using 5 different koji at 25%. The bottle at the time of tasting at Rokunana on 5 November 2021 was aged for 16 months, an information reluctantly shared by the creator himself as he continues to experiment with aging the blend.
Tasting notes
IWA 5 Assemblage 2 is a sake to be tasted in varying glassware and temperatures between 1°C to 55°C to experience the difference in acidity, texture which influence the choice of food that goes with it. It is described that "its versatility to ingeniously adjust itself sensibly to one's palate, it may be paired with a range of foods, no matter how delicate or robust their flavours may be."
We tasted juicy lychee when served at 8°C and more umami with continuous sweetness and acidity as it gradually warmed up. It was paired with pan seared fresh Hikkaido scallops (hotate) with king crab (Tarabagani) on top and with a touch of GaniMiso and Tare Jyoyu sauce.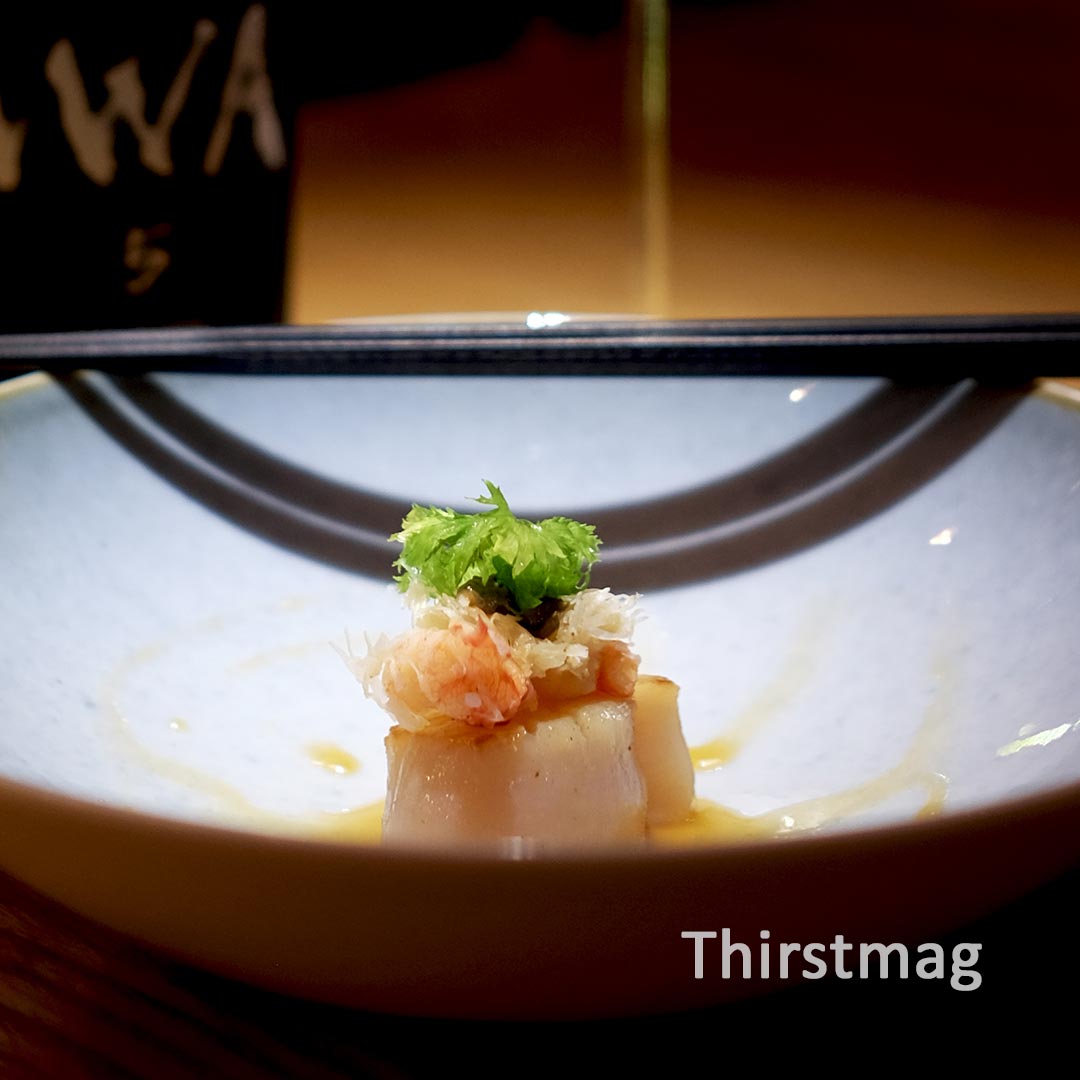 IWA Brewery
Richard Geoffrey, the Chef de Cave (winemaker) of Dom Perignon had spent 28 years making the iconic Champagne brand until 2018. He has been highly intrigued by sake which led to him starting a sake project from ground up with a team hand-picked by himself to translate his vision of a new age sake. He founded IWA.
IWA's new sake brewery Shiraiwa (meaning "White Rock" in Tateyama Town) was opened in October 2021 in Toyama Prefecture. Designed by Kengo Kuma, named the World's Most Influential Architect by Time Magazine in 2021, IWA's brewery with Hida mountains as backdrop serves also has rooms for private guests, a dining room and kitchen for visiting chefs.
Standing between mountain foothills and flatland, the property faces a 10-hectare rice paddy field with access to pure local water straight from mountains among which receive the heaviest rainfall in the world.
Geoffroy's life motto in winemaking has been working for balance and his best compliment comes from the Japanese as a "gaijin" ("outsider" in Japanese) is the recognition of his innovative approach that he integrates into their tradition for hundreds of years in sake brewing.
Limited quantity is produced each batch.
"A good sake can age very well," said Danny Leong, first Master Saké Sommeliers by The Saké Sommelier Association (SSA) from Malaysia, in the guided tasting at Rokunana. Both sakes are conditioned for cellaring and each in uniquely designed bottles.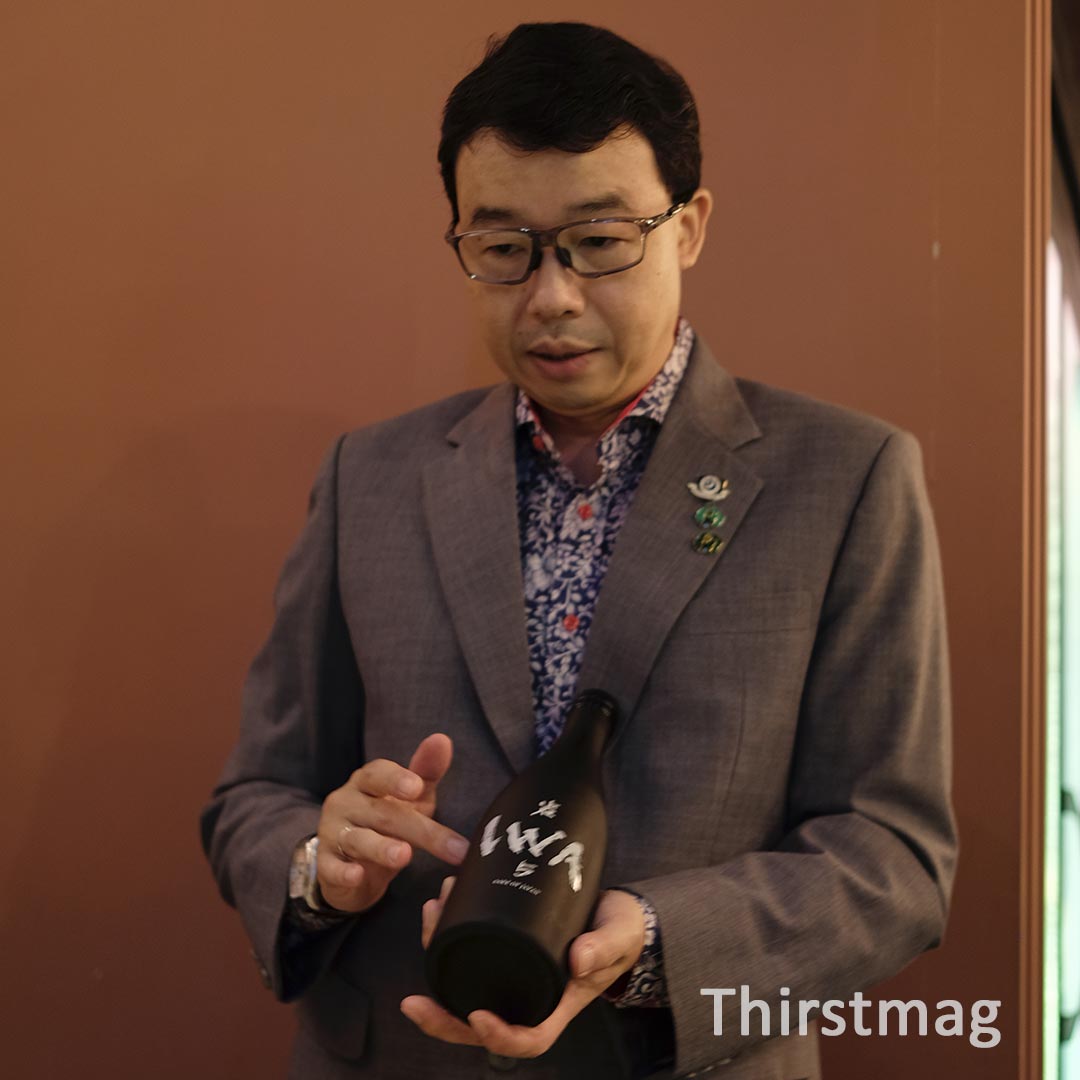 Tanaka 1789 x Chartier – Blend 001 (500ml) is priced at RM838 and IWA 5 Assemblage 2 (720) at RM1,008 a bottle from sakekami.com
- T -