Frescobaldi wines come from a Florentine noble family lineage with history of over a millennium that involved textile, banking, politics and wines.
The family managed finances for numerous European royal families, especially the kings of England and even funded the Crusades.
Using their wealth, the family contributed to the development of Florence. Notable contributions include the building of Santa Trinita Bridge next to Ponte Vecchio in 1252 and the provision of land for the construction of Santo Spirito Church by Brunelleschi in 1400.
Their wine production journey began in 1308 and since then have supplied to the royals and artists. During the Renaissance, they supplied wines in exchange for paintings with famous artists like Michelangelo and Donatello. The Pope drank their wines too!
Today, Frescobaldi is the reference for Tuscan fine wine, exclusively dedicated to cultivating Toscana diversity through its 8 estates: Castello Nipozzano, Tenuna Perano, Tetuna CastelGiocondo, Tetuna Castiglioni, Castello Pomino, Gorgona, Rèmole and the latest winery, Tenuna Ammiraglia.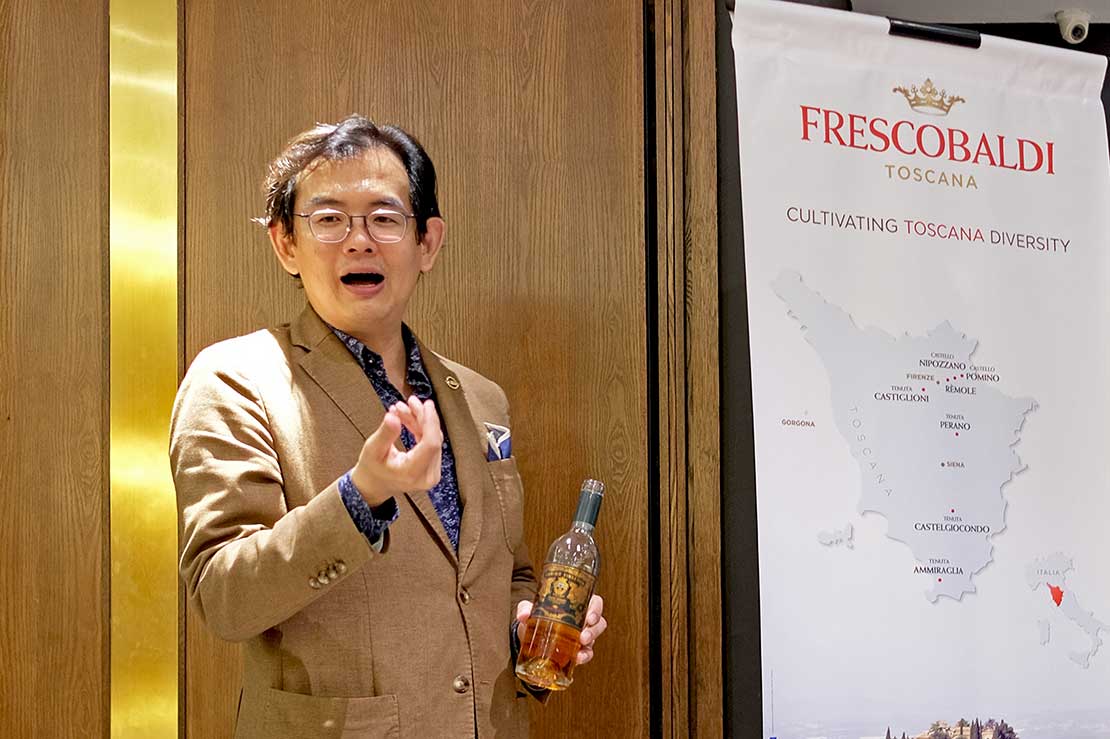 A private wine dinner organised by sommelier, Thomas Ling, showcased a series of 5 award-winning wines by Frescobaldi to highlight the diversity of Tuscan wines through pairing prepared by Chef Christopher Yee of Top Shelf Prive at TTDI, Kuala Lumpur.
Thomas Ling is a sommelier and partner of Entwine, a beverage consultancy firm based in Malaysia.
Alie Rosé Toscana IGT 2017, 12%ABV
Tenuna Ammiraglia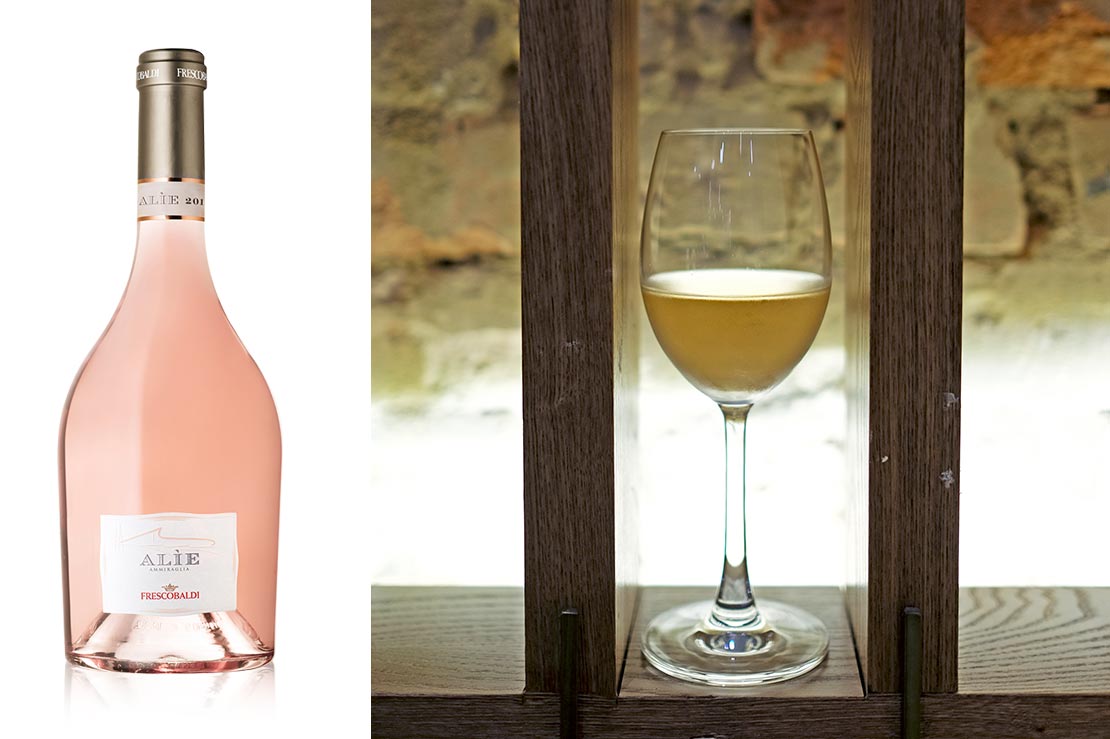 Fine and elegant, the light pink rosé has a subtle fragrance of peach. It's a blend of Syrah and Vermentino that sat 4 months in stainless steel tank and one month in the bottle. The 1.5-litre magnum bottle was served as an aperitif before dinner.
The wine is produced by Frescobaldi's latest winery, Tenuna Ammiraglia that boasts the finest of modern winemaking technology. Located in the heart of Tuscany's coastal Maremma area at Magliano, the structure of the building is said to follow the natural lines of the landscape that blends into its surrounding environment.
Pomino Bianco DOC 2018 12.5%ABV
Castello Pomino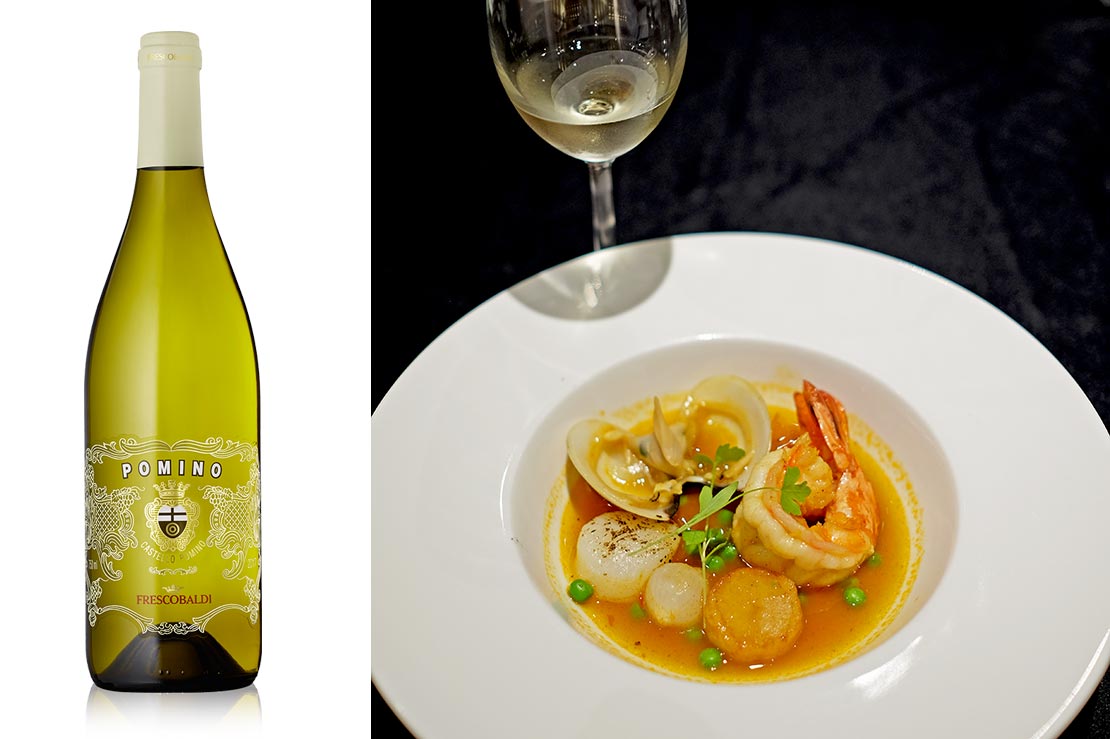 A blend comprises mainly of Chardonnay and Pinot Bianco, aged 4 months in stainless steel tanks and 15% in French oak, then one month in the bottle. The particular year had double the rainfall than the previous year before the new shoots. The rotation of summer sun and rain gives a delicate aroma of flower bouquet with a tart and chalky taste on the palate, finish with a briny note.
This was paired with Seafood Cioppino, saffron, tomato and spring vegetables.
Castello Pomino, meaning "castle of little apple" is located in the DOC region of Tuscany. Frescobaldi owns most of the production in this region in the area with the most ideal terroir for producing Pomino Bianco.
Castiglioni Chianti DOCG 2018 13% ABV
Tenuta Castiglioni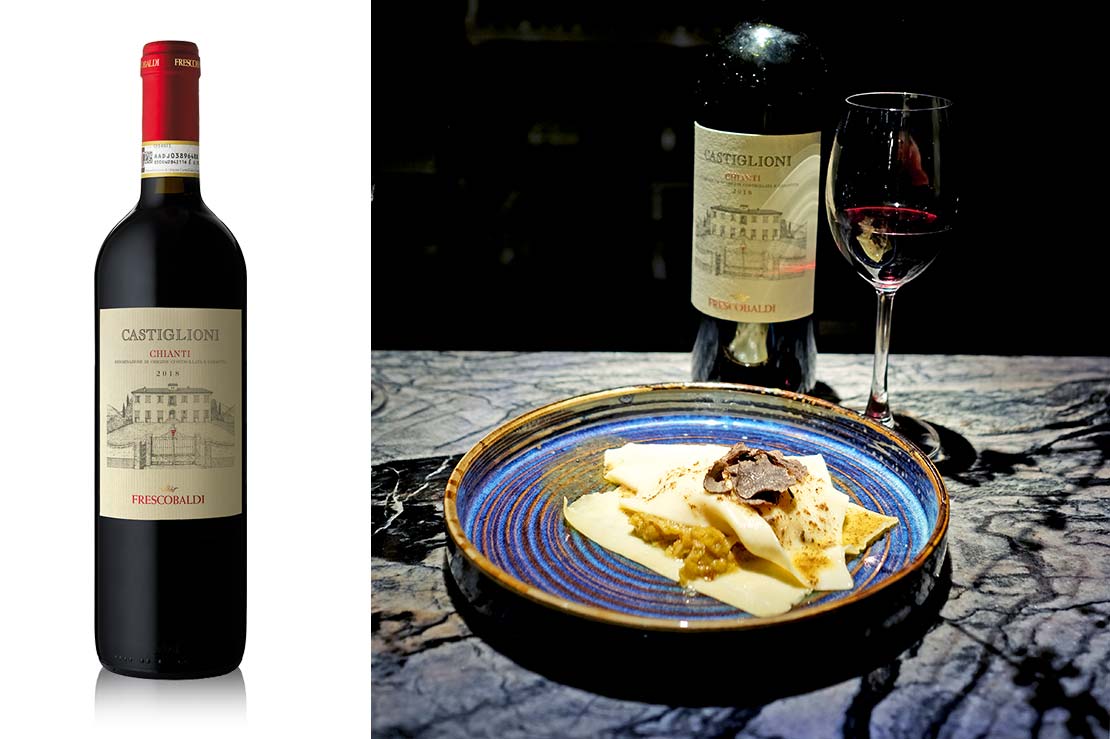 Snow at the beginning of the year provided the water reserve needed later during the summer. At a particularly dry summer year provided fruits with more concentration. The ruby red blend of Sangiovese and small quantities of Merlot presents a beautiful purple tinge that is classic of Chianti wines. It tastes mouth-watering acidity of cherry and blackcurrant, soft yet persistent, lively yet classy.
This wine was paired with Open Ravioli with leek, egg yolk, shaved truffle and brown butter.

Tenuta Castiglioni is the origin of where the Frescobaldi wine making began in the 1300s. The estate is situated at the hills of Val di Pesa where the soil comprises of rock and clay, which is the most ideal for growing varietals like the Sangiovese, one of the main elements for blending Chianti wines. The vineyards also enjoy afternoon breezes from the Tyrrhenian Sea.
Nipozzano Vecchie Viti Chianti Rufina Riserva DOCG 2015 1.5% ABV
Castello Nipozzano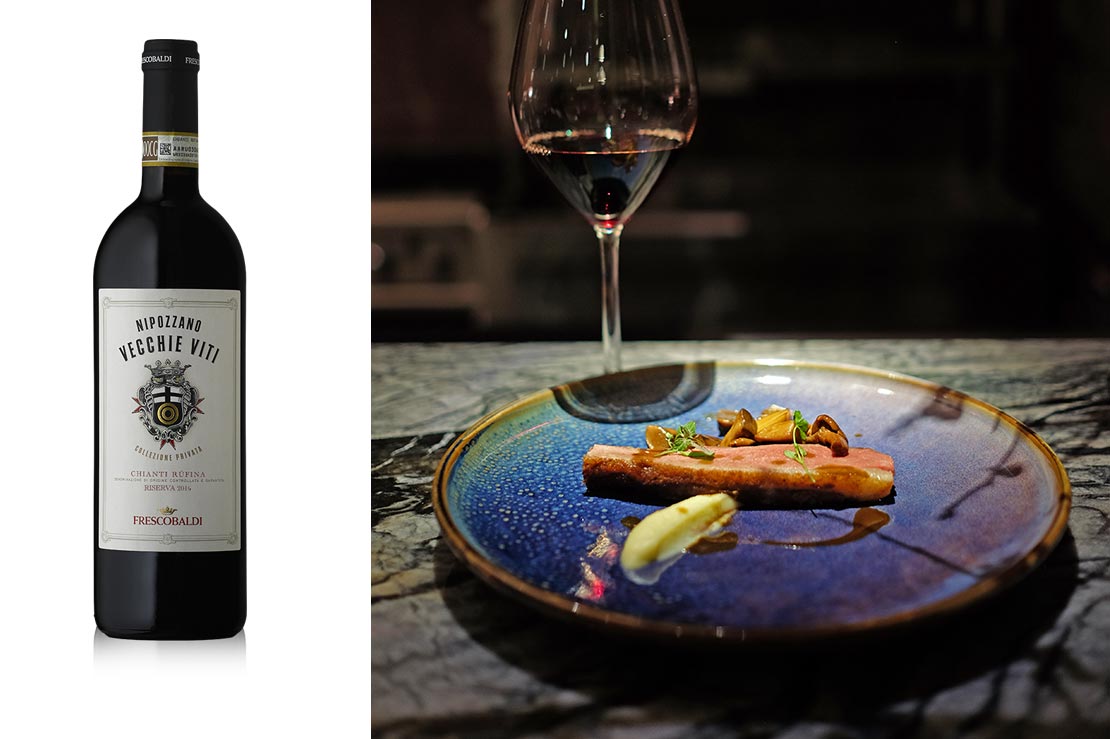 This vintage was produced in a year with weather different from other years. Late winter that only arrived in February; below average rainfall during Spring compared to the previous 5 years; and the exceptionally hot and sunny summer the year has ever had over a decade. This is a blend of Sangiovese, Malvasia nera, Colorino and Canailo that results in a dark ruby red liquid that carries a rich berry fruit note such as dark cherry and blackcurrant. The wine spent 24 months in oak barrels and 3 months in bottle. A subtle but noticeable cacao note when the wine warms up and a round tannins.
This wine was paired with Angus beef / Dry-aged French duck mushroom ragout parsnip red wine jus
The oldest estate owned by the Frescobaldi family, where grape varities previously unknown in Tuscany such as Cabernet Sauvignon, Merlot, Cabernet Franc and Petit Verdot were planted 1,000 years ago thanks to the foresight of an ancestor. The dry climate which is suitable for cultivating grapevines supports a popular believe that Nipozzano means "without a well".
Pomino Vinsanto DOC 2019 15% ABV
Castello Pomino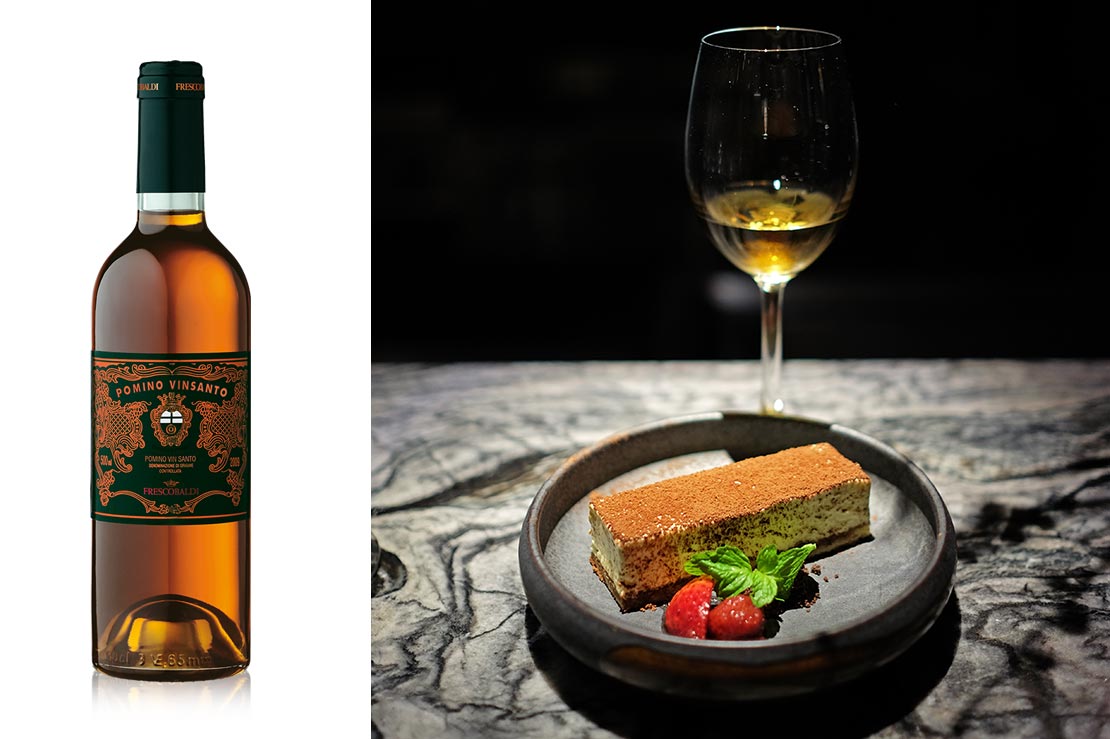 The night ended with a sweet wine that has a rich candid fruit notes and the taste of maple syrup. Slurpy but not cloying, the 7-year-old dessert wine was a blend of Trebbiano, Malvasiatoscanaand and San Colombano. 2019 was a year with heavy rain during Spring which slowed down the grapes' growth. The ripening picks up its pace during June and July with slowing rainfall and then met its yield in September with cool nights and warm sunny days. It is said to have provided an excellent quality of harvested fruit for this vintage.
This wine was paired with a Classic Tiramisu.
- T -