Inspired by the vision and entrepreneurial spirit of Sir Alexander Walker, John Walker & Sons Odyssey commemorates the 80th anniversary of one of Sir Alexander's most remarkable innovations – a whisky decanter that could move to match the motion of the sea. Today, this extraordinary decanter and unique blend have been re-envisioned as John Walker & Sons Odyssey.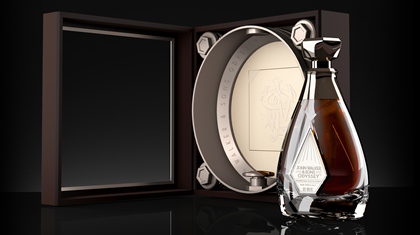 John Walker & Sons Odyssey is a unique triple malt inspired by the golden era of sea travel. Developed by Master Blender Jim Beveridge using Sir Alexander's hand-written notes, John Walker & Sons Odyssey has been carefully blended and married in European oak casks to create a drink that brings to life the House of Walker's signature big, bold flavours, and delivers exceptional smoothness. It was recognized in July with a gold medal at the prestigious International Wine and Spirits Competition (IWSC).

The specially crafted crystal-grade glass decanter is a reflection of the nautical heritage of Walker's business that captures the motion of the sea. When gently pushed, the bottle swings elegantly to and fro and as the case is turned, rotates fluidly 360 degrees. When at rest, it will always point up like the needle of a campus that always points north, paying tribute to Sir Alexander's dedication to the brand.

"There is an insatiable demand for super deluxe spirits globally and particularly in Asia Pacific. Globally, net sales for Scotch whisky are up 12 percent with most of that growth coming from super deluxe. In Asia Pacific, Scotch whisky delivered more than 80 percent net sales growth, with almost half coming from super deluxe whiskies. We see John Walker & Sons Odyssey as the next step in our luxury journey, and we believe the integration of heritage and progress, provenance and innovation will make it of the utmost interest to luxury connoisseurs in this region" said Mr. James Thompson, Chief Marketing Officer, DIAGEO Asia Pacific.

In conjunction with the launch of John Walker & Sons Odyssey, a sail starting from Shanghai will journey through Asia Pacific, docking at nine key ports of call marking a celebration of the game changers of today. John Walker & Sons Voyager will travel through the original whisky trade routes open up by the Walker family to China, Taiwan, Hong Kong, the Philippines, Vietnam, Thailand, Singapore, Sri Lanka and India over 6 months.

The most progressive individuals in the cities where the Voyager is docked will be invited on board to a series of iconic events to celebrate the launch of Odyssey. These events will take place on board the Voyager in the custom-designed JOHNNIE WALKER BLUE LABEL Game Changers Lounge, where guests will have the opportunity to participate in a series of luxury mentoring sessions specially created for John Walker & Sons Voyager.

John Walker & Sons Voyager in Singapore at Keppel Marina from 7 to 10 January.