[Photo: Unsplash]
We are almost halfway into 2019 and the fermentation trend is all the rage in the F&B arena. Enter kombucha - the fermented tea drink made from black or green tea, sugar, and a culture of yeast and bacteria.
Kombucha has been around for decades but has been solely biding its time in the domain of hippies and health food stores until a few years ago where it has effervescently sparkled from hippie-dom to hipster cool.
Kombucha, or booch as the cool kids call it, can be infused with a dazzling variety of fruits, spices, and herbs, and can also be infused with coffee to lend an extra kick to your day. Kombucha is purported to have many health benefits - the biggest being a source of probiotics which are good for your digestive system and high in antioxidants.
A well-brewed kombucha should have a healthy amount of fizz, with carbonation produced by the fermentation process. Kombucha starts off sweet (due to the yeast not yet having digested the sugar) and as it matures, it will lean towards a tart and acidic flavor profile, akin to vinegar. Kombucha brewers aim for that perfect balance of tartness and sweetness.
In KL, you can now find kombucha quite easily in a variety of places, from supermarkets to gyms to cafes. In the retail scene, there are several brands of local and imported kombucha awaiting your sampling. Imported kombucha are mostly from Australia and the UK, in canned or bottled versions.
In the last couple of years, we have seen a profusion of local kombucha producers hopping on to the trend. They have cleverly incorporated local flavours such as roselle, lemongrass, ambra, and butterfly pea flower, to name a few combinations.
The current popular players are: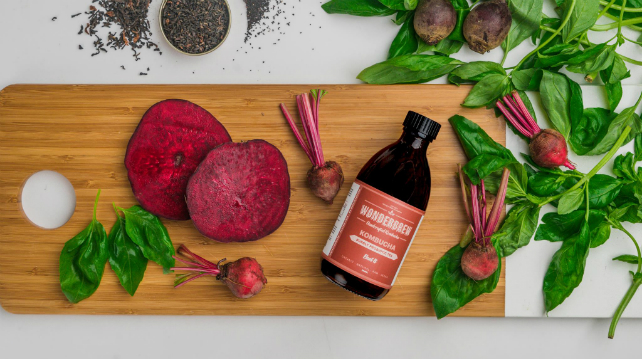 [Photo: WonderBrew]
WonderBrew (https://www.wonderbrew.co/) - over 90% of their ingredients are organic, with an emphasis on local ingredients. Try their Markisa Breeze (passionfruit) or Purple Pari Pari (butterfly pea flower and lemongrass).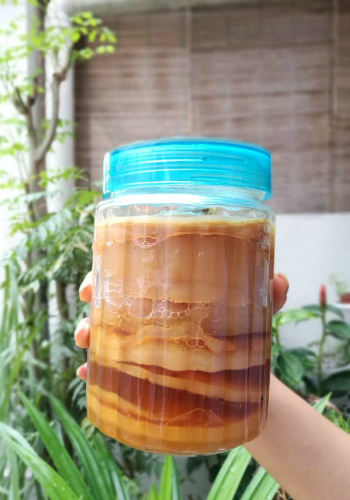 [Photo: ScobyFarm]
ScobyFarm (http://scobyfarm.com/) - Boon, the founder, has been brewing kombucha since 2011. ScobyFarm focuses solely on kombucha brewing workshops whilst their products are marketed under the Wonderbrew brand.

[Photo: Wild Kombucha]
Wild Kombucha (http://wildkombucha.co/) - try their interesting flavours such as Lavender Lemonade, Chrysanthemum Goji or Blueberry Acai.

[Photo: Chacha]
Chacha (https://www.chacha.life/) - they can be found mostly in gyms. Delivery is available by the dozen only, with three flavours to choose from.

[Photo: Belly Good]
Belly Good (https://mybellygood.com/our-kombucha/) - started by two friends, their kombucha is brewed using Pu'er tea with catchy titles such as First Love and Golden Goddess.
Some cafes & restaurants are even brewing their own kombucha. Fittie Sense, a healthy eating cafe in Bangsar, brews their own kombucha at their very own 'Gut Bar'. Upperhouse Cafe has a drinks menu for kombucha mocktails. In Mont Kiara, you can find house-brewed kombucha at Real Food restaurant and Kiara Cakes cafe. Kombucha can also be used in cocktails, as seen in Mr. Chew's Chino Latino Bar's Jungle Fog cocktail which features jasmine & rose tea kombucha. We hope to see more bars and restaurants come up with inventive kombucha offerings 'cause hey, who doesn't like drinking a cocktail that gives you a supposed health boost and a buzz at the same time?
- T -