Two Birds Brewing, the first female-owned brewery in Australia has come together with LeVeL33 to brew a batch of beer. The award-winning Australian brewery was founded by Brewmaster Jayne Lewis and Head of Marketing Danielle Allen in 2011. The brewery has been winning awards since 2016 for their Golden Ale, Taco, and Sunset Ale just to name a few.
In July, Lewis visited long-time friend Gabriel Garcia, the Brewmaster for LeVeL33 Singapore, to brew a special batch of Golden Ale. The limited edition collaboration brew uses Tasmanian hops and the combination of Garcia's traditional brew and Lewis' new world technique. The beer will be tapped from 2nd August 2018 at LeVeL33, where both the brewmasters will be present to talk about their beer and their breweries.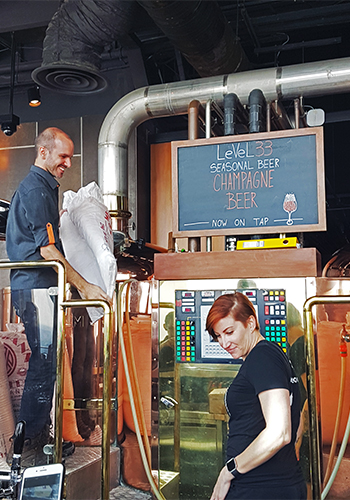 Gabriel Garcia and Jayne Lewis at LeVeL33 Singapore in July 2018
We got to ask a few questions about the collaboration brew with Jayne Lewis to find out more about the Golden Ale that marks the first ever collaboration between the two breweries.
1. The Two Birds Golden Ale is the flagship beer for the brewery, how different will the collaboration Golden Ale brew with LeVeL33 be?
LeVeL33 have brewed a Golden Ale before and the one that we're brewing together is a combination of that and our Golden Ale. It promises to be very refreshing and easy drinking.
2. Tell us more about the Tasmanian hops.
We will be using Ella and Galaxy hops, grown in Tasmania. Galaxy is very tropical and has a lot of pineapple and passionfruit notes. Ella tends to be more piney and resinous. They should be a great combination in this beer.
3. Can you describe your brewing approach that's labelled as "new world approach"? What's old world approach then?
Old world refers to a lot of the more traditional methods and areas of brewing, like Europe and new world refers to the newer brewing regions and a more innovative approach, in areas like the US. Not to say that the old world isn't innovative, it's just a distinction between the two styles.
4. Is the Trail Blazer going to be a permanent SKU? The story about how the beer was created is pretty badass, was it your idea or did the Western Bulldogs come to you for the football beer?
We had been talking to the Western Bulldogs for a few years about working together. Last year, they said they needed a canned beer for their AFL Women's home games and we offered to make a special beer for them. They jumped at the opportunity and it all rolled from there. It was a pretty amazing experience being able to watch these awesome women playing football, while drinking our beer!
5. Your Passion Victim and Trail Blazer are both canned, unlike your core and seasonal beers. Is the brewery moving towards canning instead of bottling in the future?
They are the only products that we plan to put into a can, for the moment. The market in Australia is thirsty for beer in cans and this allows us to have a product for that market.
---
LeVeL33 sits at 33rd floor of Marina Bay Financial Tower 1, making it the world's highest urban microbrewery. Its Argentinian brewmaster Gabriel Garcia gained his Diploma Braumeister at the world-famous Technical University of Munich. Gabriel has brewed at many European breweries, including a century-old brewhouse in Liguria, Italy. He's now been with LeVeL33 for five and a half years and have been practising his classic brewing to make easy drinking beers freshly served to its customers right in the brewery itself.