Bartenders, chefs, an outlet and a brand are teaming up to help raise funds for Food Bank Singapore.
Nine contributing artists comprising of bartenders and chefs are putting out their artwork completed during the 2-month circuit breaker for auction. The aim is to raise SGD10,000 for the Food Bank Singapore.
The silent auction will last for one week from 20 June 2020 at 4pm and close on the 28 June 2020 at 11.59pm. The first 25 bidders will receive a complimentary Perrier mocktail by award-winning bar, Jigger & Pony.
Mark your calendar and watch the #LockdownArtists Charity Auction on Perrier's Facebook page at 4pm, 20 June 2020 (Saturday). The one-hour Facebook Live session hosted by deejay Maddy Barber will see interviews with the artists and artwork on the page.
Here is a preview of the artists' artwork:
1. Janice Wong, Chef-Owner of 2am:dessertbar
Like A Butterfly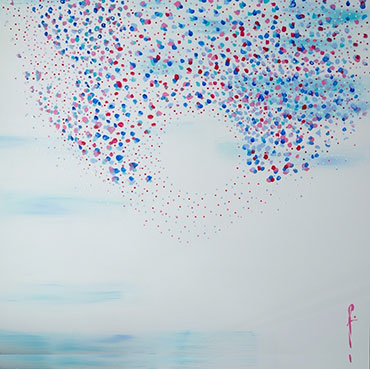 Medium: Acrylic on canvas
Size: 120cm x 120cm
Price: Bid from SGD1,000
Bid Code: LDA01
Description:
Of transformation and new beginnings. This is a symbol of the soul and of rebirth. As we enter renewed beginnings, this is a reflection of us.
---
2. Jorge Conde, Head Bartender of Smoke & Mirriors
To Look Inside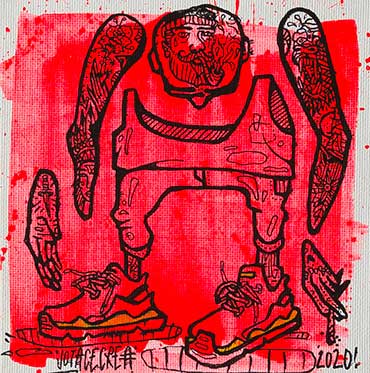 Medium: Acrylic and ink on canvas
Size: 15cm x 15cm
Price: Bid from SGD100
Bid Code: LDA02
Description:
Part of a freestyle daily-sketches series. April 2020
---
3. Juan Yijun and Jessica "Hutch" Hutchinson, Co-Owners of No Sleep Club
(Artwork to be released soon)
---
4. Naz Arjuna, Head Bartender of Bitters & Love
When Will I Be King Again?
(Feature image)
Medium: Acrylic and watercolour on canvas
Size: 90cm x 60cm
Price: Bid from SGD355
Bid Code: LDA04
Description:
This art piece depicts the artist's once lively, lavish and excessive lifestyle that has since been humbled and put into perspective by the global pandemic. He was once the king of the city, but now he is broken, torn, and stripped off all his royal indulgences. The future is uncertain and the question that remains in his mind is, "When Will I be King Again?"
---
5. Petrina Loh, Chef-Owner of Morsels
Alpha, Omega, The Beginning And The End, 2019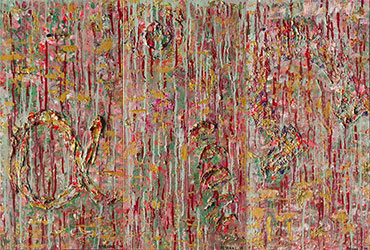 Medium: Acrylic, plaster medium on canvas
Size: 180cm x 90cm / 60cm x 30cm per piece
Price: Bid from SGD2,000
Bid Code: LDA05
Description:
I am the Alpha and the Omega, the First and the Last, the Beginning and the End.
~ Revelations 22:13
As I was seeking inspiration, God spoke and reminded me of this. The Beginning and The End is in one, because He is the beginning and the end. We start with Alpha the beginning, and finish with Omega. The drippings are like raining down but if you look closely you can still see the α and Ω. The middle painting, there is sun on top left and a pathway leading up to that. A constant reminder that He has things in control no matter what the situation is.
A Moment In Time
Medium: Acrylic, plaster, leaves, flowers, parchment medium on canvas
Size: 45cm x 60cm
Price: Bid from SGD3,000
Bid Code: LDA06
Description:
Embedded in the painting, are my travel momentos I've picked up whilst globetrotting. Look closely, you will find Japanese maple leaf foraged from the woods in Mount Tanigawa, Minakami, Gunma. Wild Globe Thistle Flower from Mongolia in 2009. Big Maple Leaves from San Francisco in the Fall 2011. In a myriad of colors, blue predominates brings me across oceans to different places. Green represents my love for nature and landscape accompanied by the dried leaves and flowers embedded. The bumpy texture is the terrain of the world across mountains. It is during this time of COVID19 where everything is halted, I reminisce these moments.
Waymaker, 2020
Medium: Acrylic, plaster medium on canvas
Size: 60cm x 84cm
Price: Bid from SGD2,800
Bid Code: LDA07
Description:
A time of renewal and growth, bright and invigorating filled with bursts of energy.
---
6. Phoebe Oviedo, Sous Chef of Open Farm Community
Mire
Medium: Acrylic on canvas
Size: 30cm x 40cm
Price: Bid from SGD500
Bid Code: LDA08
Description:
A state of mind. Uncertain, somehow both ominous and full of potential. Dark times often remind us of the constant: change. Though unclear, it is still an opportunity.
---
7. Oliver Truesdale-Jutras, Head Chef of Open Farm Community
Bogzarad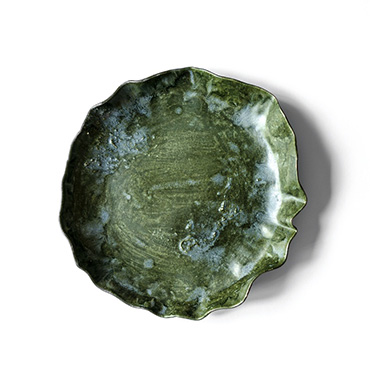 Medium: Clay and Glaze
Size: 27cm diameter
Price: Bid from SGD150
Bid Code: LDA10
Description:
An outward image of weight and darkness juxtaposed with its thin material, this piece was created to remind us of the fleeting nature of all things in life, both positive and negative. The fragility of a piece in an essentially everlasting medium, further underscores the ephemeral nature of even the most permanent things.
---
8. Rishi Naleendra of Chef-Owner of Cloudstreet, Cheek Bistro and Kotuwa
If Thoughts Had Shapes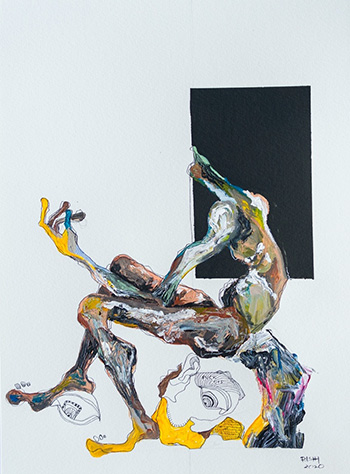 Medium: Pencil and acrylic on drawing paper
Size: 30.5cm x 40.5cm
Price: Bid from SGD800
Bid Code: LDA09
Description:
There are so many things that shape our lives as human beings, even before we are born. They start shaping us from the womb of our mother: her thoughts, her feelings. Then comes Culture, Society, School, Politics, The System. Growing up we start having our own thoughts, which shape us into whom we are. Everything starts with a thought and that's what shapes us. If thoughts had shapes, it would be you…
Food Bank Singapore is a registered charity organisation founded in 2012 with the mission to eradicate food insecurity of all forms in Singapore by 2025 through redistribution of food. Contact them to donate food and funds, feed the city and initiate corporate social responsibly campaigns to help.
- T -