Maison Saint AIX belongs to an appellation of AOP Coteaux D'Aix En Provence. The 130 years old winery of Maison Saint AIX is situated in the south of France, just an hour north-east of AIX En Provence.
"I fell in love with the wines and lifestyle of Provence and decided to buy the Domaine in 2010 with the idea of sharing the Provencal charm and to develop an international rosé brand," said owner of the winery Sake Weima, who decided to buy a winery after a trip to South Africa with his wife, where they envisioned a life producing good wines.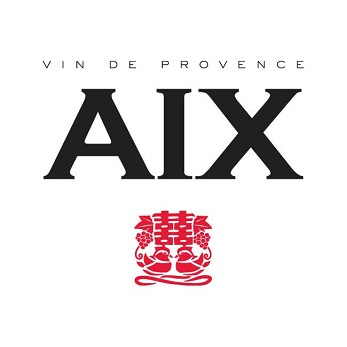 AIX's logo is a pair of Mandarin ducks with the Chinese symbol of happiness. Sake got the inspiration for the logo from ducks he saw swimming in the lake. AIX is also the Latin word for the genus that contains the Mandarin duck. Ducks that swim in pairs are partners for life and hence how good wine should always go with good company or food.
The exceptionally dry and hot summer has provided a great year of grapes harvest in Provence. With higher sugar content level and alcohol content. The AIX 2015 vintage bursts with a round, soft and multi layered nose that comes from clean and fresh grapes.
The harvesting took place in September where the weather is optimal. The grapes reach the cellar when it's still cool in the morning so that the fruits' freshness and minerality can be retained. The vinification is of 30% rose bleeding (natural pressing of the juice through the grapes' own weight) and 70% direct pressing. Fermentation temperature was between 11 and 13 degrees Celsius.
AIX 2015 is a blend of 60% Grenache, 20% Syrah and 20% Cinsault. In this 2015 vintage, a small amount of Carignan was added for a more profound depth to the taste. The AIX 2015 vintage has an obvious note of grapefruit, strawberry and white peach. It takes 6 hours for the grape maceration to get that pink colour but not too much tannin from the skin.
During the launch event, the menu was prepared by Chef Thierry Le Baut at 2OX to pair with the vintage. There were salad with a light dressing, aubergine and feta, macaroni bean soup, grilled fish with tomato dressing and stewed beef, which all paired well with the rose except the vanilla ice cream with raspberry sauce that contrasted with the rose that leaves a slight bitterness on the palate. The vintage is best served at temperature between 8 and 12 degrees Celsius.
Maison Saint Aix is distributed by Straits Wine Company Sdn. Bhd.