Phtography: Light Show Photography
Now in its fifth year running, the Diageo World Class competition is back with a bang as it begins the preliminary rounds for the 2015 title. Commemorating the launch in Malaysia was Barrie Wilson, Global Brand Ambassador for Tanqueray and the creator of the World Class programme, who was in town for an exclusive invitation-only cocktail masterclass which saw in attendance a number of this year's hopefuls eagerly absorbing his advice on bartending, and tips for the competition to follow.
What originally started in London in 2006 as a way to hero the craft of the bartender, it has gained recognition as a competition that is synonymous with impeccable service and pushing the boundaries of contemporary and experimental cocktail culture around the world (earning the title of the 'Liquid Oscars'), and is now active in over 50 countries. In December 2008 it was launched in South East Asia for the first time with the joint participation of Singapore and Malaysia as one team, where the Singaporean competitor won and went to London for the Global World Class finals. Taking a break in 2012 and 2013, it was only last year that Malaysia had one of their own competitors attend the Global World Class finals: Leow Yin Ying.
Colin Chia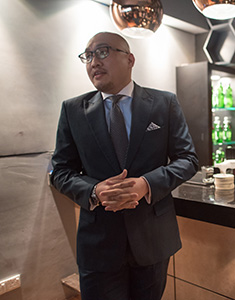 "Yin Ying did very well at the Global Finals," says Colin Chia, Regional Commercial Manager, SEA, Diageo, "She was in the top half of the finalists. What she had was an understanding of flavours – she has a delicate, fine palate, and her understanding of flavour profiles and combinations of different ingredients was exceptional. But in this competition you need experience, and she was much too quiet, and that was a disadvantage. But she grew day by day, and became more confident, and by the last day of the competition it was like a brand new Yin Ying."
Last year was a good year for South East Asia in London finals, where for the first time there were three South East Asians in the top 16, and then two in the top 12 (Peter Chua from Singapore, and Ronnaporn Kanivichaporn from Thailand). "This year we are under more pressure to perform, which I think we will because through our training platform we have the right people and programme to make sure the bartenders are ready," says Chia. "We can see that South East Asia has come a long way, and has a long way to go, but will continue to grow."
The impact of World Class on the region's cocktail scene is very clear, with countries like Thailand and Singapore rising to global prominence over the years. As for Malaysia, it's a slow but steady process – "Malaysia is challenging because it's a very simple drinking culture, where it's just bottles of whisky and beer" says Chia. "But we see a change in the trend in the last couple of years, because a lot of cocktail bars are popping up. Which is a good thing, because it means there is a demand for it, consumers know better and they want bars like that, and that's why operators are opening them."
So what is expected of this year's competitors? According to Chia, it's a combination of an understanding of the spirits they're using (including its respective flavours), a friendly and genuine personality (and not to come across like a know-it-all), and ultimately know how the judges like their drinks (whether they like them sweet, sour, fancy, or pared back).
"We're raising the bar this year, and bartenders can expect to see unparalleled support from Diageo to make them better bartenders," says Chia. "They will see a lot of unique challenges, probably something they've never done before. We'll push them, and help them move to the next level."