Prost! Prost! Prost!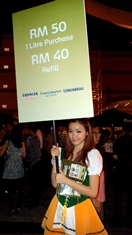 The once a year Oktoberfest at 1Utama is happening again to celebrate the biggest German beer festival in Malaysia! This year sponsored by Carlsberg, Erdinger, Franziskaner and Lowernbrau, the event is expecting 10,000 patrons to be there to enjoy beer, food, music and games.


Coupons for food and beer are sold at the counter near the entrance with RM50 the first 1 litre and RM40 for refill. Every purchase of RM50 entitled to bring home the exclusive 1 litre mug for Malaysia's Own Oktoberfest. Food prepared by Euro Deli include Bavarian Bratwurst, hotdogs, roasted pork, ham, shredded cabbage mashed potatoes and many more ranging from RM5 to RM10.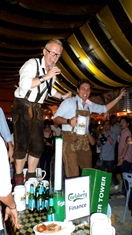 Beautiful girls in dirndl costumes are at the event to snaps photos with the patrons, play games, perform dances and serve beers. German band is playing whole night with tunes to dance with. Drop Okcotberfest boys and girls into the pool, play the drunken game and chicken dance; wine prizes by taking part in beer Stein race where you have to hold four 1 litre mugs filled with liquid and be the fastest to finish the course; roll a beer barrel through the course at the shortest time and make the longest sausage to win beer tower and beer merchandises.

OneCard members get RM10 voucher for every purchase of RM100 coupon in a single receipt.

The event is free to enter and is held between 5-7 October 2012, 5pm onwards.