Bringing his trademark aesthetic from Off-White and Louis Vuitton, Virgil Abloh has teamed up with Moët & Chandon for an exclusive collaboration.
Bottles of the champagne house's Nectar Impérial Rosé received the Abloh stamp in two limited edition styles: the 3L handcrafted Jéroboam bottle (only available to family and friends of the designer, sorry homies), as well as a 750ml so-called 'ready-to-wear' edition for sale. The bottle does away with the traditional gold labels and refashions it in white, trimmed in rose gold, and in entirely see-through glass to show off the vibrant coppery colour of the rosé. The finishing touch is Abloh's signature tongue-in-cheek "DO NOT DROP" printed on the side.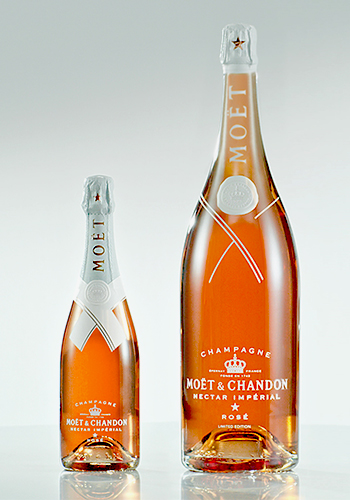 The rosé itself is known for its refined and sophisticated richness, with extravagant fruitiness, density on the palate and crisp finish – the favourite for any fan of the demi-sec, and perhaps soon to be the drink of choice for a generation of hypebeasts.
Moët & Chandon c/o Virgil Abloh is exclusively available in the US, and also retailed on Clos19, so pick up a bottle the next time you're in the neighbourhood and add it to your Abloh collection.