Valentine's Day may be more than a month away but Moët & Chandon apparently have the perfect medium for you to declare your undivided love on February 14th – the Moët Rosé Impérial.
Described as a romantic expression meeting champagne chic, the limited edition champagne is said to be the most extrovert and spontaneous expression of the Moët & Chandon style.
"Champagne is the ultimate expression of celebration, and our Moët Rosé Impérial is the most stylish and alluring way to celebrate and declare your love this Valentine's Day," said Arnaud de Saignes, International Director of Marketing and Communications for Moët & Chandon.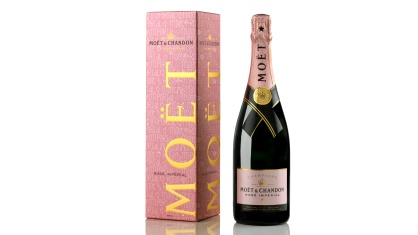 Taste wise, the champagne reportedly boasts to be a radiant and glamorous expression of the Moët & Chandon style, but distinguished in its own right with bright fruitiness, its seductive palate and its elegant maturity.

In keeping to the February 14th motif, the champagne offers a glowing pink colour with amber highlights. It also offers a rather bewitching nose with a lively and intense bouquet of red fruits such as wild strawberry, raspberry and cherry, floral nuances of rose, and a slight peppery touch with a subtle menthol note.
The Moët Rosé Impérial will be made available in a limited edition 'Declare Your Love' bottle prior to Valentine's Day. At present, no recommended retail price has been given.