If you didn't know it, Nadodi is not only a fine dining restaurant but it has always had a cocktail menu. Today, they released a new menu that would "take you on a journey of India through (their) Liquid Dégustation…flavours and ingredients of India's nomadic tribes and their regions".
The nomads of India make up to 7% of the country's population. They travel in groups of communities for their livelihoods and are hunter-gatherers, pastoral nomads, and tinkers or trader nomads.
Livestock such as goats and sheep are the main source of protein and dairy that are integrated in the Indian nomadic cuisine, which is much used in Nadodi's new cocktail menu. So are spices, as India has a rich history of spice trading and the abundant use of such ingredients in Indian cuisine. It is said that each Indian dish contains at least 7 ingredients, which typically do not overlap in their molecular flavour compounds yet provide contrasting and uniquely balanced flavours.

Akshar, the bartender behind Nadodi's cocktail menu
The new menu offers 2 flights of cocktails: one with 3 cocktails (RM160) to go with their food menu, the other is 5 cocktails (RM240) that can be experienced on its own without the meal. Both flights bring the journey of tribal culinary in liquid form.
Each cocktail is inspired by the culture of a tribe and the history that shaped that diet and lifestyle.
Flight 1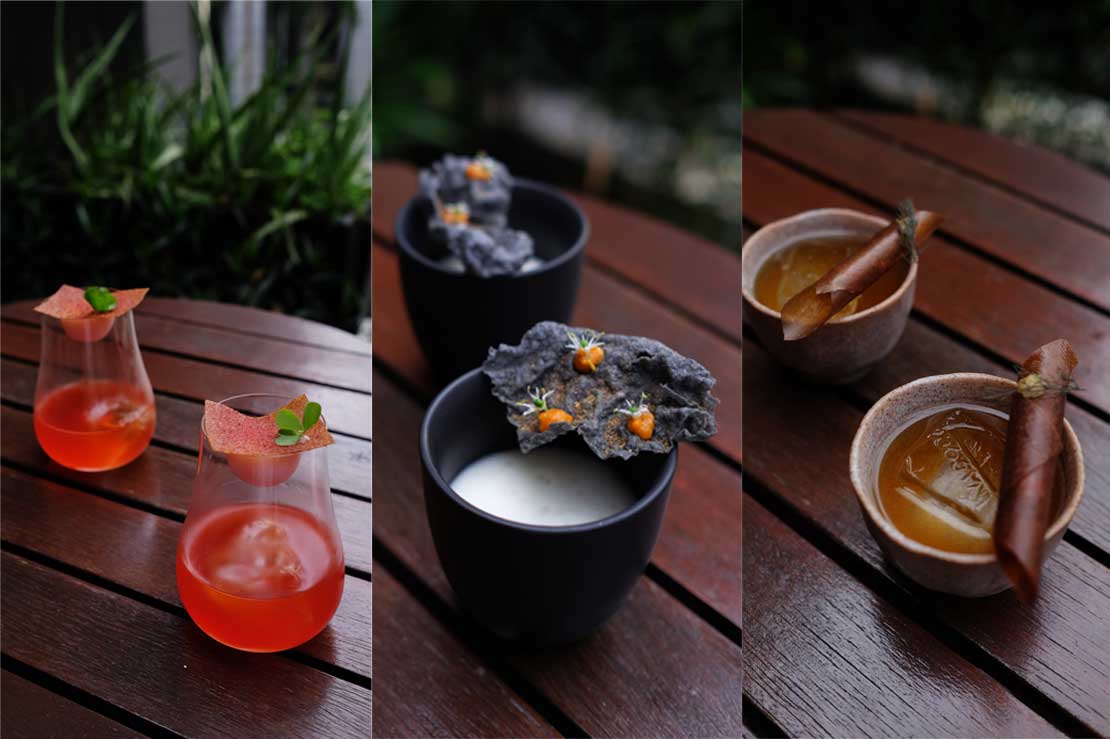 From left: Rose to the Ocassion, Rasam and Tipsy Banana Boat
Rose to the Occasion
Diplomatico Planas, Mancino Secco, raisin, saffron, rose
Inspired by Lucknow, the capital city of the Indian state of Uttar Pradesh in the Awadh region. The city is popular for sweet spices and has a rich history in preparing food for the royals. Slow cooking and emphasis on the presentation of food are some skills developed by the royal chefs and synonymous with Awadh I cuisine, best-known for their slow-cooked biryani that includes royal spices like saffron and raisins, and sometimes even poppy seeds in their cooking. Rose kambucha is used in this drink with saffron giving it that red colour. The garnish is raisins leather and rose meringue decorated with wood sorrel.
Rasam
Tried & True, spice distillate, sour tomatoes, warm lathers, rice, tempering
The star in the cocktail menu, Rasam, as its name suggests, is based on the household spicy, sweet and sour soup dish from South India. This is the only drink on the menu that has nothing to do with any tribe. The restaurant has a rasam on their food menu where the ingredients, after the first press, are passed on to the bar to be infused with vodka and re-distilled in a rotary evaporator. Half of the distillate is then made into liquid nitrogen, which forms the bottom part of the drink; the other half is put into a siphon to create a warm foam with added egg white and sugar for the texture that floats on the top. A rice cracker garnish replaces the rice that's usually served with rasam.
Tipsy Banana Boat
Nusa Cana, toasted coconut, banana, sparkling, cardamom, jaggery
This drink is based on the concept of payasam from Southern India, a sweet pudding that can be served hot or cold. The dessert uses coconut or banana and plenty of jaggery, a traditional non-centrifugal cane sugar. The cocktail uses sugarcane spirit, toasted coconut, banana, cardamom and sparkling water. Banana is also made into a fruit leather and rolled into a garnish with the puree inside.
Flight 2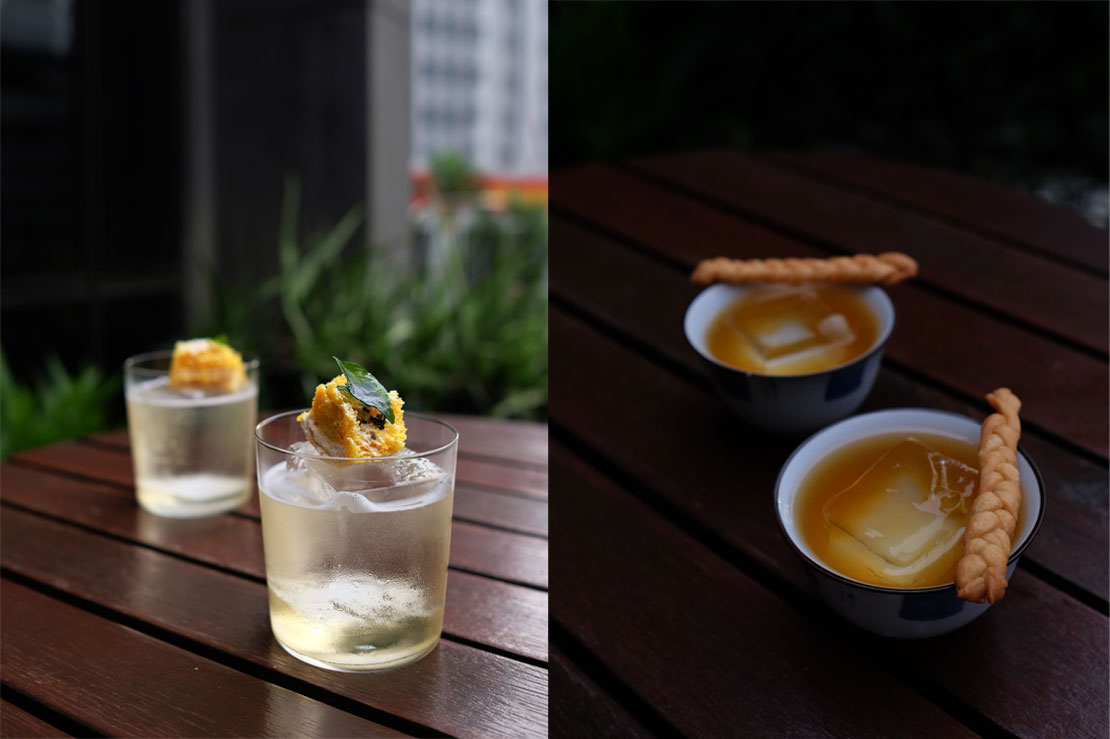 (Left) White Revolution (Right) Our Humble Tea
White Revolution
Tried & True, mint yoghurt, cumin-caraway, black salt, Perrier
Inspired by a historical event in 1970 – Operation Flood that transformed the milk-deficient India into the world's largest producer through the process of production by the masses (called White Revolution). The drink uses the recipe from a salted chaas (salty buttermilk yoghurt) accompanied by a popular Gujarati snack, the Vateli Dal na Khaman (also known as dhokla), a savoury sponge cake made of rice and lentil flour (chick pea flour, or besan, was used instead for the cake). Mustard seeds, caraway and cumin were added to the buttermilk (chaas) and re-distilled, then mixed with the clarified mint yoghurt before topping up with sparkling water and garnished with the dhokla.
Our Humble Tea
Michter's Bourbon, butter, lapsang tea, saline, bitters
This savoury rich tea is the clarified version of the butter tea which originated in Ladakh, the Himalayan region between Tibet and the Indian subcontinent. Butter tea has a smokiness from tea that is cooked half a day, with saltiness and a silky texture from the butter. Yak milk is common in the region, however as it is not easily accessible outside, cow's milk is used as replacement here. Lapsang tea in this clarified version replicates the smokiness and saline is added for the salty flavour that only comes from yak butter.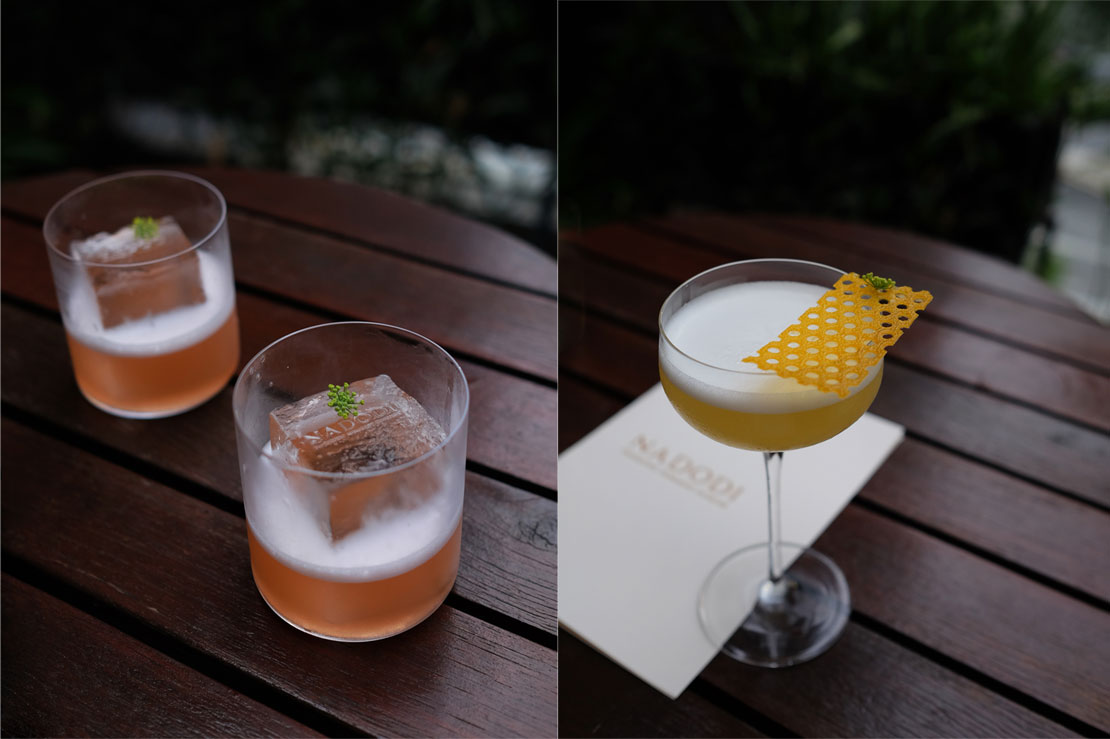 (Left) Scapegoat (Right) Read My Tulips
Read My Tulips
Mancino Bianco Ambrato, jasmine, mango, bergamot, pear
Agriculture has shaped the culture, economy and life in Telangana. This drink highlights the horticulture of the region by using the most popular fruit, flower and spice. Telangana is known for their raw-ripe mango and jasmine as one of their most cultivated flowers. This drink is a low ABV version that combines jasmine flower cordial, mango kombucha, and juice from pears and bergamot.
Scapegoat
Bombay Sapphire, goats' cheese, strawberries, flora sencha
Inspired by the Aryana tribe from the Indus River Valley, this drink has a unique taste of goat's cheese. Goats and sheep are their staples for milk and meat. In this drink the goat's cheese is infused in gin before being clarified, then compressed with strawberry with a few dashes of in-house flora sencha bitters.
- T -