What is Aquavit?
Aquavit/akvavit (water of life) is a spirit distilled from grains or potatoes, with a dominant flavour from caraway or dill and a minimum alcohol strength at 37.5% ABV, according to the EU Law under the protection of geographical indications of spirit drinks.
Aquavit, with its savoury caraway character, is typically sipped from a tulip or shot glass over meals, during festivities and celebrations such as Christmas and weddings in Iceland, Norway, Sweden, Finland, Denmark, and Germany. Different countries will have their own preferences of additional herbs and spices (including coriander, anise and citrus), and even whether their aquavit is drunk chilled, or followed by a swig of beer. Whilst aquavit is mainly a clear spirit, most Norwegian aquavit is usually matured in oak casks.
Norwegian start up Nuet Aquavit ("Nuet", meaning "the now") is injecting a modern take to this traditional national spirit with the intention of introducing this unique Scandi secret to the world. The brand was founded in 2018 by Oslovians Johannes, Martin, Morten and Benjamin with a vision of creating something truly unique to the Scandinavian culture.
Their first product is Neut Dry Aquavit, with a limited-edition 17th Of May released in 2020 to celebrate the Norwegian Constitution Day.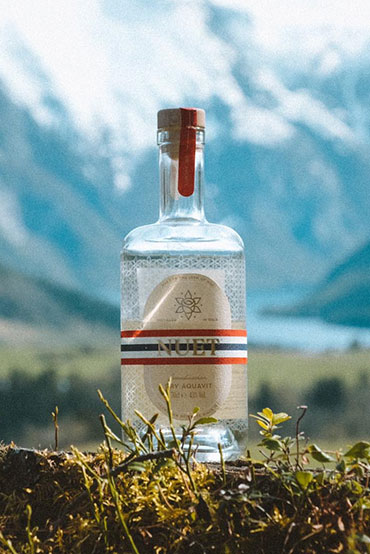 17th Of May
Nuet Dry Aquavit
The recipe for Nuet Dry Aquavit includes sustainably sourced ingredients such as Norwegian potatoes from Hoff, grapefruit peel, blackcurrant, blackcurrant leaves and most importantly, caraway sourced from Inderøy in Norway.
The website states that "Nuet Dry Aquavit serves as a refreshing alternative to gin. Its freshness and smooth finish makes it unlike any aquavit, and any spirit, the world has ever seen." It has been developed through more than 100 test distillations in Oslo and is said to shine in both a martini or simply with tonic water.
Our take
Aquavit maybe a lesser known spirit but it is unique spirit category of its own with geographical indication protection under EU Law. Just like Scotch, Cognac, mezcal and tequila which have refined their quality over the centuries, the demand comes from the quality of ingredients and production processes, as well as marketing. The Norwegian start-up has just upped the game for aquavit.
Where to buy
The products can now be purchased on their website from anywhere around the world except Norway due to government monopoly on alcohol sales.
- T -