If you love the taste of milk but are lactose intolerant, you may have been looking for alternatives and came across plant-based milks.
As 90% of the Asian population have trouble absorbing lactose, we have been exposed to plant based milks and are no stranger to soy, almond, coconut and rice milk. But they are just not the same as dairy milk when it comes to texture and taste.
Therefore, despite the inevitable flatulent distention and occasional run to the toilet, we still want dairy milk in our coffee and food for its creamy texture and wholesomeness. Let's not mention wanting to save the extra charge on plant-based milk as replacement in a latte by a coffee chain giant many Malaysians love to frequent.

The newcomer
Oat milk is a newcomer to the plant-based milk category. First developed (or invented) by Swedish brothers Rickard and Bjorn Oest in 1994, their brand Oatly reported a three-fold increase in worldwide sales fifteen years later in 2019. Today, there are about 10 oat milk brands in Malaysia and 20 in Singapore from around the world. The increase in demand for oat milk is not without its reasons.
Carbon emissions from cattle has been a hot topic with reports showing 370 times increase in meat consumption since 1960, straining even more resources and land consumption. Many big corporations are only starting to move towards sustainable production, such as Heinz, where Oatside founder Benedict Lim was previously CFO for Kraft Heinz Indonesia.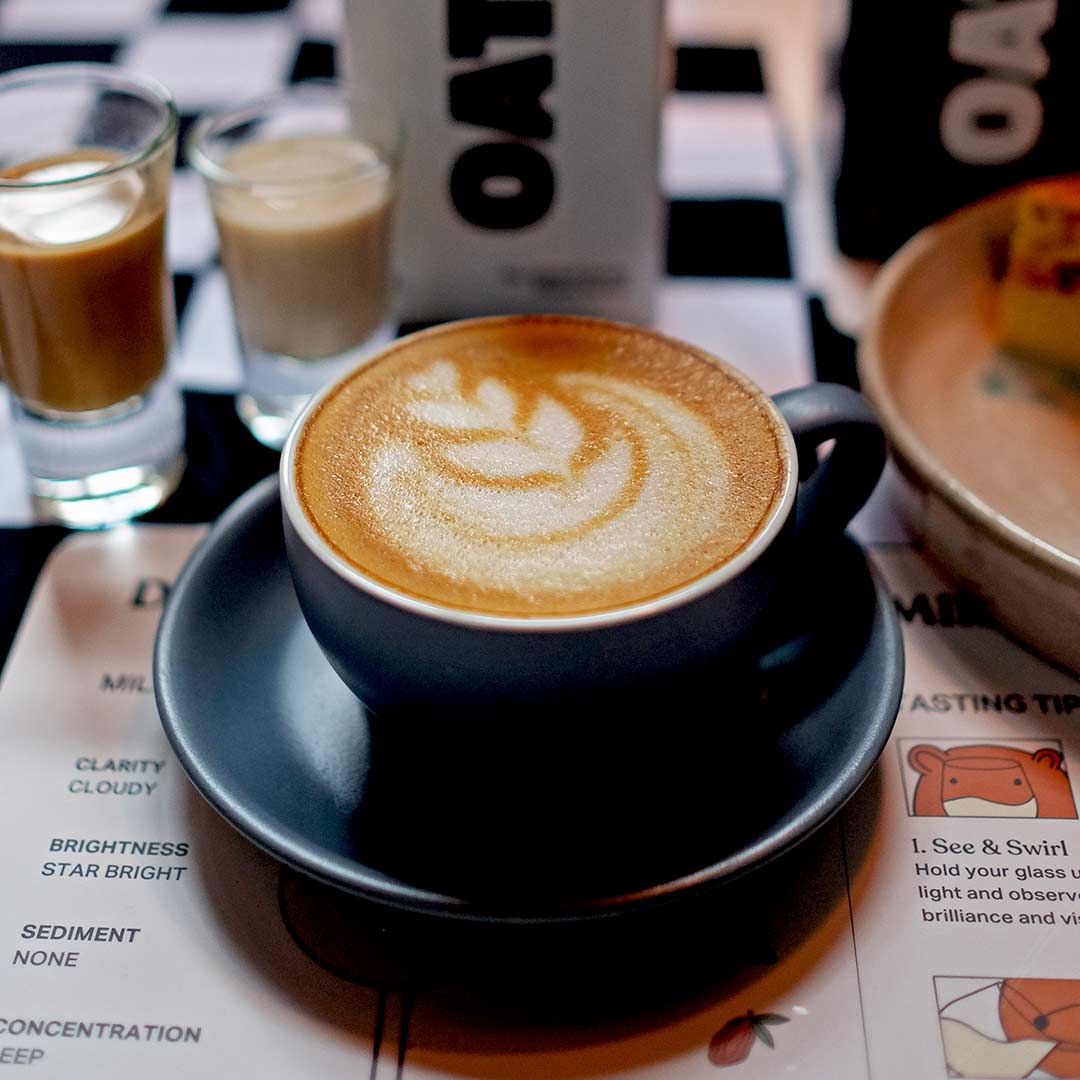 Sustainability
Plant-based milk production is proven to be the sustainable future of dairy milk. Lim claims that Oatside's production uses 90% less land and water, and 70% less carbon emission, immediately making oat milk an appealing alternative to dairy milk.
But what about the taste, as the general barrier for plant-based milk is the lack of body, texture and flavour? With Oatside's mission to appeal to people who don't care about plant milk, they have created a product that will change that perception.
Process
Before getting into the taste test, there is a taste distinction between oats from different regions in the world. Oatside uses Australian oats, which has the fullest body compared to Scandinavian oats from Sweden and Finland which are medium to light body. Australian oats are also maltier in taste whereas Scandinavia's are more earthy and mineral-driven.
By understanding the process, we get to know how the taste of oat milk can be "manipulated".
To make oat milk, the oat is first roasted to bring out the maltiness and nuttiness of the grain. It then gets cooked in spring water (in Oatside's case) until it becomes a thick slurry to swell the starch molecules.
Enzymes are then added to break down the starch which reduces the gel-like texture and allows customization for the right amount of viscosity, which essentially creates that appealing mouthfeel to suit the Asian market. It also gives natural sweetness to the milk.
The last stage is decanting, like wine, to allow the sediment (fibre in this case) to be sifted out, leaving a smooth liquid which is then packaged into 1-litre cartons.
Sounds a little like wine tasting but the matter of fact is, the descriptions for any beverage is a little like wine tasting as we went through Oatside's three flavours guided by sommelier Alison Christ.
Taste
Oatside currently comes in three flavours: Barista Blend, Chocolate and Chocolate Hazelnut.
The Barista Blend is Oatside's skim version. It has a creamy texture, malted flavour, natural sweetness and full body with a long finish. When used in creating latte art for coffee, the foam holds together with a shiny texture and some visible small bubbles.
Oatside's Chocolate has twice the amount of chocolate and half the sugar. A blend of Rainforest Alliance certified cacao from Sulawesi and Africa are used for this flavour as the chocolate blend gives more complexity compared to single origin chocolate. It contains 2.8% natural sugars from oat and 2% natural palm sugar for sweetness. With a slightly lighter body than the Barista Blend, it remains creamy with apparent dark chocolate notes.
For indulgence, go for the Chocolate Hazelnut that is made with actual dark roasted hazelnuts from Turkey blended together in the Chocolate flavour version. It counters the chocolate drink normally served with hazelnut flavoured syrup with a natural nuttiness minus the sugar and artificial flavourings.
Nutrition contents
There is no saturated fat in Oatside's milk other than 1% from oat and 2% from vegetable. There is no added sugar and the milk is fortified with calcium. It is also high in fibre. Oatside contains 70ppm of gluten.
Community
Oatside is produced out of Bandung, Indonesia using natural spring water. It becomes the smallest utility company when they channel spring water for free to the community of 80 homes between the mountains where the spring water is drawn to Oatside's production facility.
Pricing remains the second if not the biggest barrier for plant-based milk as they are priced higher than dairy milk. The bigger the production volume, the lower the cost is, and as the milk industry is much more mature, it will take time for plant-based milks to work towards pricing as competitive as dairy milk.
Oatside can be found in major supermarkets in Singapore, Malaysia, Taiwan, Japan and Korea.
- T -