After a shake up last year, which saw the 17 and 21 year old expressions get cut owing to stock shortages, Old Pulteney have restructured their core range to include three new expressions (including a non-age statement whisky) and a slight refreshment of their label designs for 2019 and beyond – the one left over from the previous range is the 12 year old (as well as the distinctive bottle design, which remains unchanged).
What we see with this new range is an evolution from the brand, with the new whiskies consistent with the house style, but also bringing some new flavours to the stage.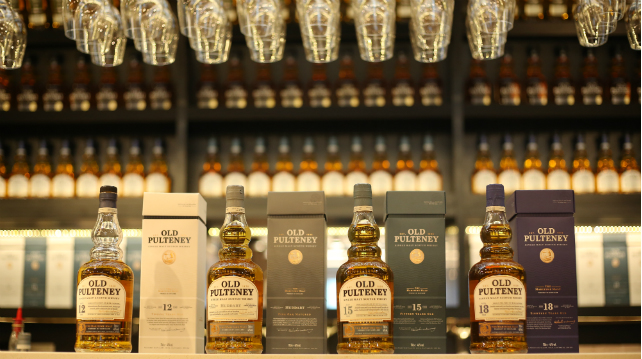 Huddart (ABV 46%) – this non-age statement whisky is richly warming with a distinctly smoky taste that creates a mellow and smoky whisky with character and depth. Expect to find opening notes of honey and oily leather, developing into crisp green apple, vanilla, and burnt toffee. Flavours of vanilla and peat fire blend together nicely and produces a kind of salted caramel.
15 Years Old (ABV 46%) – slated as their most balanced and smoothest single malt whisky yet, the 15 year old has an almost Christmas cake-like flavour, with fragrant spices, rich dried fruit, honey sweetness, and creamy vanilla. The finish delivers a lingering salty sea air, typical of the maritime malt.
17 Years Old (ABV 46%) – aged in American oak casks and Spanish cherry butts, the 17 year old is one of the more indulgent expressions of the range with notes of chocolate and spice, with some honey sweetness and Christmas cake again on the palate. Floral notes hit the nose together with hints of citrus and green apple.
The new range was released in the UK in August last year, and is now finally available in Malaysia at BIG and Whisky Bar.
- T -