Well, well! It's time again, for beer pairing dinners that celebrate wholesome good German food and beer!

After all, the end of September is the traditional observance of Oktoberfest! History buffs among us will know that Oktoberfest started out in 1810 to mark the wedding of the Ludwig Crown Prince of Bavaria (later King Ludwig I) to Princess Therese von Sachsen-Hildburghausen in Munich.

The celebrations were such a success that it was staged again the following year on the Theresienwiese – the meadow named in honour of the Princess. From 1870 onwards, the number of stalls began to increase in number. However, the very first beer tents erected that sold only beer brewed in Munich didn't start until 1896 – a tradition which has remained to the present day. And yes, Pauliner is one of the proud brewers who produce one of the much celebrated Oktoberfest Bier (Beer)!

This traditional brew is a lager (unlike other breweries in Munich that serve wheat beer for the fest) has a full-bodied, pleasant taste and definitely pairs beautifully with the hearty Bavarian delicacies on offer throughout the 16 days of official celebrations. Its alcohol content of 6 % volume makes it somewhat stronger than the usual lager. But bear in mind that the original version of the Oktoberfest Beer with a hint of malty sweetness has a 13.5 % alcohol by volume (abv)!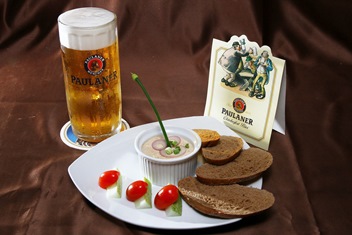 Visitors to the traditional festival eat huge amounts of traditional hearty fare such as Hendl (chicken), Schweinsbraten (roast pork), Haxn (knuckle of pork), Steckerlfisch (grilled fish on a stick), Würstl (sausages) along with Brezn (Pretzel), Knödeln (potato or bread dumplings), Kaasspotzn (cheese noodles), Reiberdatschi (potato pancakes), Sauerkraut or Rotkraut (red cabbage) along with such Bavarian traditional food as Obatzda (a fatty, spiced cheese-butter concoction) and Weisswurst (a white sausage).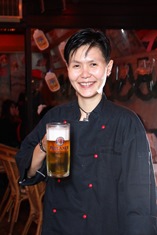 In the grand spirit of Oktoberfest, Guinness Anchor Berhad (GAB) - the official distributors of Paulaner in Malaysia, rolled out barrels of its Oktoberfest brew for the press to sample at boatHouse restaurant and bar in Taman Tun Dr Ismail (TTDI), Kuala Lumpur. To make the affair even more authentic, head chef Law Yen-Ni presented a succulent spread of Bavarian culinary delights!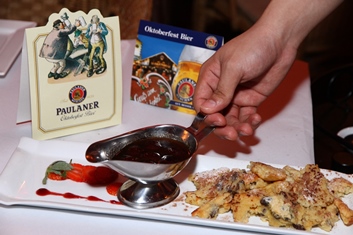 Flambeing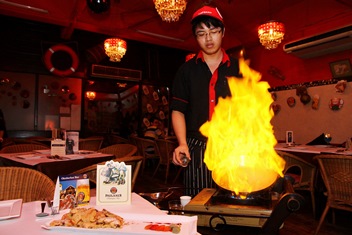 First up was the Kaiserschmarrn (German pancakes) and Flambeing cherry sauce. To those unaware of this fantastic comfort food, kaiserschmarrn is essentially a thick scrambled crêpe. Tasting primarily of eggs and sugar, this dish is something that reminds me of loving grandmothers everywhere!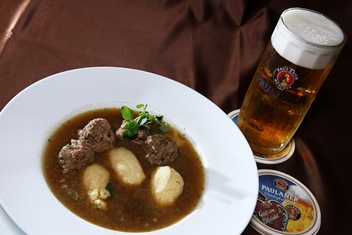 Then came semolina dumplings served with a hearty liver dumpling soup. I know what you're thinking... liver? Due to its unique mix of spices, the meaty bits hardly taste like liver at all and surprisingly go very well with the dumplings!

Next was Rinderrouladen mit Kartoffelknode (as shown on main picture), which is basically rolled beef with slices of bacon, onions and mustard in a creamy wine meat sauce. Served with potato dumplings and the German traditional red cabbage dish, it was some parts meaty, some parts slightly sour but overall provided a fine contrast to the hearty lager.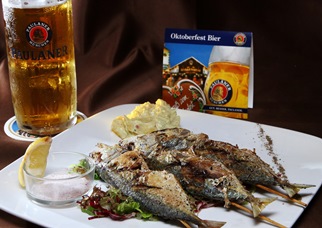 Then last but not least, the Steckerlfisch made its appearance. This is a specialty of southern Bavaria and northern Austria. A Steckerlfisch is a grilled fish on a stick. The fish is marinated in a mixture of oil, herbs and garlic and thereafter put on a stick. The fish is grilled to perfection with the head down over charcoal. In lieu of beer nuts, this makes the perfect accompaniment in certain parts of Europe perhaps because they surely works as such!