In a bid to cater to the ever-increasing and niche super luxury market, Australian wine maker Penfolds has produced a limited edition bottle of Cabernet Sauvignon that retails for USD$168,000 (RM530,000). The limited edition wine named '2004 Block 42', comes enclosed in its very own hand crafted designer glass Ampoule and, believe it or not, comes with it's very own special opening ceremony.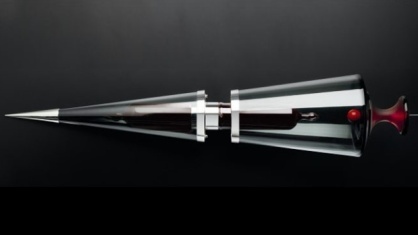 When, and if, buyers decide to open their bottle of '2004 Block 42', a senior member of the Penfolds winemaking team will personally attend the ceremony.
According to the official release, "the winemaker will travel to the destination of choice, where the Ampoule will be ceremoniously removed from its glass plumb-bob casing and opened using a specially designed, tungsten-tipped, sterling silver scribe-snap." The winemaker will also then proceed to complete the master class and prepare the wine using a beautifully crafted sterling silver tastevin.
If you're fortunate enough to have half a million ringgit to spare for a bottle, be forewarned, Penfolds has only made 12 bottles available. As far as bragging rights go, the '2004 Block 42' is undoubtedly the most expensive wine directly sold from a winery, for now anyway, until the next super luxury edition bottle of tipple is made available.