22 May, 2016 - Penfolds launched its latest wine range in over a decade and named it for their previous Chief Winemaker. The launch took place at Jason's Food Hall in conjunction with the celebration of the 4th anniversary of the supermarket.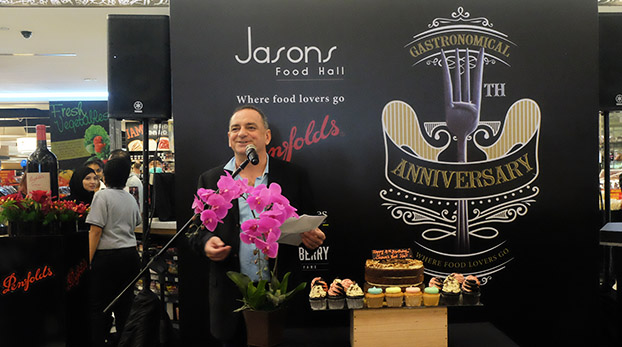 Retail Operations & Supply Chain Director for GCH Retail Sdn Bhd, Joe Dybell giving an opening speech for the 4th anniversary of Jason's Food Hall.
The new wine range, Max's, is created to commemorate Max Schubert, Penfolds first Chief Winemaker and the man who is known for Australia's flagship red – Penfolds Grange. The winemaker was also included in the 100 most influential Australians of the century in year 2001 by Sydney Morning Heralds.
The Max's range comes with 3 expressions – Shiraz, Shiraz Cabernet and Cabernet Sauvignon. Highlight was given to the Shiraz Cabernet 2014 with a zip-open ready sleeve (as show in video) covering the original bottle produced in limited quantity for the launch of the product. The wine contains 85% Shiraz and 15% Cabernet Sauvignon that is matured 12 months in French oak (10%), with the balance in seasoned French and American oak hogshead.
Max's Shiraz Cabernet has a dark red cherry colour with aromas of fruity berries, cherry and a soft creamy finish on the palate. There is soft tannin from the oak with a short finish, making it a very easy to drink wine.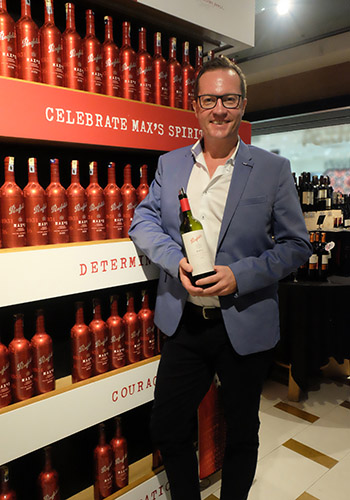 Penfolds' Winemaking Ambassador, Patrick Dowling at Jason's Food Hall.
"The range is to be enjoyed three-fold: It is an everyday drinking wine that is contemporary, reasonably priced and more approachable with a vibrant appealing fruit quality," said Penfolds' Winemaking Ambassador, Patrick Dowling, who has been in the wine industry for over 20 years. "Unlike the Penfolds Collection, Max's range is not for cellaring but for you to enjoy right here right now," Dowling further emphasised.
Penfolds is currently distributed in 80 markets and the focus in SEA is Malaysia, Indonesia, Thailand, Singapore and Vietnam. The Penfolds Max's Shiraz Cabernet 2014 with a limited edition zip-open ready sleeve, Shiraz and Cabernet Sauvignon are now available in Jason's Food Hall, Bangsar at RM139.90.