Where there's champagne, there's reason to celebrate. In honour of the appointment of 1-Michelin Star Chef Jeff Ramsey as Perrier-Jouët's Chef Ambassador for Malaysia, chef Ramsey has composed an art nouveau-themed Art of the Wild dinner series featuring botanical courses to pair with a selection of Perrier-Jouët champagne.
Hosted at Babe by Jeff Ramsey – the chic restaurant on the top floor of Work@Clearwater with a dazzling view of downtown KL – guests are taken on a journey inspired by chef Ramsey's tour of Japan, honouring the integrity of fresh produce and seasonal discoveries in this new Autumn Menu. Choose from one of three styles: The Excursion (RM220++), The Journey (RM350++), and The Voyage (RM680++), which are six-, 10-, and 11-course experiences respectively.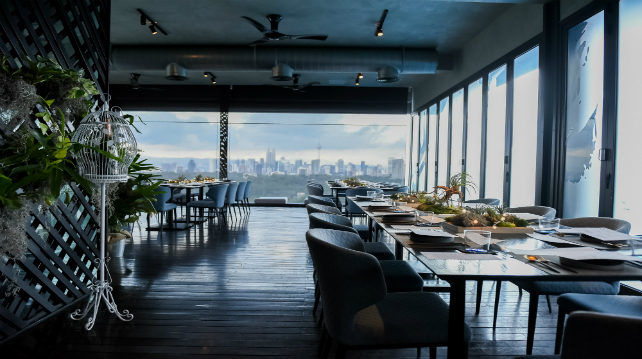 Babe by Jeff Ramsey overlooking the KL skyline.
The evening starts with Perrier-Jouët Belle Epoque 2008 to open up the palate with a vibrant crispness, served with entrees like Crystal Gyoza (a translucent Gyoza dumpling in cabbage soup), Caramelised Ankimo with Passionfruit Ponzu Granita, and an Uni, Ootoro, Botan Ebi Tartlette – dishes that show off chef Ramsey's skill with modern Japanese cuisine and his mastery of flavours.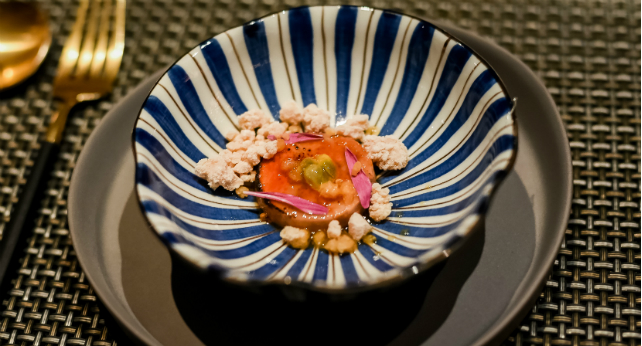 Caramelised Ankimo with Passionfruit Ponzu Granita.
Next the elegantly fresh and floral Perrier-Jouët Grand Brut is introduced with the next batch of plates including a Nagano Walnut Soba, cold buckwheat noodles with a seven-ingredient herb, root and seed condiment. Chef Ramsey shares his sense of humour with the addition of his famous Babendazs ice cream sandwich (a Martell VSOP and foie gras monaka sandwich that looks like a dessert, but tastes supremely buttery and decadent) and his "Steak" Sandwich (comprised of braised beef tongue and wagyu tartare served on a meringue shaped into a slice of bread and a sheet of parmesan made to look like a lettuce leaf). "It's fun dining, not fine dining," as chef Ramsey reiterated several times over the evening.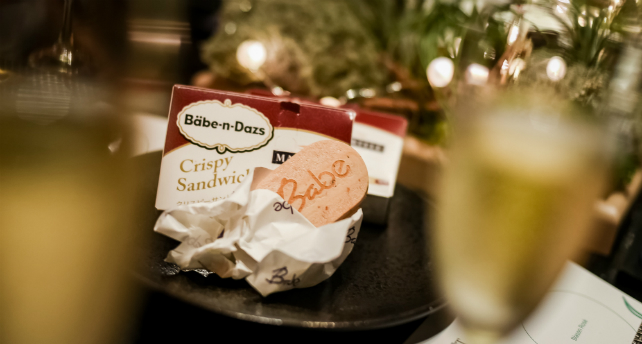 The famous Babendazs ice cream sandwich.
The mains include dishes like the Yuan Miso Salmon with Yuzu Cream and Daun Kaduk and the Yogurt Cured Chicken Breast with Satsuma Imo, Carrot and Quinoa (a riff on everyone's favourite comfort food, fried chicken, that is satisfyingly both juicy on the inside and crisp on the outside). The night ends with the fruity Perrier-Jouët Rosé accompanying the creamy Martell VSOP Aged in Red Barrels Mont Blanc dessert, made with chestnuts and vanilla crème.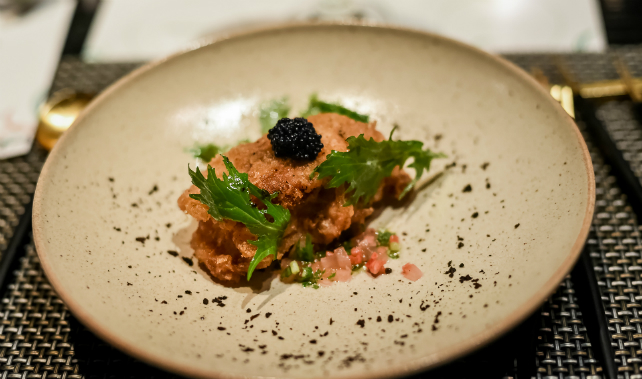 Yogurt cured chicken that is juicy on the inside and crispy on the outside.
The above was a sampling of the various dishes available across the three different Autumn menus, and is by no means a full run down of the entire offering – check out Babe's website to see the selection from each menu.
Perrier-Jouët x Babe Art of the Wild dinner series runs from 26 October until 11 November, and reservations are necessary – call +603 2095 8599 or visit the website to make your booking.