MIK Kefir presented their latest products Sweet Basil + Peach and Coffee in an unconventional way during their launch by mixing the sodas with Aylesbury Duck Vodka and Fords Gin. The recipes were put together byCk Kho from Coley, the latest cocktail bar in Bangsar, where the launch was held.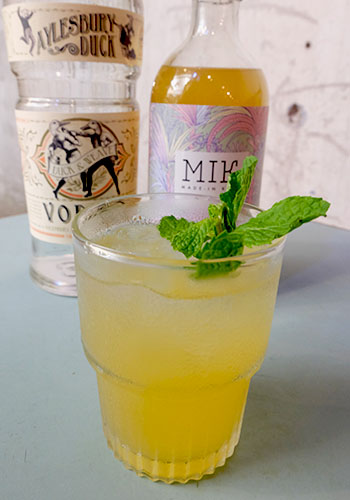 Sweet Basil + Peach with Aylesbury Duck Vodka added
MIK Kefir is a Malaysian startup that produces probiotic soda resulting from fermentation of fresh ingredients. The startup is by 3 friends Elena Kravchenko, Mabel Cheah, Low Wan Chiun who believe that healthy eating starts from the gut. The company started with four products in 2015 - Coconut Passionfruit, Mango Cardamom, Organic Ginger Turmeric Lime, and Strawberry Juniper which are available through online order.
MIK Kefir source their ingredients regionally except that they have started to grow their own basil, which is used in the Sweet Basil + Peach. This gives them a start in fully controlling the quality of their products. It also defines their handcrafted process of producing the beverage from growing their own fresh ingredients to brewing, bottling and labelling. Wan Chiun explained to us the two-part fermentation process:
"The first fermentation requires the water kefir grains to be combined with water and organic cane sugar for a period of 24-48+ hours. During the second fermentation, you can infuse flavour through the addition of fruits and herbs for a period of another 24-48 hours. The carbonation is a natural by-product of fermentation and the fermentation continues in bottle.
If you drink a 'young' brew straight after the completion of fermentation, it would be on the sweeter side. A slightly more "mature" brew that has been left to age for at least 3 weeks would have sour notes and more effervescence. The carbonation is akin to champagne bubbles."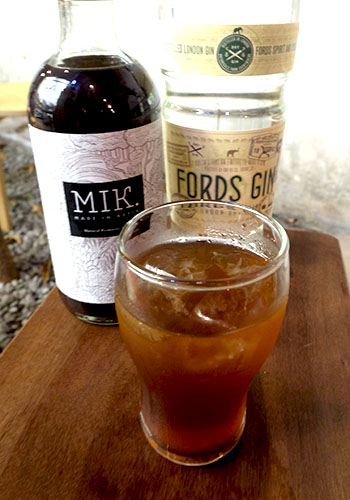 MIK Kefir Coffee with Fords Gin added
The probiotic soda that contains less than 1% traceable amount of alcohol is referred to as "living food" as it continues to ferment even after bottling. The process changes the taste from sweet to sour and is suggested to be consumed within 3 weeks.
MIK Kefir are sodas for adults. It can be drank on its own or made into cocktails by mixing with a base spirit. What's more convenient than having a little bit of alcohol and growing good gut bacteria at the same time?
The sodas will be added to their online shop in due time but are already available at the following outlets at RM15 per bottle:
Bounty @ KL Journal Hotel, Bukit Bintang
Crossfit Lah, Bangsar
Organica Lifestyle, Bangsar
M+ Pharmacy, Bangsar & Subang Jaya
Raisin the Roof, Bukit Damansara
BIG Supermarket, Bukit Damansara, Publika & GLO
Rubber Duck, Sri Hartamas
Seven Cups, Empire Damansara
The Great Beer Bar, Damansara Uptown