The wealthy Rothschild ('rote-shilt') family with more than 150 years of history in wine making has for the first time produced champagne as part of their portfolio in 2005. Champagne Barons de Rothschild, the house of champagne based in Vertus, is an alliance formed by the three French branches of the family. Their estates Château Mouton Rothschild, Château Lafite Rothschild and Château Clarke, all in the Bordeaux region and individually own a number of wine brands, especially the first two estates classified as Premier Cru Class, First Growth status in Bordeaux classed growth estates.
The champagne is distributed in over 50 countries worldwide but only limited to longstanding relationships of a network built by the family that includes top restaurants and independent wine merchants representing its core ambassadors.
The low volume production is reserved only for "Grandes Cuvées" (meaning "great wines" in French). This champagne blend uses Cote des Blancs Chardonnays from Vertus, a grand cru village south of Eperney, the rarest and most sought after region for this grape variety accounts for just 28% of the total vineyards in Champagne.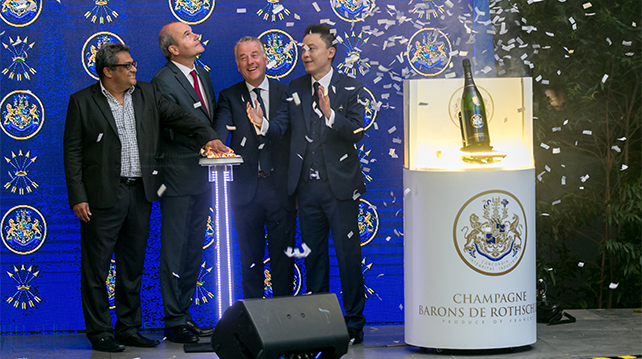 (From left) Mr Gobie Raju, Chief Executive Officer of Natseas Corporation Sdn Bhd; H.E Christophe Penot, French Ambassador in Malaysia; Mr Frederic Mairesse, Managing Director of Champagne Barons De Rothschild and Mr Julian Poh, Chief Executive Officer of Bordeaux Liquid Gold
Natseas Corporation Sdn Bhd, led by Gobie Raju and Dato Prakadeesh Kumar, is the importer of this champagne. Both have a combined experience of more than 30 years in sourcing wines, spirits and beers. They have hired an experienced wine professional and consultant, Chris Low Kam Loong, as Natseas Corporation Consultant and Sommelier. Chris is also brand ambassador for Tarana wines, a premier Australian wine of which Natseas is also the importer and distributor. Natseas also partners with Bordeaux Liquid Gold Pte Ltd, fine wine trader with offices in Singapore, Malaysia and Hong Kong, which launched Champagne Barons de Rothschild in Maison Francaise Kuala Lumpur.
Champagne Barons de Rothschild produces Brut, Extra Brut, Rose, Blanc De Blancs which are available all year long and Champagne Barons de Rothschild 2006, the first vintage cuvee released last year at Vinexpo in 2015.