Royal Salute unveiled a new look and two new whiskies to their core collection at an elegant gala dinner at The Majestic Hotel Kuala Lumpur, hosted by Royal Salute ambassador, His Grace, Torquhil Ian Campbell, 13th Duke of Argyll, and special guest, Royal Salute Global VIP Relationship Director Peter Prentice.
Fans of Royal Salute can look forward to the new, modern packaging that showcases the brand's rich, royal heritage with enchanting and fantastical illustrations of the British Royal Menagerie – a product of their collaboration with fine artist Kristjana S. Williams – reflecting the new direction of the brand for the future.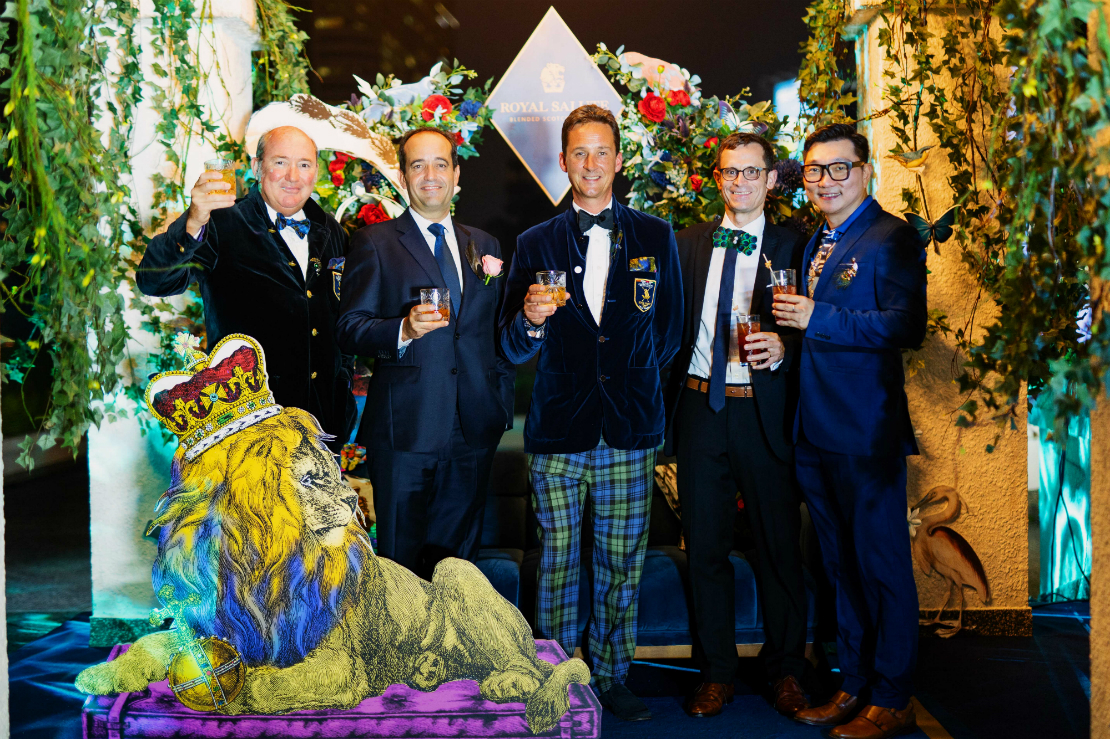 Peter Prentice (Royal Salute Global VIP Relationships Director), Sebastien Mouquet (Managing Director), His Grace, Torquhil Ian Campbell (13th Duke of Argyll), Emmanuel Dokhelar (Marketing Director) and Kenneth Kha
The main event was the two new whiskies: The Malts Blend, and The Lost Blend; both of which were expertly crafted by Master Blender Sandy Hyslop, of which he says "bring even more choice for discerning whisky aficionados looking for an outstanding whisky experience."
The Malts Blend is considered to be the next step above the Signature Blend, and is bursting with notes of orchard fruits and subtle spices. It is crafted with more than 21 single malts from the five whisky regions of Scotland, and aged for a minimum of 21 years. The Lost Blend has notes of sweet oranges and peaches, juicy pears, orange rinds, hazelnut, and a long smoky finish (it's Royal Salute's only peated whisky). What makes it extra special is that this is a blend of whiskies from 'lost' (that is to say, closed and no longer in production) distilleries. As such, it's only being made available in Duty Free airports internationally.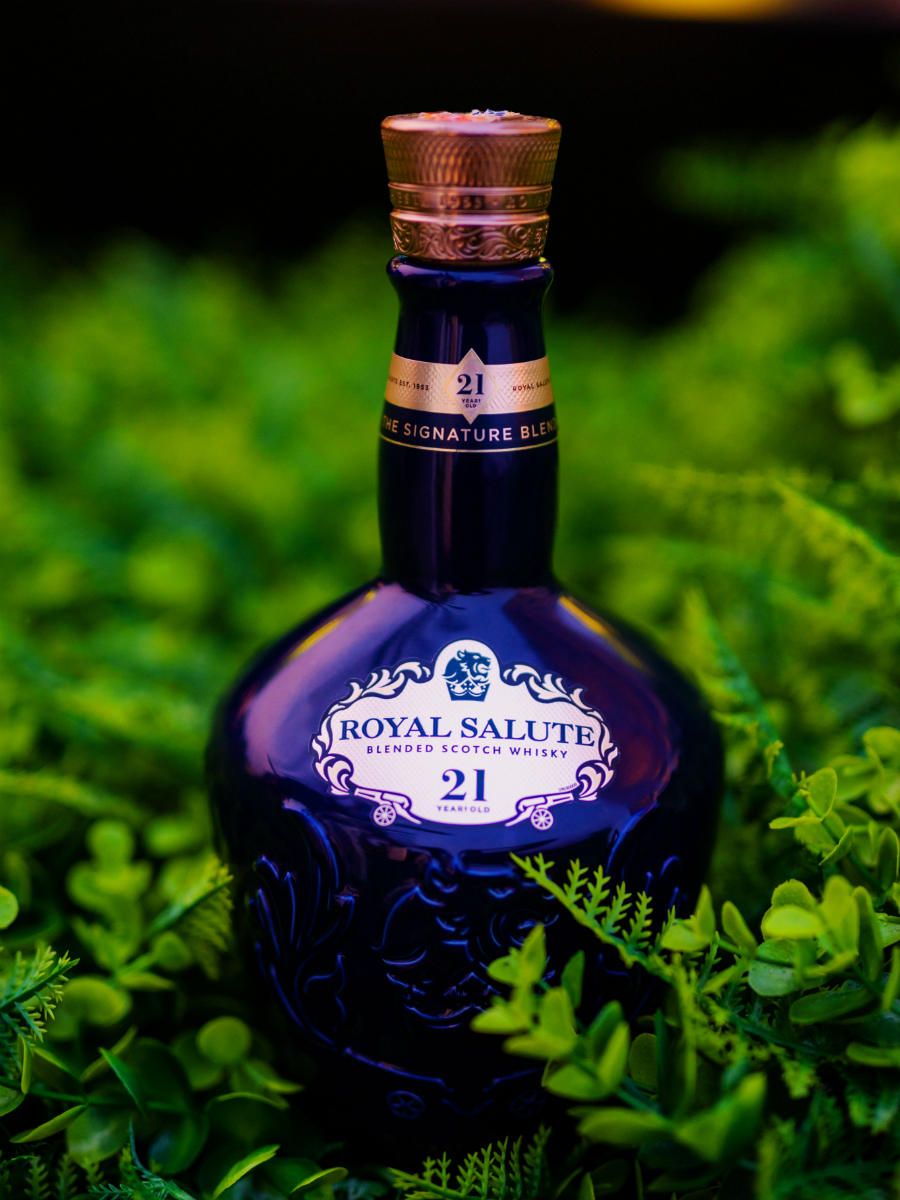 The Signature Blend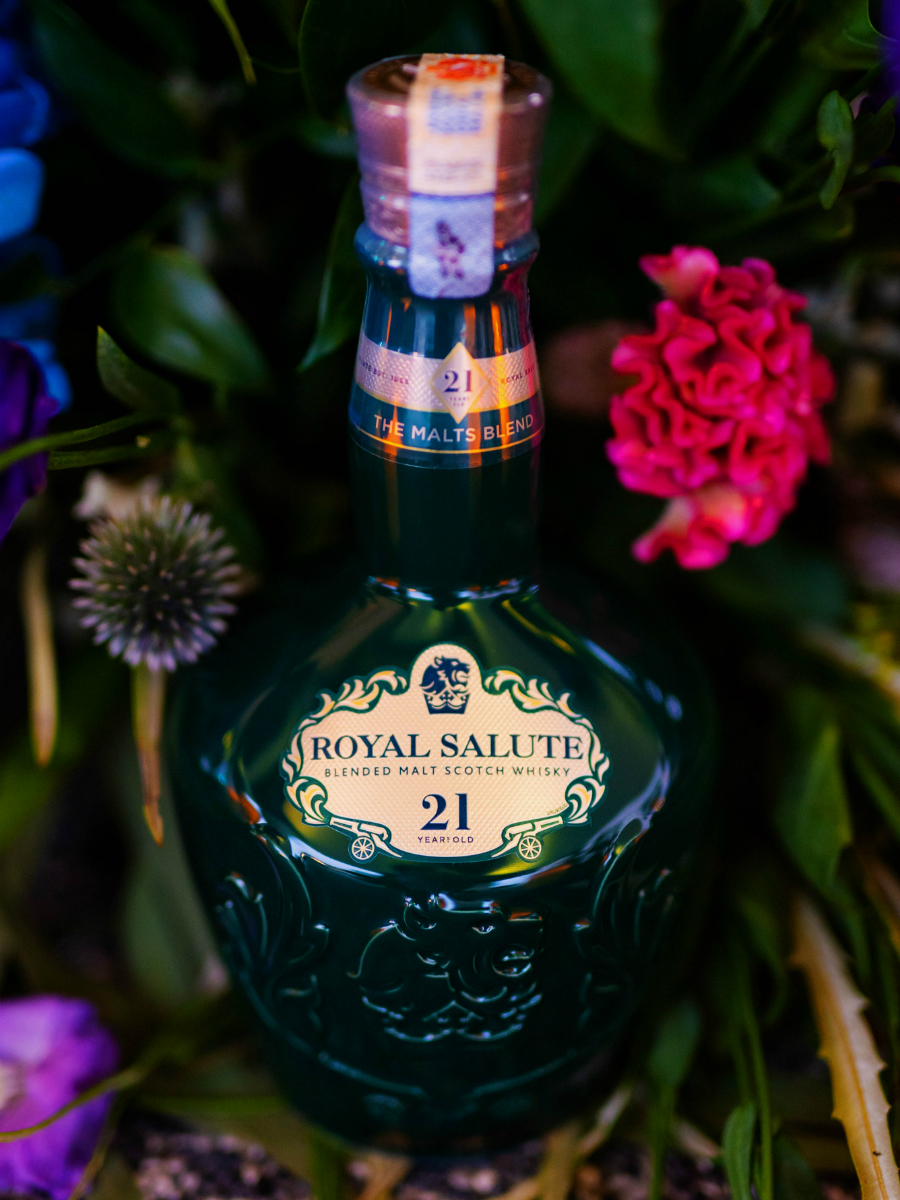 The Malts Blend
Drawing from their royal heritage, the flagons of Royal Salute's core collection whiskies are made of porcelain, glazed in their respective colours of the stones of the Imperial State Crown – The Signature Blend is in a sapphire-coloured flagon, The Malts Blend in a deep emerald, and The Lost Blend in a mysterious obsidian.
At the gala dinner, guests sat down for a three-course pairing dinner featuring all three whiskies from the core range, entertained by fascinating stories and anecdotes from Peter Prentice between courses, and later rounding off the night with cocktails on the terrace in the cool, breezy evening.