For two nights, Japanese eatery Tabe Tomo (translates to 'Eating Buddies' in Japanese) hosted a six-course dinner with sake pairing. The sake came from Bijofu Brewery in Kochi, produced using water (also known as "mother water") from the subterranean flow of the Nahari River located in the forest of Mount Jinkichigamori in Yanase.
We were greeted with a glass of Yuzu Shuwa, a sparkling sake, the perfect easy to drink aperitif with its fruity aroma, light body, and mild aftertaste. It was accompanied by Kurimuchizu To Kurakka – a serving of crackers, lettuce and cream cheese.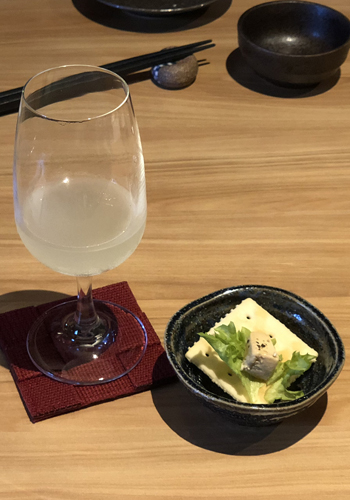 Next, we had Bijofu's Tokubetsu Honjozo sake which was as light and easy as the first. Paired with the Namanori Avocado Salad, Saba No Rilette (Saba fish mousse served on top of a deep-fried tofu) and Negima (grilled chicken thigh and leak), the course was exceptionally delicious. Kazuhiro Kawamura from Bijofu Brewery said that the sake's fruity flavour makes it a good companion for grilled or fried foods. When served warm, the normally refreshing sake becomes full-bodied.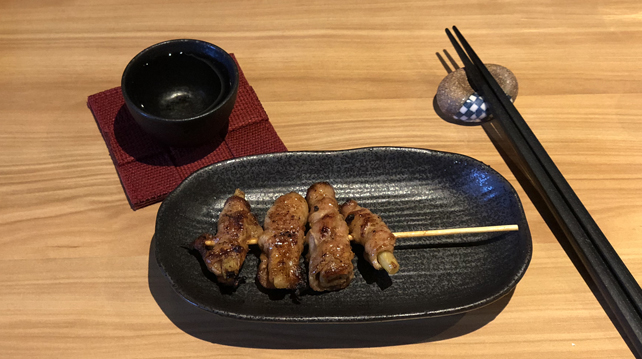 The Junmai Ginjo Tama is also great at being paired with yakitori. At Tabe, it was accompanied by the Butabara Aspuragasu Maki – asparagus wrapped in chicken. But we have to say, the highlight of our night had to be the premium Junmai Daiginjo Hina sake, matched with Wagyu Aburi Sushi – that was torched to perfection right in front of us – and the deliciously crispy Satsuma Imokari – deep-fried sweet potato fries.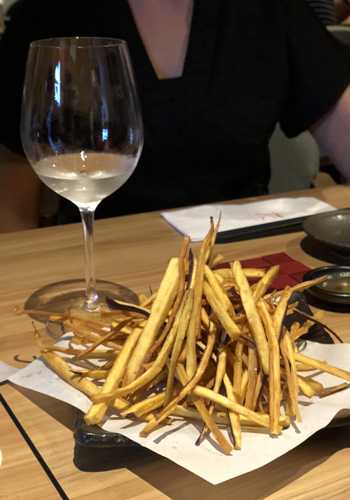 The 'Hina' sake, named after the old Japanese word that means 'countryside', is described as easygoing and calm, and is inspired by Bijofu Brewery's location surrounded by the natural environment of the sea, mountain and rivers. It is also considered a rare sake.
The course was shortly followed by Junmai Daiginjo 'Shizukuhime' and Sasami-Oroshiponzu which is chicken white meat served with grated radish and citrus sauce.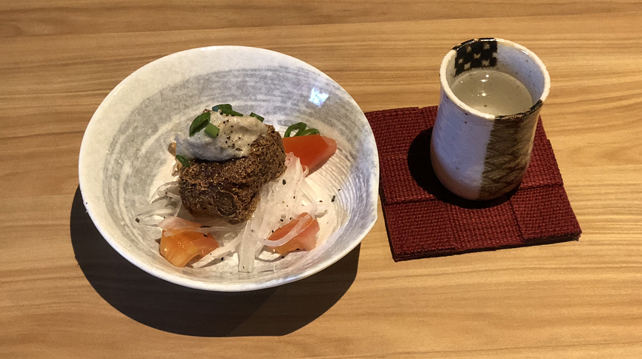 To end the night, Tabe Tomo served up a dish that looked so simple and yet tasted like a hundred dollars. The Rezunbata – cracker and cream cheese sandwiches – tasted like a dream when washed down with some Ponkan, a dessert sake. The zesty tang of the sake brought out the raisin flavours of the Rezunbata. It's probably one of the best ways to end a busy Monday.
-T-