Straws are everywhere. You can find them at the mamak, restaurants, coffee shops, bars…anywhere you can order a drink, you'll likely find one dropped inside ready to make your experience that little bit easier and more enjoyable.
It's a simple plastic tool with a seriously short life cycle – basically the amount of time it takes to finish a drink – before it gets disposed of and ends up in a landfill to live out the rest of its life. It's said that plastic takes about 1000 years to fully decompose, which means that every single piece of plastic ever made still exists somewhere in the world.
About 8,300 million metric tonnes of plastic has been made since 1950, of which 6,400 million metric tonnes are in landfill or littered in the natural environment; 12% has been incinerated and only 9% has been recycled. This has led to such things like the Great Pacific Garbage Patch being formed out in the North Pacific Ocean, numerous marine creatures large and small found with plastic in their stomachs, and seabirds building nests with the material.
In August 2015, a video was uploaded to YouTube of a sea turtle found off the coast of Costa Rica which had a 12cm plastic straw excruciatingly pulled out from its nostril by marine researchers from Texas A&M University. It went viral – at the time of writing, it's been viewed over 12 million times – and it helped to galvanise the movement against wasteful, single-use plastic products. Specifically, straws.
Humble beginnings
The straw as we know it today owes its existence to Marvin Stone, an inventor who loved drinking mint juleps in his home of Washington DC but hated the way the contemporary rye grass straws altered the flavour and disintegrated into the drink. He created the first paper straws with paraffin-wax coated Manila paper in the late 19th century, and it later became immensely popular with the advent of the soda fountain in the early 20th century. By the 1960s, the plastic version took over in the form that we continue to use across the F&B industry to this day.
The single-use nature of the straw has noble intentions, as a means to assist hospital patients or the disabled to drink liquids, to stop the spread of germs and disease, and even as a hygienic way for bartenders to taste test mixed drinks, but when 500 million straws are used daily in North America, alternatives must seriously be considered.
International and local organisations like The Last Straw, One Less Straw, Be Straw Free, and our home-grown Tak Nak Straw have emerged to educate people on single-use waste and the importance of reusable options. Even singer Yuna has lent her voice to a social media video campaign by the Plastic Pollution Coalition to encourage people to 'stop sucking' and ditch plastic straws entirely.
And it's gaining momentum at industry level too: Tales of the Cocktail launched the Sustainability Summit earlier this year to discuss practices to reduce waste (both organic and not) in the bar, where the topic of eliminating plastic straws was also touched on – moderator Chad Arnholt argued "Guests don't need straws, and experience has shown that if a bar doesn't offer them, guests really don't notice."; the eco-friendly bartending duo behind Trash Tiki have taken their zero-waste bartending concept around the world, while championing bamboo straws behind the bar; and Starbucks caused a stir when they started using edible cookie straws in Frappucinos in the US and Canada since 2015.
The final straw
The simplest way forward would be to stop using and accepting plastic straws in your drinks entirely, but for some this might not be a very feasible or desirable option. On an individual level, reusable metal straws made from titanium or stainless steel are easy to carry with you and some are even machine washable (although there are those which come with a miniature bottle brush that need to be washed by hand), the likes of which can already be found in local establishments Coley Bar and health food restaurant Fittie Sense.
High volume businesses that like the disposable nature of plastic straws but hate the wastefulness should consider alternatives like paper or bamboo, which are biodegradable and compostable. On top of that they offer quite a charming aesthetic, as paper straws come in a variety of delightful designs, and a bamboo straw would look pretty killer in a tiki cocktail (or even in a teh tarik for that matter).
Single-use plastic products are long-lasting and an inconsiderate use of resources. Items like plastic bags, cutlery, cups, and even straws need to be replaced by longer-lasting (or at the very least eco-friendly) alternatives, as we are currently faced with a sickening future where there will be more plastic in the oceans than fish. Malaysia has joined countries like Kenya, Hong Kong, Rwanda and Macedonia by banning free plastic bags (and Styrofoam containers) at the beginning of 2017, and we can advance this even further forward by taking initiative and simply saying "tak nak straw".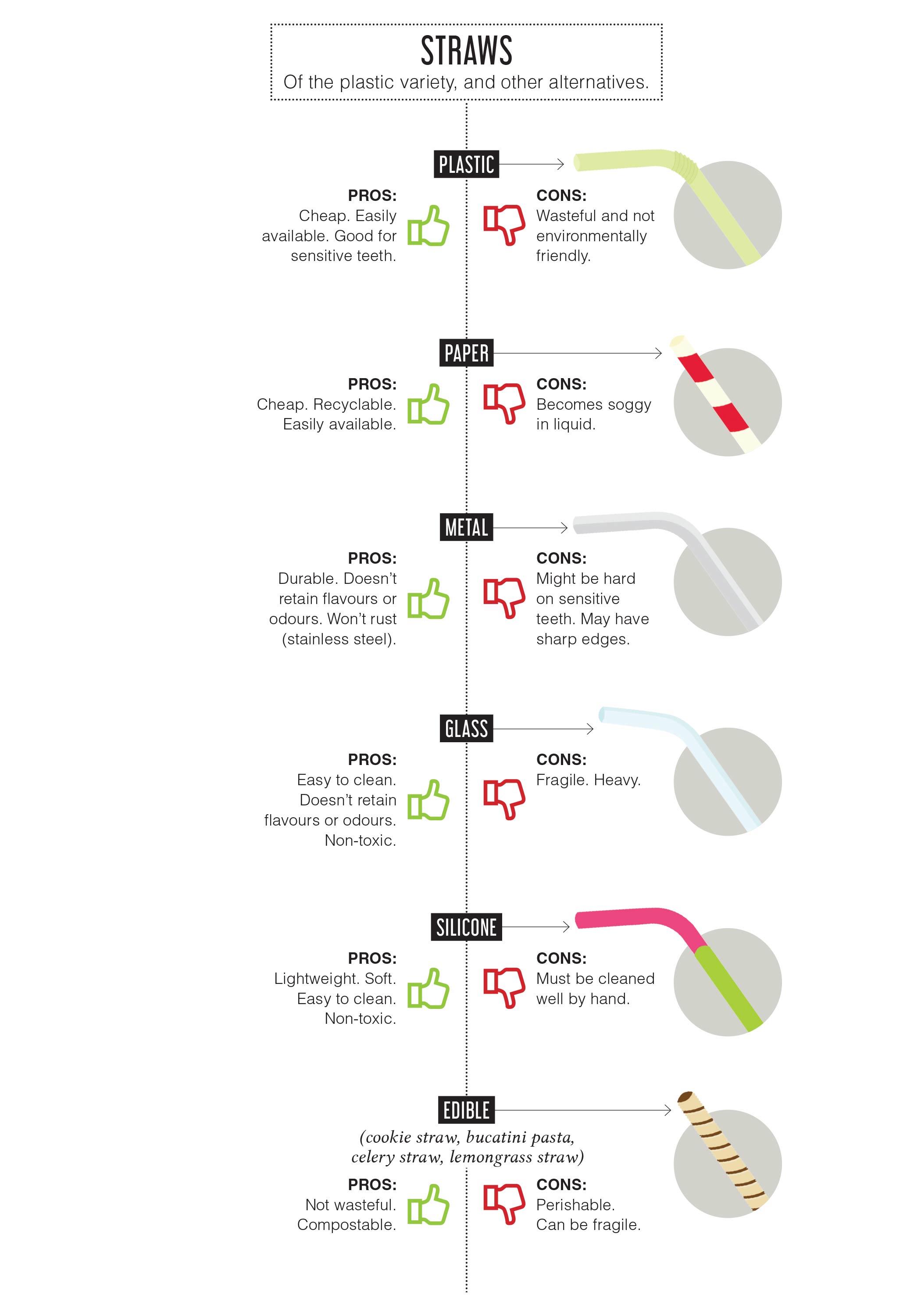 ---
Straws of the plastic variety, and other alternatives.
Plastic
Pros: Cheap. Easily available. Good for sensitive teeth.
Cons: Wasteful and not environmentally friendly.
Paper
Pros: Cheap. Recyclable. Easily available.
Cons: Becomes soggy in liquid.
Metal
Pros: Durable. Doesn't retain flavours or odours. Won't rust (stainless steel).
Cons: Might be hard on sensitive teeth. May have sharp edges.
Glass
Pros: Easy to clean. Doesn't retain flavours or odours. Non-toxic.
Cons: Fragile. Heavy.
Silicone
Pros: Lightweight. Soft. Easy to clean. Non-toxic.
Cons: Must be cleaned well by hand.
Edible (cookie straw, bucatini pasta, celery straw, lemongrass straw)
Pros: Not wasteful. Compostable.
Cons: Perishable. Can be fragile.