An "XO" (extra old) in cognac terms refers to a blend with a minimum age of 10 years old eaux-de-vie. The 10-year-old rule was implemented on 1 April 2018, up from six years old previously, and is enforced by The Bureau National Interprofessionnel du Cognac (BNIC), the presiding body that governs Cognac in France.
To qualify as a Cognac, the grapes must be from the Cognac appellation, the spirit (eaux-de-vie) produced by double distillation in specifically designed copper stills, then aged for at least two years in French oak barrels primarily from Limousin or Tronçais. The aged eaux-de-vie are then blended to finally become Cognac.
For Tesseron, only the XOs are released, with eaux-de-vie and that go up to over 80 years old.
The family legacy of Tesseron Cognac, situated in Châteauneuf-sur-Charente, started with Abel Tesseron acquiring the property to fulfil his passion for collecting rare and priceless Cognacs. He eventually started producing his own when he founded Maison Abel Tesseron in 1905.
Abel Tesseron distilled his cognac with grapes from Grand Champagne and Petite Champagne, aged and blended his eaux-de-vie which are conserved in the twelfth century crypt that today still stores almost all the eaux-de-vie that has been produced in the estate since.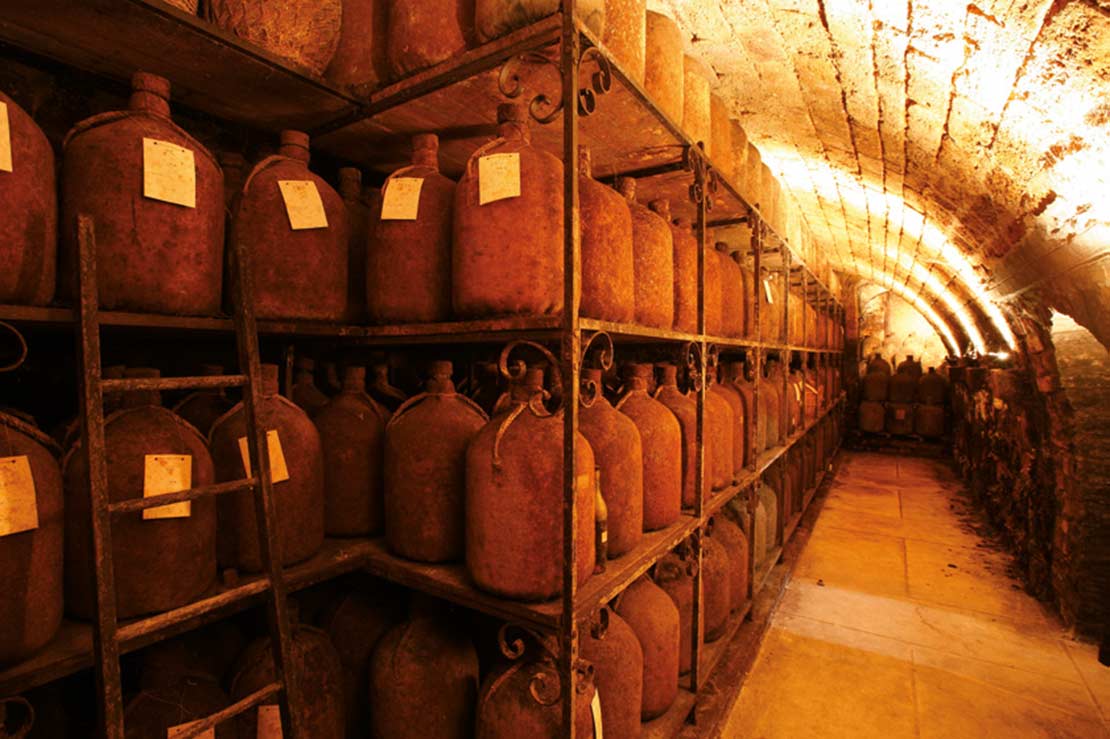 Tesseron's Twelth Century crypt that today still stores eaux-de-vie from a century ago.
Tesseron became one of the most sought Cognac producers after the second generation, Guy Tesseron, joined the business in 1940. Ever since then, Tesseron started supplying to the big Cognac houses and it was said to be a hidden trade secret to include the eaux-de-vie from Tesseron.
In 2003, the third and fourth generation of the Tesseron family decided to build their own Cognac label and stopped the supply to other maisons. Their first release, The Classic Collection offers four cognacs starting with a 10-year-old and one for each generation. They are Lot N°90 XO Ovation, Lot N°76 XO Tradition, Lot N°53 XO Perfection and Lot n°29 XO Exception.
A generation is equal to 25 years, whereas "Lot" is a trade term referring to a particular blend. The smaller the "Lot" number the older the blend. Each "Lot" in this collection is chosen to reflect "the lifetimes' work of four generations" and to illustrate "the mastery and artfulness of their heritage".
Tasting notes
What the Tesseron Cognacs in The Classic Collection unanimously share is the smoothness in texture and mouthfeel whilst carrying different aromas, flavours, sweetness and depth in the finishing.
Lot n°90 XO Ovation (10 years)
Distilled Ugni Blanc from Grande Champagne, Petite Champagne and Fins Bois. Aged in Limousin oak casks for more than 10 years.
Though the youngest in the collection, the Lot n°90 XO Ovation is still a 10-year-old cognac. It smells of fresh pear on the first sniff, followed by comforting oak and dry fruit notes. Tasting like molasses and can be passed off as a rum. The finish is long but light with a slight almond nuttiness.
Lot N°76 XO Tradition (>25 years)
Distilled Ugni Blanc from Grande Champagne aged in Limousin oak casks for over a generation at approximately 25-30 years.
On the nose is an expressive rich toffee note. First taste of runny honey and then more raisin sweetness in the following sip. Finished with a subtle spicy almost minty note but with more juicy charm.
Lot N°53 XO Perfection (>50 years)
Distilled Ugni Blanc and Colombard from the Grande Champagne aged in Limousin oak casks for more than two generations at approximately 50 years.
On the nose is wood aroma and dry fruits and a hint of moist tobacco. Taste is rich sweetness with figs and a more pronounced fresh tobacco. A long and satisfying finish as though preparing for a night cap.
Lot n°29 XO Exception (>75 years)
Distilled Ugni Blanc, Folle Blanch and Colombard from Grande Champagne aged in Limousin oak casks for three generations at approximately 75 years. Contains 30% century old eaux-de-vie from 1906 stock.
On the nose is plum and dried fruit notes, it's the taste that elevates the experience with layers of flavour like honey, figs, cocoa yet elegantly floral. The finish is balanced with a persistent honey and floral note that is complex yet intriguing.
The move towards biodynamic
Though the movement of biodymanic farming is becoming popular, grapes for making cognac require a high acidity in the production of aged cognac that biodynamic vines will not be able to provide. However, one of Tesseron family's estates, Chateau Pontet-Canet (other two are Tesseron Cognac and Pym Rae Estate) started moving into biodynamic production since 2004. It takes 3 years continuous practice to be certified as a biodynamic farm and Chateau Pontet-Canet encountered a halt in 2007 due to extreme weather. They re-started the practice again 2 weeks after trying to prevent their crops from possible damage and eventually received their certification in 2010.
- T -