[Photo: Goose Island Facebook]
Barrel-aged beers stand as a testament to the brewers' ongoing quest to push the boundaries of flavor innovation, as well as to satisfy a growing thirst for bolder and more complex tasting brews. To the average drinker, barrel-aged beers may be seen as cool, exotic and a strain on the wallet, but for the craft beer geeks amongst us, they are prized collectibles; to be jealously hoarded and savored only with the like-minded.
Prior to the introduction of brewing equipment and kegs made of metal, beer has historically been brewed, stored, transported and served in wooden barrels. Some of the more traditional beer styles like the English cask ale and the Belgian gueuze are still served or stored in wooden barrels today.
The contemporary understanding of barrel-aged beers is not simply one of storage but rather the imparting of flavors from a non-neutral wooden barrel to a beer over a period of time. The most popular and readily available barrel for this purpose is the bourbon barrel; pioneered by Chicago-based brewery, Goose Island, in 1992, when they first released the renowned "Bourbon County Brand Stout", an Imperial Stout aged for 100 days in Jim Beam bourbon barrels. Bourbon barrel-aged beers typically exhibit flavors of vanilla, oak and toasted caramel, excellently complementing the stronger beer styles like Stouts, Porters and Barley Wines.
The advent of Goose Island's "Bourbon County Brand Stout" saw many breweries jumping on the barrel-aging bandwagon. Innovative brewers experimented with different beer styles, aging periods as well as types of barrels: whisky, rum, cognac, wine, brandy, etc. There are also breweries that take barrel-aging to the next level by aging their beers in multiple barrels; one of the most famous and sought after examples is from Florida-based Cigar City Brewing, the "Double Barrel Hunahpu's Imperial Stout", which is aged in rum and apple brandy barrels.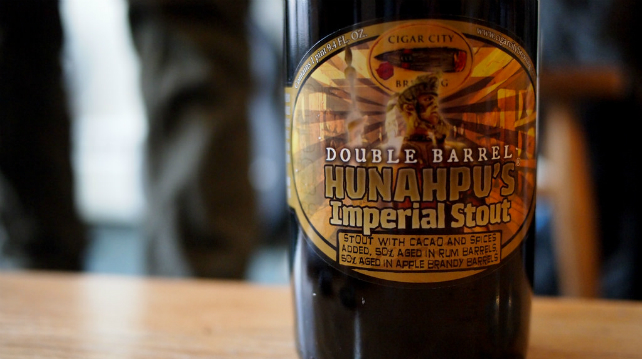 [Photo: AdamChandler86 via Flickr]
The complexity and diversity in the flavor profile of barrel-aged beers has been a big hit with the craft beer community, leading to soaring demand despite the hefty price tag. Craft beer geeks have no qualms waiting (and sometimes camping) in line for many hours, hoping to snag a few limited release bottles of their favorite barrel-aged beer.
In my craft beer journey, I'm fortunate to have enjoyed a diverse variety of barrel-aged beers from different countries and aged in different barrels. Following are my sentiments on three very special barrel-aged beers I've savored.
Goose Island Rare Bourbon County Brand Stout (2015)
Chicago, Illinois (United States)
Bourbon Barrel-aged, 14.5% ABV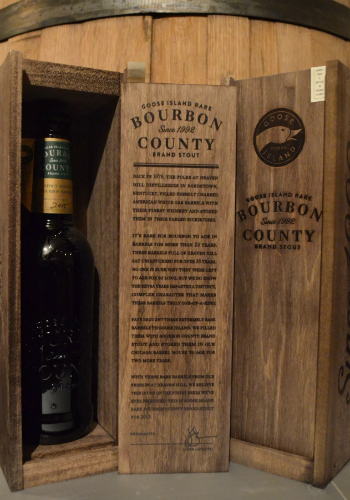 [Photo: via Brewtallyinsane.com]
This is a special, one-off release version of the aforementioned "Bourbon County Brand Stout" that's aged for 2 years in 35 years old Heaven Hill bourbon barrels. The "Rare Bourbon County Brand Stout" exhibits intense flavors of caramel, charred oak, as well as rich bourbon-infused dark chocolates; the body is full and oily slick. It's interesting to note that the previous (and first) version of the "Rare Bourbon County Brand Stout" was released in 2010 and aged in the exceedingly rare Pappy Van Winkle bourbon barrels.
Cycle RareR Scooop (2016)
St. Petersburg, Florida (United States)
Rum Barrel-aged, 10.5% ABV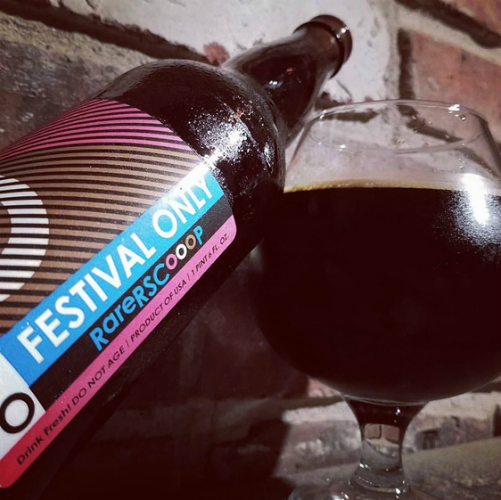 [Photo: Cycle Brewing Instagram]
The "RareR Scooop" is a one-off, festival release, neapolitan style Imperial Stout that's aged in Prichard's rum barrels. In addition to being a barrel-aged beer, this style of beer is known to the craft beer community as a "pastry stout" due to its sweet and rich dessert like flavors. This rum barrel-aged, pastry stout features rich flavors of burnt molasses, vanilla, milk chocolates and hints of strawberries; the body is full, creamy and sticky. The rum barrels added a notable amount of sweetness to its flavor.
De Struise Van Pouck Stout (2016)
Oostvleteren (Belgium)
Cognac Barrel-aged, 13% ABV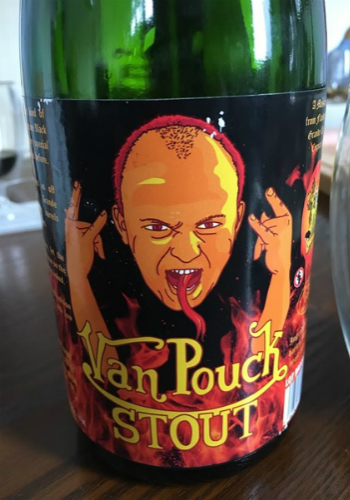 [Photo: Leon Leong]
De Struise brews a number of world class beers including the well-known "Black Albert" Imperial Stout. The "Van Pouck Stout" is the "Black Albert" aged in Michel Forgeron Grande Champagne Cognac barrels for a year. The result is a bold and complex beer with flavors of matured oak, caramel, dark fruits and cognac-infused dark chocolates; the body is full and creamy. Cognac barrel-aged beers are generally rare due to the availability and cost of cognac barrels.
Over time, barrel-aged beers have transcended their initial hype and achieved cult status amongst the craft beer community. Even for the average beer drinker, the experience of drinking a well-made barrel-aged beer is comparable to enjoying a fine wine or spirit. If you are new to or have yet to experience a barrel-aged beer, it's time to hunt one down and take your palates on a trip to paradise.
--
Leon is what one may call a "beer tourist", someone who avidly travels to hunt down and enjoy rare and sought after beers. His craft beer journey started in a college pub with the Widmer Brothers' Hefeweizen, which fast became a regular tipple for him and his classmates. In his beer travels, Leon enjoys visiting breweries and bars, attending beer festivals, as well as connecting (and sometimes trading beers) with fellow beer geeks. His preferred beer styles are Imperial Stouts and New England IPAs.
- T -