Competitive price
The Spanish economy plays a major role on the wine pricing in Spain. The competition is fierce for any vineyards to survive when the country's economy is soft. You not only have to make good wines, the price has to be competitive to keep consumers interested. Comparing the same quality of wine with other countries such as France, Spanish wines pricing is comparatively lower.
Climate and soil for naturally good grapes
Spain is located on a peninsula and surrounded mostly by sea. Its landscape comprises of majorly mountainous, some lowlands and islands. The diversity of its geography, especially the mountains, provide terroir perfect for growing grape species that are strong with very little chance of disease and infection. The slope of the mountains and the height, ranging from 600metres to 2,500 metres, allow plenty of sunshine to the plants. An example would be the vineyard that produces Teso La Monja red wines, where it is warm during the day and cold at night, with well-drained soil that grows small grapes with thick skin and at the same time, hard for any disease to infest.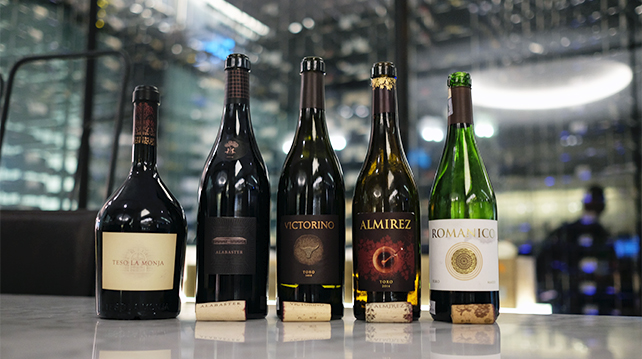 Tesa La Monja wines
New technology
Spain a slightly behind their wine producing neighbours France and Italy when it comes to technology. Traditionally, grapes would be crushed and fermented in pottery or porcelain. Ageing would be in oak (pig skin even!) for as long as two decades, whether it's red or white wines.
Then stainless steel tanks were introduced to Spanish wine makers which allows the wine to be processed in a more hygienic environment and fermentation more consistent. Bulk production of wines are now of better quality. Most vineyards still age their wines but in American or French oak which give stronger flavours.
Maintaining traditional and natural methods
Even with the introduction of new technology to wine making in Spain, many wineries still maintain part of their tradition when it comes to the harmony with the nature. To many wine makers, the ecosystem of a vineyard is vital in producing ethical wines.
Teso La Monja grows its Tinta de Toro, one of Spanish famous red grape varietals, Tempranillo, in a totally organic environment. The movement of moon is observed for harvesting, no pesticides is used instead allowing the natural eco system to create a layer of protection towards the plants, allow s think coating of yeast to grow on the grapes skin, which in turn is used to ferment the wine itself.
All things are taken into consideration, including planting the vines in strong well-drained soil, and north facing mountains to preserve the vines which are between 60 to 130 years old. Traditional foot press method is applied to allow the grapes' seeds to sink to the bottom of the tank and light pump-overs are used so to not crush the seeds that release the bitter taste into the juice. All these time-consuming methods are traditional but contribute to the fine quality and taste of these Spanish wines.
Older than the old – native wine grapes and pre-philoxeric
Spain has the most extreme climate for growing grapes, this also means that grapes that survive this climate is on a tough survival mode. Spanish viticulture also see some of the oldest wine grape varietals and those that lived through phylloxera, a pest that almost wiped out all the grapevines in Europe in the 19th century.
American vines had to be grafted with the original European vines to survive this epidemic, but some of the original vines in Spain survived without the graft. One of them is the Tinta de Toro, which Victorino and Alabaster wines score as much as 99 points by Spanish wine critics such as Guia Proensa itself.
If you're a fan of old world wine and has not been investing much in Spanish wines, this will be something to try. Soleil and La Cave stock good quality Spanish wines flown in from the country of origin and probably the only two places you get to try their natural wines. Get a head start with this trend before everyone else. You know what happens when a type of drink gets overly popular. We've experienced that with Japanese whisky haven't we?
- T