You have likely seen Canada more than you know, because the country of stunning landscapes makes a natural studio for many big Hollywood blockbusters, especially in the surroundings of greater Quebec.
The nation is also famous for its native culture, liberal attitude, maple syrup, poutine and even craft beers. What should be added to the list of attractions are their spirits.
Canada has an uninterrupted development for its spirits industry since the first recorded distillery founded in 1769. Unlike America, Canada did not endure the alcohol ban in the 1930s. Instead, because of Prohibition, Canadian spirits were smuggled south through the borders, creating high demand for export at that time. Montreal, currently the most populous city in Quebec, had even earned its reputation as "Sin City" during Prohibition.
While the United States was dealing with the evils of alcohol to the nation, Canada happily enjoyed the taxes and focused on developing what would increase the country's wealth.
In fact, Canada is recognised as a nation that produces high quality whisky. Canadian Club, the rye and corn based whisky is the only appellation protected spirit and can only be produced in the country.
Other than commercial grade spirits like the Canadian Club, we have not heard much about any other spirits available from the region. Overshadowed by the popularity of alcohol imported from the United States, UK, and Australia, the northern Commonwealth nation hasn't been relishing much affection from their Southeast Asian sibling.
However, Ginealogy Singapore is about to change that.
We were introduced to three distilleries from Quebec which have utilised what nature has provided them, fully reflecting the province's terroir surrounding them through the spirits they make.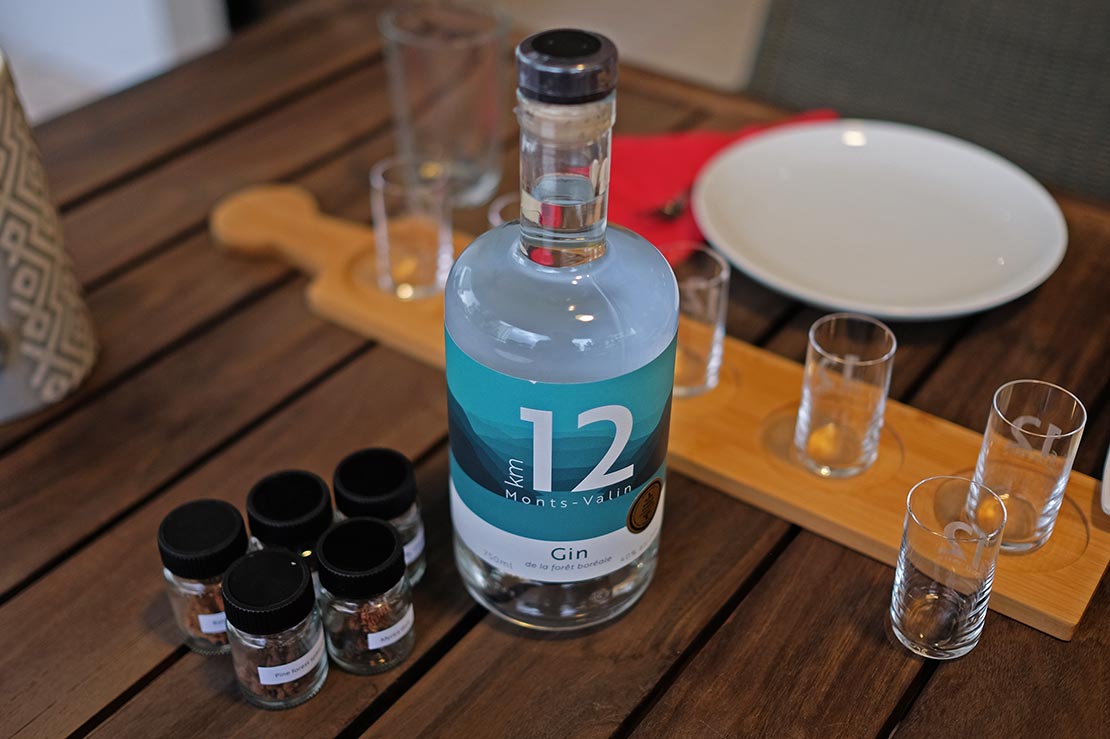 Founded in 2016 by Serge Bouchard and his two sons, Benoit and Jean-Philippe, Distillerie Du Fjord is the first micro distillery in the Saguenay-Lac-St-Jean region.
With Canada's varied landscapes ranging from the Rocky Mountains, forest valleys, rolling plains, to clear blue rivers, lakes and oceans, natural clean water sources are therefore in abundance. With a long history of well-guarded native botanicals in the country, there is a rich supply of unique ingredients to be used in gin making.
Distillerie Du Fjord combines these elements, using botanicals handpicked from the boréal forest and a natural water source twelve kilometres into the Monts-Valin nature reserve, resulting in the London Dry style gin KM12.
The unique first impression of the gin is the piney fresh green flavour from balsam fir shoots, peppery green elder, raspberry leaves, myrica gale and pine forest spikenard. It has an oily mouthfeel with a strong fresh pine and wood impression on the nose followed by a whiff of citrus. On the palate it has cherry fruitiness, nutmeg and cardamom spice, eucalyptus finish and a subtle background of juniper berry.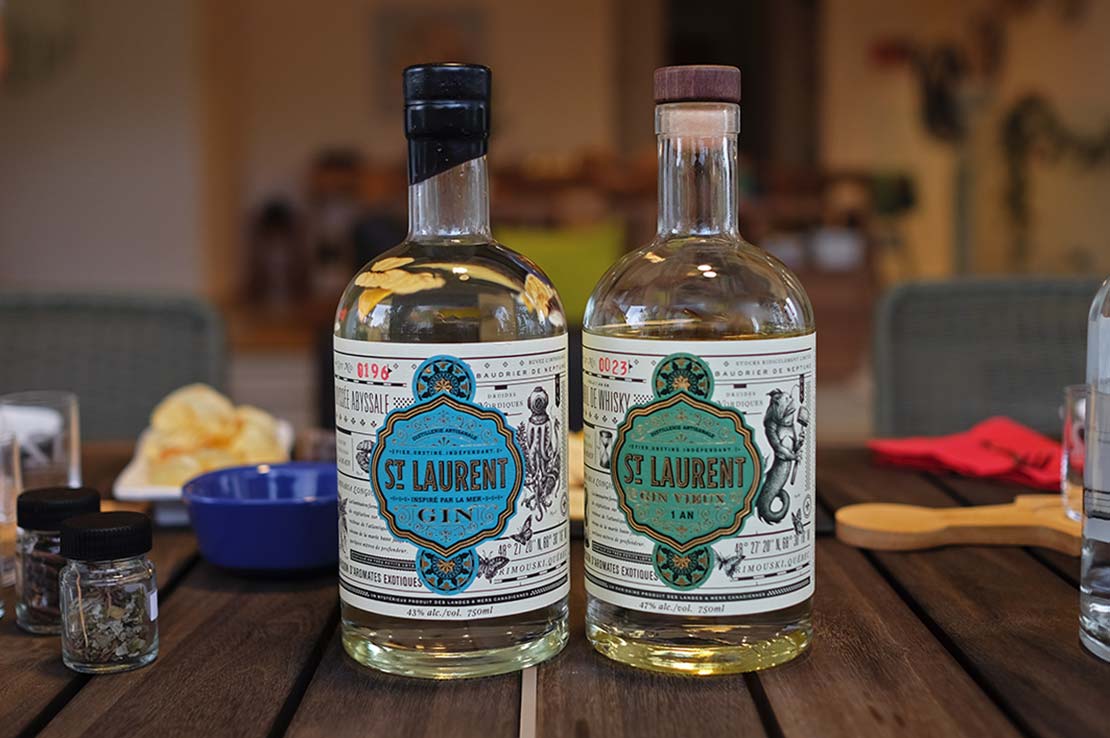 Joining Quebec's craft distilling movement is Distillerie du St. Laurent. It started with experiments by two friends, Jean-François Cloutier and Joël Pelletier and became a serious business venture in 2015, when they opened a distillery in Rimouski.
Distillerie du St. Laurent is all about the origin of where they are from, the maritime terroir which is the sea and the river that flows into it. The lower side of the St. Laurent River (Bas-St-Laurent) is the biggest producer of barley in Quebec and one of the biggest in the country for maple syrup. The former is used in making their whisky and latter acerum.
While their whisky breathes in the sea breeze for 3 years, St. Laurent Gin carries it through distilling its corn based spirit with the maceration of laminaria seaweed in a custom designed gin basket. The kombu, hand-harvested twice a year from the St. Lawrence River, gives the gin a salty savouriness and a light green hue.
Distilled in small batches, the gin is balanced with nine classic gin botanicals, 2 types of citrus peels and 2 types of pepper, all sourced from around the world. The smell of boreal forest in the herbaceous liquid has a mild and surprisingly welcoming umami flavour, a subtle hint of minerality and peppery finish.
A small amount of St Laurent Gin is set aside every month to be aged in ex-bourbon casks for over a year resulting in St Laurent Gin Vieux. The sweeter aged liquid is now more prominent with its citrus notes, vanilla from the cask and woody aromatic finish, making it ideal as a sipping gin.
In 2021, the distillery tripled its production capacity and hopefully soon we'll see their whisky and acerum in the Singapore market.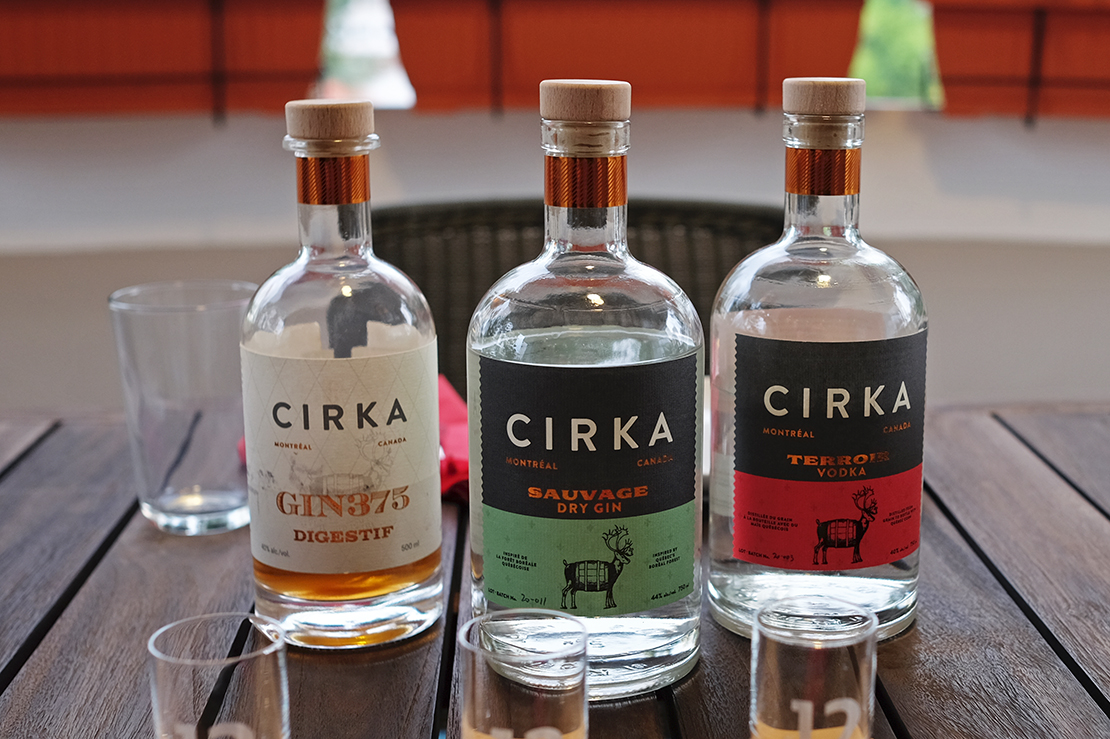 Based in Montreal, Cirka was founded in 2014 and uses locally sourced ingredients from across Quebec province to produce their spirits from grain to bottle in a sustainable manner. The micro distillery reflects Quebec's high-quality grains, pure water and rich terroir through their vodka, gin and whisky.
Founded on the motivation to bring back Quebec whisky's nobility, founder Paul Cirka gathered a team of passionate artisans and a sommelier Isabelle Rochette, who is now the head distiller, and set off to make vodka and gin while waiting for their whisky to age for at least 3 years.
Quebec corn is used for producing their base spirits across board and they try to use as much local ingredients as possible, if not, sourced from local suppliers.
Their Vodka Terroir only goes through one time distillation in a 24ft vodka column for 20 hours. Slow but deliberate, the velvety alcohol is a result of wort fermented with champagne yeast that gives the vodka a sweet and slightly funky finish.
Cirka's Gin "Sauvage" ("wild" in French) is a London Dry style gin infused with aromatics from 33 fruits and spices through a combination of maceration and vapours in a custom pot still. The unique pine perfumery and fruity floral nose brings a vivid image of the boreal forest. The velvety mouthfeel comes from the use of Vodka Terroir that brings forth the harmonious and balanced blend of the botanicals where each can be detected yet none takes the centre stage.
Bees play an important role in our environment through pollination that allows our flora and fauna to live on. Gin375 Digestif has added honey to balance and bind the flavours from a blend of ingredients that used to grow in Canada's early settlers orchards, fields and medicinal plant gardens. Honey from boutique farm Miels d'Anicet was chosen among many different beekeepers in Quebec as it compliments best with the gin's flavour profile.
Château Ramezay was made a reference point as it was built in 1705 as the residence of the then-governor of Montreal with one of the most extensive and well-cared-for orchards, a kitchen garden, and a pleasure garden. Ingredients such as fresh cranberry, sour cherry, wild rose petals, wild mint, larch and spruce are among the few botanicals used. It is a tour of the garden on the palate, like sipping on a honey tea with a fresh minty finish.
The limited edition Old Tom style gin was produced to celebrate Montréal's 375th anniversary in 2017. The gin continues to be available today.
Cirka's whisky has yet to be made available in Singapore.
- T -