Once every 12 years for the year of Tiger, Tiger Beer initiates a global UNCAGE campaign through various local activities.
Globally, Tiger Beer has partnered with South Korean football icon Son Heung-Min to ignite a global movement and encourage fans to set aside their fears and achieve their boldest ambitions in 2022.
Son has declared that for The Year of the Tiger, he is inspired to win a major trophy for his country. The Tiger Brand Ambassador has shared a series of emojis on his Instagram expressing his targets for the year and has incited fans to share their own bold goals too. All fans have to do is respond to the "My Year, My Goals" Instagram "Add Yours" story sticker feature, created by Tiger Beer with their own ambitions for the Year of the Tiger.
Pavilion dressed up in blue tiger
For Malaysia, Tiger Beer's local Chinese New Year (CNY) campaign - The Year We ROAR Together - aims to encourage fans to go all out to pursue their dreams and goals. Most noticeable is the 3D Tiger motion picture at the mall's entrance.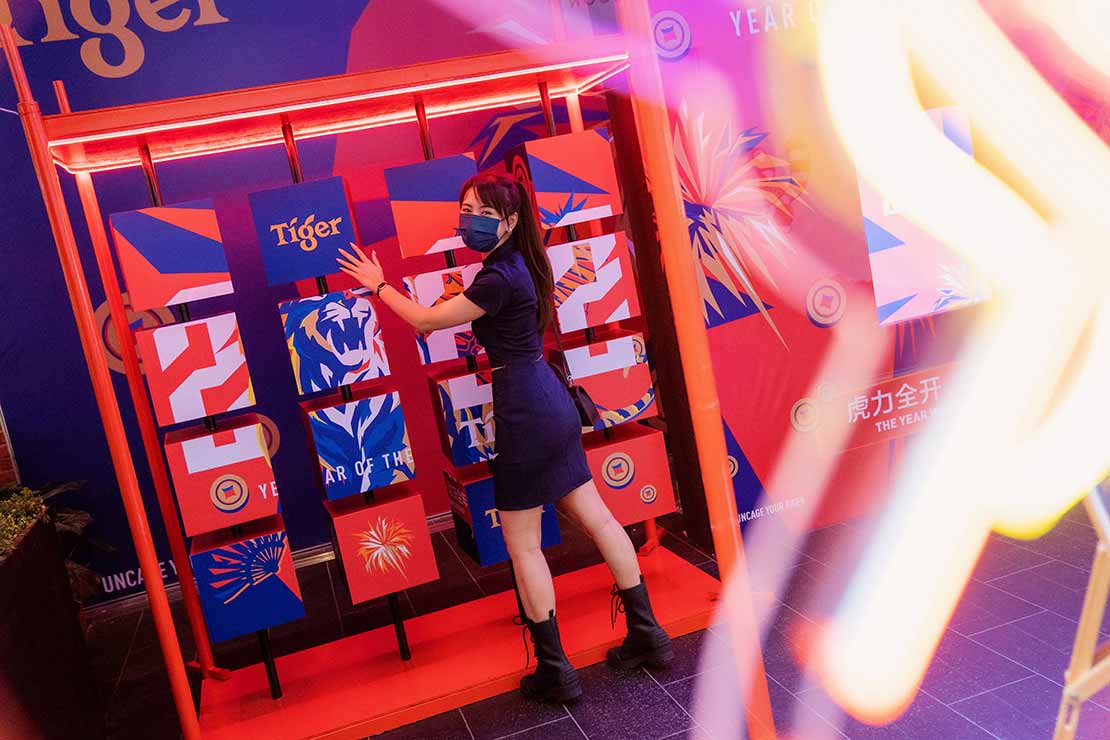 Tiger Beer activity at Pavilion Connection area
Traditional Asian Street installations with a contemporary twist at the Connection area have been installed and will stay until 15th February 2022. The public can participate in the game booths and win exclusive Tiger merchandise.
Year of the Tiger Ang Pow packets will be available when purchasing RM88 worth of HEINEKEN Malaysia products at selected outlets in Pavilion KL, while stocks last.
Engage with Tiger's Augmented Reality 'Roaring Greetings" in various QR code touchpoints along the Connection area to interact virtually with a Tiger and generate CNY greetings that can be shared digitally. At the same time, stand to win exclusive Tiger Mahjong sets with two weekly winners from now until 15th February 2022. These QR codes can also be found on Tiger's limited-edition cans and other touchpoints like the 'Roar Together' murals and print ads during the festive period.
Championing local artists
As part of the campaign to support local artists, Tiger Beer has commissioned the Tiger "Roar Together" art installations by three up-and-coming artists of diverse backgrounds – Thomas Powell, Sheena Liam and Pamela Tan at Pavilion's main entrance from 10th January 2022.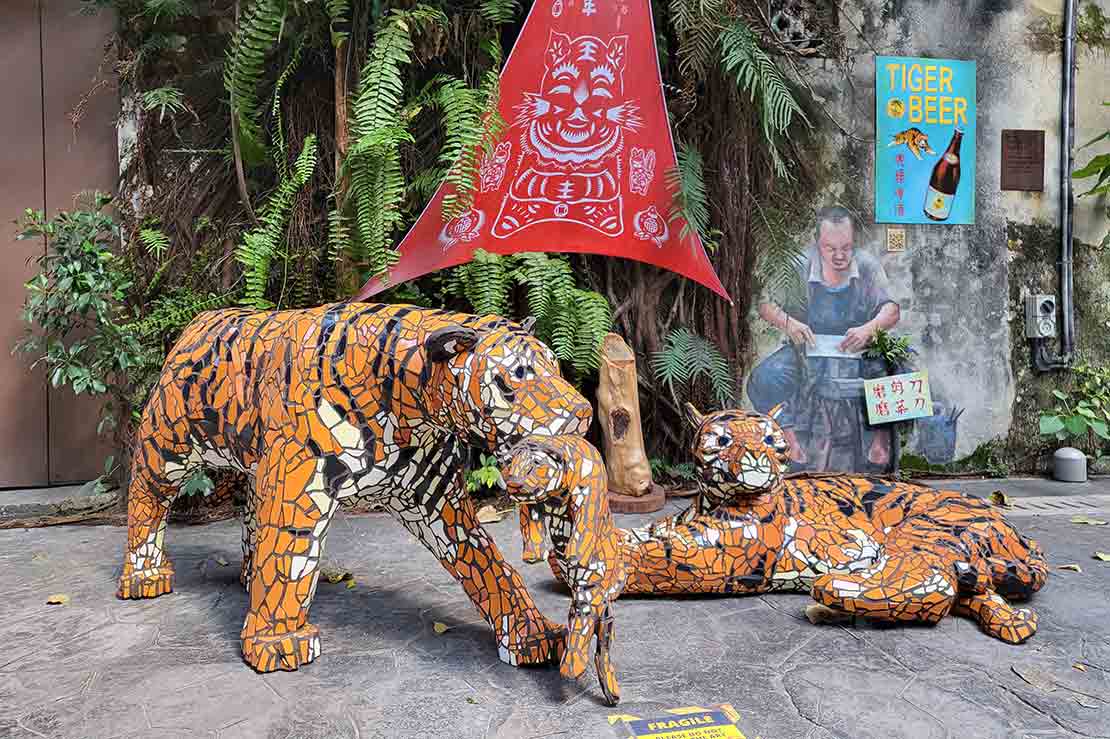 The Malayan Tiger Family by Alice Chang
Various local artists from different regions in Malaysia have also been engaged to create 'Roar Together' murals at eight different locations nationwide including Petaling Street's Kwai Chai Hong, where 'Live Wild & Prosper' installations by Alice Chang can be viewed between 14th January to 20th February 2022. The rest of the locations are:
Cheras
Good Timing Food Village at Lot 49045 & 49046, Jalan Temenggong, Sentral GF Bandar Mahkota Cheras by Nestwo;
Seremban
Restoran Xin Shi Ji at Court 301, Jalan Seng Meng Lee, Taman Unian, 70200 Seremban, Negeri Sembilan by Skywork;
Kota Kinabalu
East Coast Food Court at CL15539947, Jalan Bunga Ulam Raja, Kolombong 88450 Kota Kinabalu by Wilson Ng;
Bayan Lepas
Pisa Corner Cafe c/o Spice Pisa Café at Lot No 13180, MK 12 DTL Kompleks Makanan Relau, Medan Bayan 11900 Bayan Lepas by Mr Teh;
Ipoh
Pusat Makanan Gunung Rapat Enam Enam at Lot 36644, Jalan Raja Mahadi, Rapat Setia 31350 Ipoh by Eric Lai
Melaka
Kambraduk Kopitiam at 124, Lorong Hang Jebat, 75200 Melaka by Drewfunk.
NFTs collaboration with PMC
As blockchain technology is trending, Tiger Beer is venturing into Non-fungible Tokens (NFTs) in collaboration with Pestle & Mortar Clothing (PMC). Known as Tiger Archives, the non-interchangeable data stored on a blockchain feature vintage Tiger artwork, each uniquely hand drawn, and allows the owner of the artwork to unlock a series of perks throughout the year. These include exclusive merchandise to curated experiences by PMC.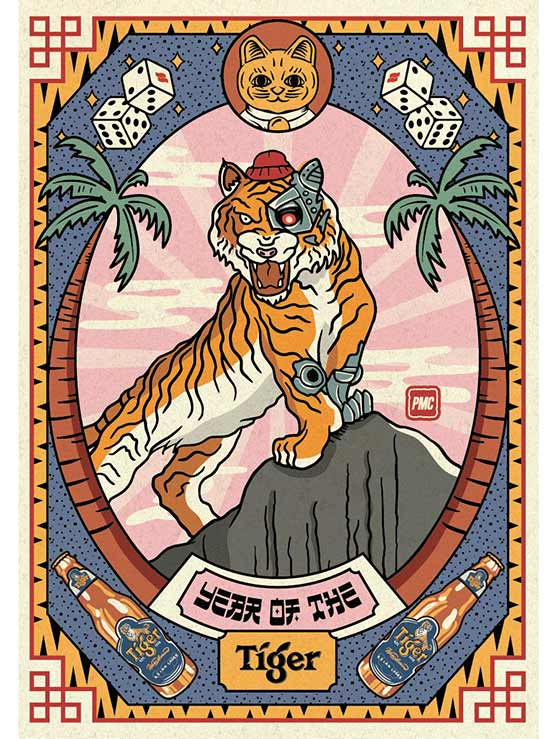 Tiger NFTs vintage artwork
The Tiger Archives NFT collection will be released for sale on 30th January 2022. The NFTs stored as ERC-721 tokens on the Ethereum blockchain tradeable on OpenSea will cost 0.05 ETH + gas. 30% of the proceeds will go towards supporting local musicians, artists and street food chefs via Tiger's UNCAGE platform throughout the Year of The Tiger.
For more information on local promotions and activations as well as terms and conditions, visit Tiger Beer's Year of the Tiger Campaign 2022 page.
- T -